Who owns Silverstone Air Kenya? According to reliable sources, Silverstone Air Kenya is owned by Owen Muigai who also owns several other logistic companies in Kenya. Owen is a Kenyan who originated from Mount Kenya region.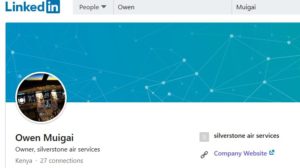 Most Kenyans thought that Akothee is the owner of Silverstone Air Kenya but the truth of the matter is,she was only contracted by Silverstone Air Kenya to advertise the company's business through Akothee Safaris.Akothee is paid to advertise, she doesn't own shares at the company.
Registration details show that Owen owns 70% of the shares in Silverstone Air Kenya while the other 30% are owned by Kenyans of Asian origin.
In 2019 alone, the company's planes have been involved in two minor accidents, forcing the government to launch an inquiry over the cause of the accidents. It's because of these accidents that Kenyans went online to search for the owners of Silverstone Air Kenya.
Below is the Management Structure of Sliverstone Air Kenya:
Mohamed Somow—Managing Director.
Mahat Somow–Director
Muzamil Somow–Director of Operations
Patrick Oketch–Commercial Manager
David Ojwang—Chief Financial Officer
Kennedy Mwadeghu–Chief Pilot