President Uhuru Kenyatta on Tuesday, November 5, 2019, bequeathed Director of Criminal Investigations Noordin Haji a special award during an event at Safari Park Hotel in Nairobi.
Uhuru presented the Distinguished Taxpayers Award to Haji for his bravery in prosecuting tax evasion suspects, even when high profile individuals are involved.
"His Excellency the President awards the ODPP for being one of the most facilitative government agencies in the fight against tax evasion and illicit trade during this year's KRA Taxpayers Day," celebrated the DPP.
This comes at the height of various high profile tax evasion cases including that of Keroche Breweries CEO Tabitha Karanja and billionaire Humphrey Kariuki.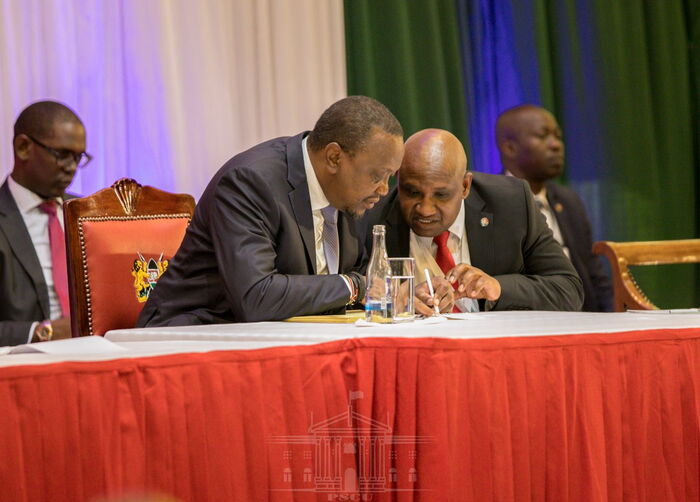 In August, Haji ordered for the arrest of Tabitha over alleged failure to pay tax amounting to Ksh14.4 billion on various products manufactured and sold by Keroche Breweries Limited, during the period between January 2015 to June 2019.
Kariuki, on the other hand, has been arrested twice over tax evasion claims, to which he pleaded not guilty. He was accused of failing to remit taxes between 2014 and 2019.
While at the Safari Park event, Uhuru issued a strong warning against tax evasion, reiterating that the government would not hesitate to punish cheats.
He emphasised that the state was constrained in offering services to all when some of its citizens failed to meet their tax obligations.
"For far too long, tax evasion has been glorified in Kenya. Far too many Kenyans feel justified in cheating the taxman, in paying less than they should into the public coffers.
"Yet, despite this behaviour, they still expect world-class roads, quality healthcare and education, and other public services; not appreciating the fact that those public goods and services are paid for out of tax revenues," the President stated.
Deputy President William Ruto also attended the luncheon.