SMS is the mobile service that opened the door for personal messengers like WhatsApp, BBM etc. The sms though still has its advantages when it comes to instant messaging. Sms can be sent to any mobile , any where, provided that there is some connectivity available to the mobile or Cellphone in that region.
The service is widely used to convey messages, send important content, contact emergency services, and also to activate various other cellphone services. An SMS can contain web links, web addresses, alphabets, numbers and many other characters. An Sms that contains any type of multimedia content is called an MMS, and works on the same Principle as an Sms. It can be sent as a message to all compatible mobile devices , given that the devices have the ability to receive and send MMS activated via their operator/ Carrier.
With the introduction of Internet many websites started offering the ability to send SMS to any contact number via their website. This facility was a huge advantage for people looking to communicate without a cellphone or people that are unable to send SMS due to technical problems. These services were soon enough restricted, to stop their misuse, because people had found ways to harass and even scam people through such free services. Now a days, many such websites still exist, that offer you the ability to send SMS to any cellphone, but with charector restrictions or registration requirements.


Today i will share with you such websites, that allow you to send SMS to any cellphone each with its own advantages and disadvantages.
The websites are categorized into two categories,
1- Websites that are FREE and allow you to send SMS ANONYMOUSLY
2- Websites that are FREE but NOT ANONYMOUS.
You can jump to the type of category of websites that you are looking for, and choose the one that suits your needs the best.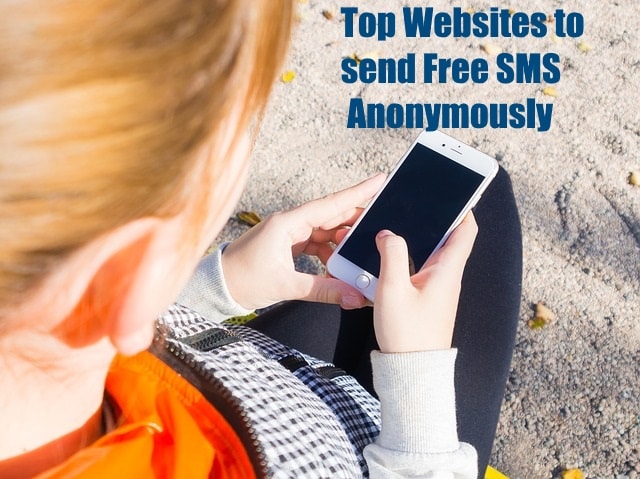 IMPORTANT: Please do not misuse any such service, for the purpose of harassment/ advertising/ preaching/ stalking/ Scams / threats / abuse etc. Anonymity is maintained only on a basic level. In case of any complaint, the message can be easily tracked back to you via your IP address.
Free and Anonymous Sms sending Websites
This is one of the best services out there, to send SMS to cellphones anonymously. It is completely hassle free and does not require any kind of registration. The service is absolutely free, and allows you to Send SMS both internationally as well as within USA and Canada with no additional charges. The company claims to keep your private data safe and it does so to quite some extent. You can enter mobile numbers, names and other personal data and none of those would be used by the service to spam you or send promotional messages. The website also does not keep a track of your conversation, and you can send as many SMS you like.
Once you open the website, you will see the homepage, on the page itself you will be able to enter your details and send a text message.
Enter the number you want to send the SMS to, make sure you include the area code , if any.
Select the region where the text message is to be sent. Choose 'Usa and Canada' for recipients residing in the American continent and choose Internationally for residents outside the USA and Canada.
You can then enter your message and simply click send. You will have now sent the desired text message , to a predetermined recipient.
It is one of those websites that lets you send messages anonymously to anyone, anywhere in the world, in any country without disclosing your identity. This service might come in handy, especially if you are trying to prank someone. It allows you to send Messages via A spoofed number. This means that the recipient will see the sender's number as decided initially by you. You can pose as anyone and send messages to your friends and family and prank them. You can even pose as the authorities to scare your friends or close ones. This can be very fun, if you use it the right way. Important thing to note is that you do not use this service for any illegal activities mentioned above, as SendAnonymousSMS will mark your IP address, report it to the authorities and block it permanently from its server. This will render you unable to access the service again, hence think twice before attempting something shady. All in all SendAnonymousSms is one of the best services available worldwide for the purpose of sending anonymous messages legally.
This is another service that allows you to send free text messages to anyone from your PC. This service is available only for the residents of USA, ie: you can send messages using this service only to the recipients residing in The United States Of America. Another complication is that you must know the service provider/ carrier of the recipient in order to use this service successfully.
The website will require you to create an account first using your email address, you can then carry on and start sending and receiving messages in your account 's inbox on the website itself. You can even store contact numbers and chat with them on a regular basis. This comes in handy especially when your cellphone might be out of order for the next few days. You can then use this service to send and receive messages to your important contacts. The website offers the ability to send only 155 character long SMS which can be a drawback for some users. All in all you can use this service if you want to send and receive text messages on your PC regularly, the service is reliable and simple to use. It also offers you the ability to block your number from the website 's server in the case you are receiving unwanted messages. All in all it is a great service for regular sending and receiving of messages online.
This is another website that can help you send free SMS to any contact in the United States of America. It also offers the ability to send messages internationally, but that part of the service is in beta and can fail to work under certain circumstances, proceed accordingly. This service requires you to sign up using your email id and keeps track of your IP address every time you use it to send message to anyone. The service still offers the sender the ability to remain anonymous in front of the receiver . To send Sms using TextForFree , simply create an Account using your email Id, select the type of service that suits you the best. TextForFree offers both free and paid services each with its advantages and disadvantages. The service has the ability to auto detect the region of the receiver. You can save and manage your contacts in your account. The paid service also offers you the ability to schedule SMS, so that it is sent to the receiver at a specific point in time. This can come in very handy for wishing anniversaries and birthdays. You can similarly set reminders also for such events and other important events. Another advantage, TextForFree offers is the ability to send group messages, in various different languages. This is a really important feature not offered by many of its competitors. The service will also send you delivery reports as soon as the recipient receives the message. All in all TextForFree is a great service with many features, both paid and free that can be very useful to you in the case you are looking to communicate with a lot of people.
TxtDrop is a hugely versatile platform that allows you to send messages anonymously to any recipient residing in the USA. This service offers one of the simplest interfaces and is compatible with various different operating systems. The company offers widgets for both Mac and Windows for easy access via the desktop. This means that you would be able to send messages directly from the desktop of your mac/ windows without any hassle, which makes this service really tempting. The service also offers an iPhone app for people not willing to pay for text messages. They can use the mobile app, to send and receive text messages easily. Txtdrop does not require any kind of registration and thus can be used from the homepage itself. Simply enter your email address for identification purposes, enter the recipient's contact number and the type in the message that you want to send . Once you have typed all the message body, simply click on send to send the text message. All in all TxtDrop was developed by its developers with the philosophy of not having to pay for text messages ever, and thus can help you regularly if you do not like paying for SMS to your carrier.
SeaSms is premium Sms sending service that offers both free and premium memberships. Being a premium service, seasms allows you to send only a few number of messages for free initially. After the free messages are exhausted, you will have to purchase one of the premium packs in order to continue using the service. This service especially targeted for regular users or companies that want to integrate messaging into their venture. You can use the service to send bulk messages, 160 character long, to as many receivers as you would like. Companies are offered the ability to integrate the SeaSms messaging service into their webpages using simple coded APIs and HTTP scripts. It becomes easily accessible on your webpage and is accessible by anyone who visits your site for various purposes that can be predetermined by you. Using SeaSms you can send both SMS as well as MMS making it one of the few websites that offer the ability to send MMS. You can also use aliases when sending messages, and change the sender's name to your desired word, which can be your company name or service name. This can come in really handy when trying to communicate with a large number of audience.
All in all SeaSms is the service that you should choose if, looking for a service that offers this ability for commercial purposes. SeaSms has its business tie ups with various different carriers all over the world to help you avoid any legal complications and achieve results while adhering to the Law.
Free messaging websites (Not Anonymous)
This is another great online service that caters to global SMS sending needs of the people. AFreeSms allows you to send messages worldwide through its portal. You can simply open the site and start sending messages without any registration or verification. This can help you save a lot of time and reach a large amount of audience. You can use it to communicate with consumers overseas, or simply send messages to known receivers globally. The service is available in North America, Europe, South America, Africa, Asia and Oceania , which pretty much covers the whole world. The service is completely free and can be used as many times as u like, under the pretense that you follow the restrictions of fair usage. To summarize AFreeSms is one of the best free global messaging websites that helps you send text messages globally.