The Tigers are proud and delighted to have signed a Club record, multi-million-pound deal to have Kenyan online gaming company SportPesa as their official sponsor.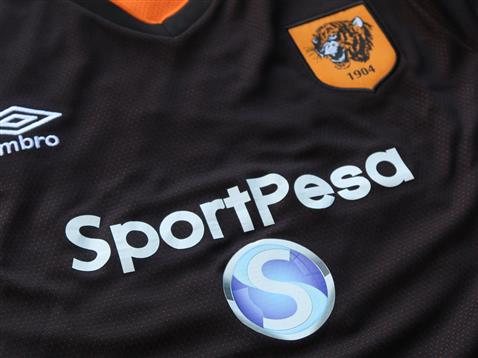 As the official sponsor, SportPesa have signed a three-year deal and will have their name and company logo on the Tigers' home, away and third shirts for the 2016/17, 2017/18 and 2018/19 seasons.
The new sponsorship deal is the most lucrative in the Club's proud 112-year history.
Simon King, Commercial Manager at Hull City Tigers, said: "We are delighted to form a three-year partnership with SportPesa.
"SportPesa are so much more than a betting brand, this is a company with a huge footprint across grassroots sport in Kenya, as well as the rest of Africa.
"The deal is by far the largest in our history and a sign of our ambition to grow our Club and become a household name in our sport globally."
Africa's Number One Sports Betting Platform, SportPesa has become a significant investor and operator in the online gaming industry having successfully transitioned from a pioneer in a little known industry in Kenya, to become both a market leader and 'super' brand that is changing lives all over their home country in the space of just over two years.
SportPesa has been spreading its wings since its inception in 2014 by sponsoring a number of sporting events in the country, including becoming the title sponsor of the Kenya's top-tier football competition – the SportPesa Premier League. This new partnership with the Tigers sponsorship marks the company's global expansion starting with the UK where gaming services will be available on their platform within the next one month.
The company are also official sponsors of two its countries most popular clubs – Gor Mahia, who are currently the defending champions of the SportPesa Premier League, and AFC Leopards.
One of SportPesa's key focus areas is to contribute to the sustainable growth of a number of different sports in Kenya and are committed to positively influencing the communities that they are part of, and as such have gone the extra mile to partner a vast amount of community based initiatives.
Ronald Karauri, Chief Executive Officer of SportPesa, said: "This is a big milestone for SportPesa as it marks the scaling of a Kenyan brand into the global market. The SportPesa platform will now be available in the United Kingdom and later in the year present in several African countries. One year from now we will have presence in at least four continents."
"Even as a global brand, staying consistent with our core values that center around grassroots sport and community development will replicate the success SportPesa has enjoyed in Kenya."
"Part of our deal will see The Tigers be the first English Premier League team ever to come to Kenya to play a select side as part of our campaign towards having Kenya compete in the World Cup for the first time in 2022."
Both parties would like to thank Sam from Samson Sport Consultancy Ltd for his help in bringing the two parties together.
For more information on SportPesa, please visit www.sportpesa.com.
The Tigers' 2016/17 Home shirt, featuring Sportpesa's logo, will be launched live on Sky Sports News at 10.10am this morning.
Read more at http://www.hullcitytigers.com/news/article/2016-17/tigers-announce-new-official-sponsor-3204398.aspx#jB2CK4Yys2ZIeK5i.99