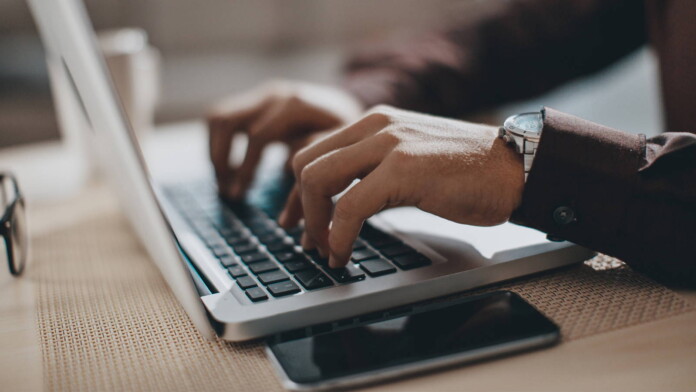 When it comes to Web browsers, not many of us actually stop to think for a moment about which one to use. For many of you, we are sure that Chrome is the primary Web browser. Even though it comes from Google, and even though we all that we're being tracked by this company, we're willing to give our personal data for a few shiny features. However, there are plenty of amazing alternatives out there. That is exactly what we'll investigate in this article, so welcome to our overview of the best anonymous browsers.
Why Do You Need an Anonymous Browser?
Today, we have a selection of four highly popular Web browsers, where the chances are you're using of these. We're talking about Chrome, Safari, Firefox, and Edge. Three of these are made by tech giants like Google (Chrome), Apple (Safari), and Microsoft (Edge). Even in the best-case scenario, these three browsers are collecting some of your data to 'improve their services'. This is true even for Firefox where the major difference here is that you can opt out of data collection for this browser.
It's time to rethink your online privacy and to take this matter into your hands. There's plenty you can do to stay anonymous online like using an anonymous email account and hiding your true IP address. However, using a highly secure and 'niche' browser is an important piece of this puzzle.
5 Best Anonymous Browsers of 2018 – Top Picks!
So, let's take a look at the best anonymous browsers that come with the reputation of preserving your privacy. All of the following recommendations come free of charge, which means that you don't have any excuses not to use them.
1. Firefox + Security Plugins
Overview
Supported Platforms
Windows (32-bit and 64-bit), MacOS, Linux 64-bit, Android, iOS.
Pros
Highly polished UI; Very simple to use; Extremely fast performance; Thousands of high-quality extensions; Regularly updated.
Cons
Can struggle with some Web services (WhatsApp for Web).
Visit
Firefox
Firefox has been one of the bastions of freedom for a very long time. Mozilla, the company that's behind this hugely popular browser, has proved over and over again that it's committed to preserving our privacy. Even without any extensions, Firefox is the most secure browser in comparison to other hugely popular (mainstream) options. However, security plugins are what's interesting here as they have the power to transform Firefox into a perfectly anonymous Web browser.
First and foremost, HTTPS Everywhere will force Firefox to use SSL security wherever possible. As a result, this will make it harder for you to visit non-HTTPS pages that bring no security whatsoever. Facebook Container isolates your activity into a separate container, which means that this social media network won't be able to track your whereabouts. Cookie AutoDelete takes care of deleting cookies found on your device that you no longer use. Disconnect presents a nice visual graph of websites and Web services that track your search and browsing history. And Privacy Badger blocks invisible trackers and outgoing links on Facebook and Twitter. This is just a tip of the iceberg when it comes to why Firefox is one of the best anonymous browsers.
2. Brave

Overview
Supported Platforms
Windows (32-bit and 64-bit), MacOS, Linux, Android, iOS, FireOS.
Pros
Polished UI; Very transparent privacy options; Fast performance; Ad-blocker included; Intriguing payment option.
Cons
Some bugs might surface at times (relatively new browser).
Visit
Brave
Designed by one of the co-founders of the Mozilla Project, Brave is a new kind of Web browser. It's built to respect your privacy, from the ground up. What's interesting is that Brave handles your personal data is a truly anonymous way, not keeping a single file on their servers. As you browse the Web and open individual websites, you'll always be in complete control of your data. For every website, you can block certain tracking elements like ads, phishing, tracking scripts, and there's fingerprinting involved. On top of this, HTTPS Everyone is built into this browser which means that your online communication is as safe as possible.
There's also an interesting aspect to this browser called Basic Attention Tokens. Even though Brave is completely free and will remain to be free in the future, you can give some money to contributors you care about. Brave automatically distributes your contributions based on how much time you spend on certain websites. Therefore, this is truly a fair way to browse the Web. Go ahead and try it out, we're sure you're going to see why this is one of the best anonymous browsers.
3. Tor Browser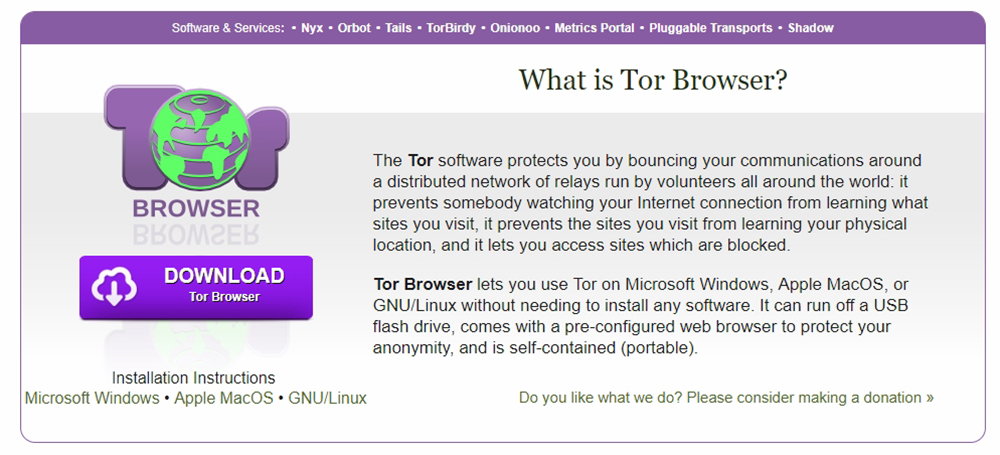 Overview
Supported Platforms
Windows, MacOS, Linux.
Pros
Incredibly secure; Completely free of charge; Offers total privacy protection; Built upon Firefox; JavaScript protection against malicious code.
Cons
Slow performance (even though it's constantly improving).
Visit
Tor Browser
Privacy-conscious Web users have probably heard about Tor before. In wake of numerous privacy-related scandals, Tor is often being referred to as the most secure browser out there. That's because it's built upon a number of distributed nodes. As you browse the Web and download files, your data is going through these nodes which hides your IP address during this process. That's why websites and third-parties can't see your real location or your personal data.
If you decide to try our Tor, don't be surprised by its visual similarity to Firefox. This is just a redesigned version of Firefox that runs even without installation, like on a USB drive. Therefore, this is an interesting option if you work on several computers and want a truly mobile browser compatible with all popular desktop platforms. Finally, we need to want you that Tor slows down your Web connection. Since your traffic needs to travel through a series of nodes, this slows down your connection depending on a whole range of parameters and conditions.
4. Epic Browser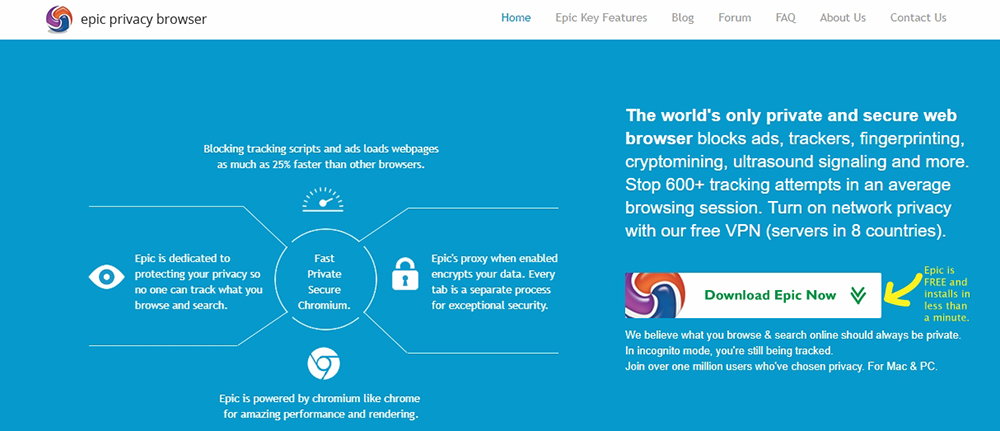 Overview
Supported Platforms
Windows, MacOS.
Pros
Built-in anonymizing proxy; Leaves no trace of online activity; Secure online search; Keeps no history, whatsoever.
Cons
Can be a bit slow at times.
Visit
Epic Browser
If you're willing to take your privacy into your hands in an extreme way, Epic Browser provides a trustworthy answer. This browser is built upon Chromium, founded by Google. However, developers behind this browser have stripped away everything Google-related in an effort to maximize your privacy. This is a browser that doesn't have a Web history, cache, spell-check, autofill, auto-suggest, password saving, or any other feature related to taking your data from your computer. Every time you close Epic, it will automatically delete any leftover files on your computer and you'll begin with a clean slate when you return to using it.
Epic is one of the best anonymous browsers because it uses its own encrypted proxy. This means that all your data, while you're using the browser, is encrypted. Your Internet Service Provider won't be able to collect your Web browsing history or any other file. Also, you'll get to use servers located in Europe, the United States, Canada, and India. Even though some throttling can occur, strategically placed servers should still provide a reliable performance.
5. Comodo Dragon & Ice Dragon

Overview
Supported Platforms
Windows only.
Pros
Built upon open-source projects; Built-in SecureDNS service; Can be a portable option.
Cons
Not the most regular updates.
Visit
Comodo Dragon / Ice Dragon
Comodo, a popular security-oriented company, has come up with an interesting approach of offering secure and anonymous browsers. Depending on if you're currently using Chrome or Firefox, Comodo offers two browsers. Comodo Dragon is based on Chromium, while Ice Dragon is based on Firefox. Since these are open-source projects, the company was able to create custom versions of the two popular browsers by eliminating any privacy threats and adding their own custom spin to them.
Perhaps the most interesting feature of these two browsers is the company's SecureDNS server. This means that your data will be encrypted when leaving and returning to your device. Depending on your ISP's tracking capabilities, this can also stop your ISP from collecting your personal data. Finally, we think this is one of the best anonymous browsers due to its 'Virtualized Mode'. While using this mode, the browser is completely isolated from the rest of your system, which lowers the chance of data collection and malware infiltration. However, this mode is only possible if you install Comodo Internet Security, which comes free of charge.
Best Anonymous Browsers – Additional Considerations
Using a more secure browser is the best first step to take towards your online safety. However, that doesn't count much if you keep visiting questionable websites that might serve malware or overly aggressive tracking requests. So, you need to know what else needs to be done.
What Can You Do to Stay Safe Online?
There are plenty of possible actions to take to stay safe online, besides using the best anonymous browsers. Depending on your online activities, these steps can help secure your communication with others, prevent financial frauds, and more. For example, you need to pay special attention if you frequently use public Wi-Fi networks. These are the easiest way for hackers to get into your system and take important information. So, here's how to use public Wi-Fi networks safely.
Next, we have those who like to engage in P2P traffic (torrents). Even though this is an amazing way to share large files, it comes with numerous dangers. For example, adware and all kinds of bloatware can be found within torrent files, finding their way to your system with ease. So, here's how to safely download torrents.
What's the Best Anonymous Browser for Android & iOS?
Aside from using the best anonymous browsers on your desktop, you also need to pay attention to how you access the Web from other devices. Most importantly, we have smartphones and tablets. So, you will be lucky to hear that some of our suggestions bring cross-platform compatibility. You can take advantage of Firefox and Brave for iOS and Android, with Brave being available for FireOS devices as well. However, remember that not all security-related extensions might be available, so still make sure to exercise caution when using secure browsers on mobile devices.
VPNs – The Ultimate Solution to Your Privacy!
Finally, we have another way to securely access the Web. In fact, VPNs (Virtual Private Network) are the best way to fully encrypt your online data and prevent just about anyone from seeing what you do online. These are highly powerful applications that are really easy to use and can be installed on desktops and mobile devices as well.
To learn more about VPNs, we recommend reading our article on what are VPN applications. Then, take a look at our VPN Buyer's Guide where you'll learn what makes an amazing VPN application. And finally, make sure to learn about the best VPNs available today.
Final Thoughts
Dear readers, this is where we end our article on the best anonymous browsers. In case there's something else you'd like to know or if you have any suggestions, write us a comment down below.