The Pharmacy and Poisons Board (PPB) portal is a powerful system that evaluates pharmacist qualifications regardless of nationality.
Completion of the Pharmacy and Poisons Board exam is critical for licensing as a pharmacist.
The board offers multiple assessments to hundreds of its learners from any recognized institution at both diploma and degree levels.
Different exams administered by the body fall under various categories and serve to prepare learners for the workplace environment as pharmaceutical technologists of simply pharmacists. 
For this reason, the system presents an opportunity for non-citizens interested to work in the country to earn a working permit.
PPB licensing criteria is fundamental in the sustenance of professionalism for operation safety and improvement of quality in pharmaceutical services and products.
Read on to find out more about the Pharmacy and Poisons Board (PPB) portal.
What is the Pharmacy & Poisons Board?
The Pharmacy and Poisons Board is the Drug Regulatory Authority established under the Pharmacy and Poisons Act, Chapter 244 of the Laws of Kenya.
The Pharmacy and Poisons Act, Cap 244 is an Act of Parliament to make better provision for the Control of the Profession of Pharmacy and trade in drugs and poisons.
The Board regulates the Practice of Pharmacy and the Manufacture and Trade in drugs and poisons.
The Board aims to implement the appropriate regulatory measures to achieve the highest standards of safety, efficacy and quality for all drugs, chemical substances and medical devices, locally manufactured, imported, exported, distributed, sold, or used, to ensure the protection of the consumer as envisaged by the laws regulating drugs in force in Kenya.
Recent digitization and automation at PPB have significantly improved its registry and speed of operations.
PPB portal online services are now widely accessible regardless of time and place.
Learners can now tap directly into the system which has improved clinical trials, trade, professional verification, payments, and student registration among other services.
For instance, the PPB online portal has considerably lessened the period of certification from a month to a maximum of 3 days with a promise to do more. 
Services offered by the Board
The Board offers the following services:
1. Product Evaluation and Registration.
Certificates of Analysis are issued by three accredited laboratories namely the National Quality Control Laboratory, MEDS and the Drug Analysis and Research Unit,
2. Evaluation of Applications for Advertisements of Medicines and Medical Devices
3. Ensuring Good Manufacturing Practice (GMP)
4. Registration of Pharmacists
5. Enrolment of Pharmaceutical Technologists
6. Issuance of Annual Practice Licenses
7. Issuance of Annual Permits for Pharmaceutical Representatives
8. Approval of Institutions Offering Pharmacy Training Programmes
9. Approval of Pharmaceutical Imports and Exports
10. Registration of Pharmaceutical Premises/Outlets
11. Pharmacovigilance and Post-Market Surveillance
12. Documentation and Information Services on Medicines and Pharmacy Practice
13. Public relations services for the pharmaceutical sector
Functions of the Board
The functions of the Board as spelt out by law are as follows:
1. To advice the Minister of Health on all matters relating to administration and implementation of the law.
2. To ensure that all medicinal products manufactured in, imported into or exported from the country conform to prescribed standards of quality, safety and efficacy and that the personnel, premises and practices employed to manufacture, promote, procure, store, distribute and sell such products comply with defined codes of practice and other requirements.
3. To ensure continued conformity of medicinal products with set standards until their delivery to the end-user.
4. To ensure that medicinal products are imported, manufactured, exported, stocked, sold, distributed or otherwise dealt with by duly authorised persons.
5. To grant after due assessment, licences/authorisations for medicinal products, whether locally manufactured or imported and whether destined for the national market or export.
6. To revoke the registration/authorisation of, or cause to be recalled from the market, such medicinal products and the continued use of which may be detrimental to public health.
7. To maintain an inventory of registered medicinal products.
8. To publish lists of registered medicinal products and of products with marketing authorisations from time to time for public information.
9. To ensure that registration dossiers for medicinal products are kept up to date by the applicants and to approve alternations/changes thereto.
10. To inspect and license/authorise all manufacturing premises, importing agents, wholesalers, distributors, hospitals, dispensaries, pharmacies and retail outlets.
11. To provide for sampling and analysis and other testing of finished medicinal products released into the distribution chain to assure their compliance with labelled specifications
12. To monitor the market for the presence of illegal/counterfeit medicinal products.
13. To ensure that the promotion and marketing of medicinal products are in accordance with product information as approved by the Board.
14. To disseminate information on medicinal products to the Professions to promote their rational use.
15. To monitor and review the implementation of the legislation on pharmaceutical products.
16. To advise the Minister on matters concerning control and registration of medicinal products.
17. To amend the rules and regulations as deemed necessary to keep pace with time demand(s).
18. To register pharmacists after due assessment and maintain the list of registered pharmacists.
19. To enroll pharmaceutical technologists after due assessment and maintain the roll of enrolled pharmaceutical technologists.
20. Inspect all institutions training pharmaceutical programmes for the purpose of approval and retention in the PPB register.
Registration of Pharmacists and Enrollment of Pharmaceutical Technologists
The process is done through the administration of a professional examination to the persons with a degree and diploma certificates from institutions recognised by Pharmacy and Poisons Board.
There are two types of examinations for each group namely;
(i) Stage I and II for pharmacist
(ii) Level I and II for Pharmaceutical Technologist
Stage I examinations:
This is administered to persons with a degree from universities outside Kenya.
When one pass he/she proceeds for a one-year internship, supervised by Pharmacy and Poisons Board.
Stage II Examination:
This is administered to persons from the University of Nairobi after completing a one-year internship supervised by PPB and Stage I group upon completion of a one-year internship.
The pharmacists that pass Stage II exams are entered into the pharmacists' register.
Level I examination:
This administered to persons with diploma obtained in colleges (i) outside Kenya and (ii) approved by Pharmacy and Poisons Board other than Kenya Medical Training College.
Once one passes the exam, they proceed to a seven months practical attachment supervised by PPB.
Level II examination:
This is administering to persons for KMTC and those that have finished the seven-month attachment.
Upon passing, the name of the pharmaceutical technologist is entered into the Roll of Pharmaceutical Technologist.
Log in and PPB exam application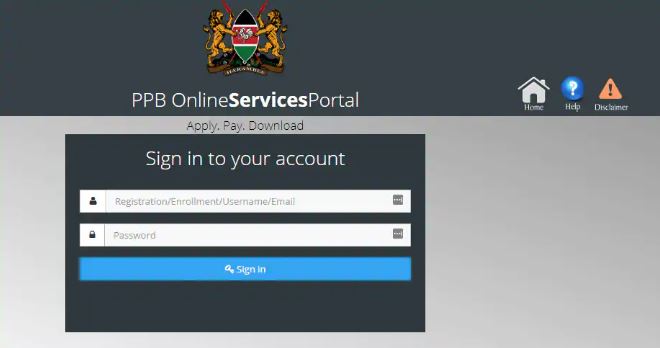 Start by navigating to PPB login page and feed in your credential to access your account.
On PPB portal, click on the exams tab to access the examination application page
If you are taking these exams for your first time, select "First Time" option,or otherwise pick "Re-sit" indicating the number of times you have done these exams.
Upload all the necessary documents against all the upload tabs then save to continue.
PPB payments and downloads
Once you have uploaded all the required documents, the system will auto-generate an invoice for you to pay due fees.
Click on the payments page and follow all instructions to satisfy proper channeling of your exam payments.
PPB portal will provide you with a receipt once your payments are received.
Also, the system will email you with guide instruction on how you can access and download your Examination Card, which is a must-have document when sitting for all your registered papers. 
How to obtain a License
Upon successful completion of your examination, it is time to pursue certification from PPB.
Luckily, PPB portal offers you with an opportunity to track the status of your licensing without leaving your home. 
Registered pharmacists and enrolled pharmaceutical technologists are legally required to hold an annual practice licence when working.
This is obtained from PPB an application using a prescribed form, and issued by the Training and Assessment department.
Here is the procedure:
Navigate to the License Status page 
Select the "Cadre/Type" then feed in your "Registration Number" to search and track the status of your licensing.