A Nominated MP, on the night of Tuesday, October 22, made his most ridiculous pledge yet, after being invited to a Kingly dinner by the state of Qatar.
Taking to Facebook, David ole Sankok pledged to create over two million job opportunities for Kenyans in the Middle East with 500,000 based in Qatar.
The lawmaker was hosted by the country's Ministry of Labour and Social Welfare for a high-end dinner in Palace, Doha.
"Thank you Qatari's Ministry of Labour and Social Welfare for hosting me and my team for dinner. We will surely work together for the benefit of our two great nations," stated Sankok.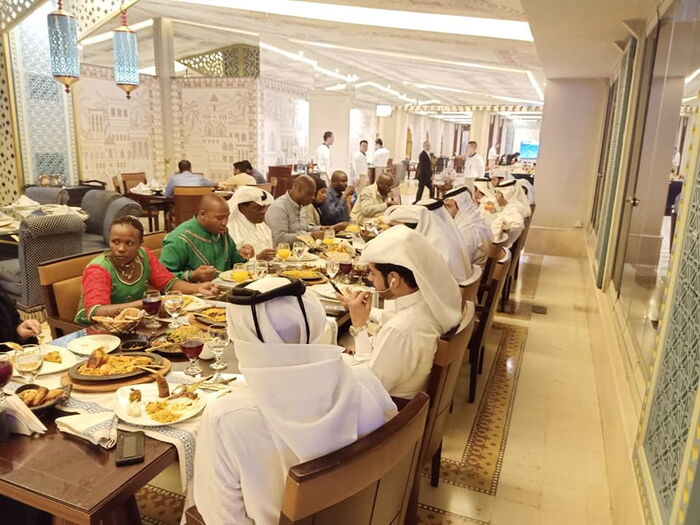 In his pledge to create jobs, he disclosed that he was seeking to increase the number of Kenyans working in Qatar from the current population of 35,000.
"Currently 35,000 Kenyans are working in Qatar. 85 pilots of Qatari airline are Kenyans, 100 Qatari airline ground engineers are Kenyans. 200 Qatari airline service crew are Kenyans. 500 NYS graduates are currently being recruited in Qatar to assist during the World Cup.
"We hope to export more skilled labour to Qatar to help us solve the problem of unemployment," he remarked
"We will create 500,000 jobs opportunities in Qatar alone and 2 million jobs opportunities in the Middle East for the sake of our people," he added.
Sankok travelled to Qatar for bilateral talks with the nation's government on the safety and contracts of Kenyan immigrants workers.
He was accompanied by his wife, Hellen Seyianoi Sankok.