Health CS Mutahi Kagwe on Saturday, March 28, announced that seven more people had tested positive for the coronavirus disease in the last 24 hours. Kenyan Covid-19 Cases Rise
Speaking during a press conference at Afya House, Mutahi stated that all the seven cases were from Nairobi County.
"81 cases have been analyzed in our various laboratories, out of the 81, seven people have tested positive for the disease," Mutahi stated.
Health CS Mutahi Kagwe addressing the media outside Afya House on March 18, 2020.TWITTER Kenyan Covid-19 Cases Rise
The number now brings positive confirmed patients to 38.
The CS stated that among those infected were four Kenyans, two Congolese Nationals and one Chinese National.
He added that out of the seven, three were female while four were male.
"Out of the seven, four had a history of travel from countries with active transmission. One had traveled to Mombasa while two did not have a travel history but were affected through contacts," he stated.
While delivering good news, Mutahi added that the first confirmed Covid-19 patient and the third patient had tested negative in their first re-testing, adding that a repeat test would be conducted in the next 48-hours.
"We remain hopeful that the repeat test will be negative confirming full recovery to allow for their discharge from our treatment center," Mutahi stated.
The Health CS announced that Nairobi County was leading in the number of Covid-19 positive cases with a total of 21 patients.
"This now puts Nairobi County as leading with 28 cases of those who have so far turned positive; Kilifi has 6, Mombasa has 2, while Kajiado and Kwale have one each."
He added that out of the 1,141 close contacts that were being monitered, 163 had been discharged after being in quarantine for 14 days.
The government is currently monitoring 978 close contacts.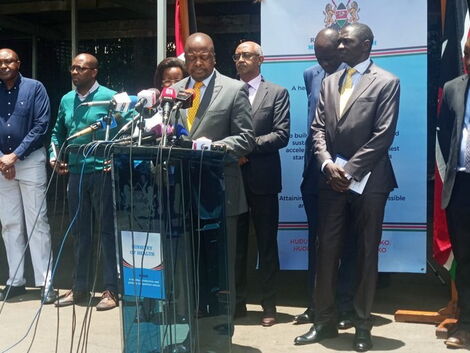 Health CS Mutahi Kagwe speaking outside Afya House on March 18, 2020TWITTER