Chief Justice David Maraga emotionally recounted how he was frustrated at President Uhuru Kenyatta's Mashujaa Day celebration in Mombasa on October 20, 2019.
The tough-talking CJ called for a press conference at the Supreme Court in Nairobi on Monday, November 4, to decry how the Judiciary was being affected by Treasury budget cuts.
He also lamented how his office was being looked down upon and its mandate interfered with by other arms of government.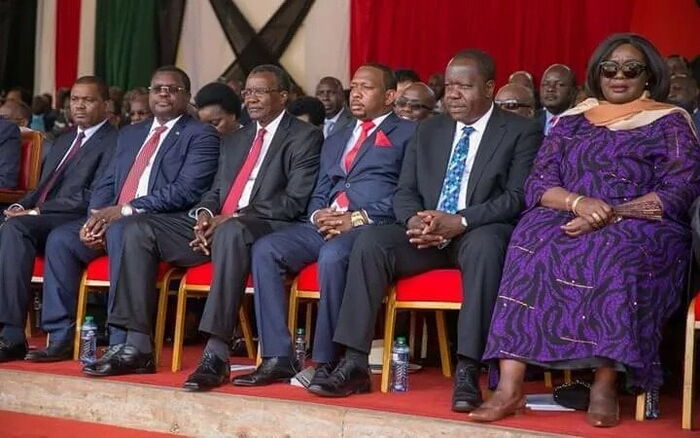 "I will now choose which state functions to attend as I'm always treated contemptuously like it happened during Mashujaa Day where my presence was not even acknowledged. I was allowed on to the stage through a side door.
"The CJ has no Mercedes car as we were told its wastage yet the two Speakers of the National Assembly have them. I have never owned a Mercedes myself and I am not bothered by that. However, let the office of the CJ be treated like every other office including President Uhuru Kenyatta's office," Maraga ranted.
He further indicated that he was out to seek solutions to woes the Judiciary faced and would not give up in his resolve.
"I am not resigning and its not a solution because the problems won't fade away. The next CJ will suffer the same. When I go to other countries, I am treated very well I wonder what happens in my own country.
"When officials of statures of the Chief Justice come to this country, I understand they are visitors of the state. Last year, we had five CJs, we requested the official protocol cars that transport such guests but they were not availed. Where should I take them?" Maraga wondered.
The CJ angrily further ranted over how powerful politicians were out to have him thrown out of office.
"Literally, every day I receive letters written by clerks working in the offices of the different PSs and CSs. I shred all those letters. I have been told that some PSs and CSs are bragging the CJ will be removed before the end of this year. Really! We serve at the pleasure of some people. Let me tell you, the CJ is here to stay."
Maraga further voiced his frustrations in accessing the funds allocated to the Judiciary once approved by the National Assembly.
The CJ then went again to reveal that he had instructed the chief registrar of the Judiciary, starting the 2020 budget to only forward the judiciary estimates directly to Parliament where, he argued, he stood a better chance of getting the required allocation.
"Moving forward, the Judiciary budget estimates will be taken to Parliament and not Treasury. We cannot continue begging for what belongs to us," Maraga declared.
"From the National Assembly, I get various MPs asking me to put up courts in various places across the country and rightfully so. So when we go to the National Assembly, we will tell them to 'look, we need so much money to build courts in such and such areas. We can't build all the courts in one year," Maraga added.