When you think of SEO, you probably think of Google.
It's easy to understand why. Google is the most powerful search engine, period.
But that doesn't mean it's the only search engine.
Even though no search engine matches the sheer size of Google, there are some that rival Google's usefulness.
I'll even go on record saying that some search engines can be more powerful than Google. (Gasp!)
Not as big, no. Not as popular. But if you tap into other search engines, you can boost your search presence and conversions.
It's like this. Less popular search engines fill specific roles. For example, if you do Bing SEO, you can reach an audience you can't reach on Google.
See what I mean?
If you ignore other search engines, you're doing your business a disservice.
Today, I want to talk about YouTube.
It might seem weird to think of YouTube as a search engine, but when you think about it, that's exactly what it is.
Specifically, it's a search engine for videos.
The entire site is driven by a search bar that's smack dab in the middle of the page. It's similar to Google's video search results.
Because YouTube is its own search engine, it has its own SEO best practices.
Just like you want to get your site high up on the SERPs, you want to get your videos high up on the YouTube SERPs.
YouTube SEO is a bit different from regular SEO, and it might take a little while to get used to.
To help make it easy for you, I've created a list of techniques that will provide you with the visibility you need on YouTube.
1. Find video keywords
Keywords for YouTube are a bit different from keywords that appear on search engines like Google or Bing.
For example, you'll often see YouTube keywords that start with "how to."
Brian Dean recommends using Google to search for different keywords in your niche. Then, see if any keywords bring up video results.
For example, if you search for "how to make apple pie," you'll see a ton of video results, and at least one is from YouTube.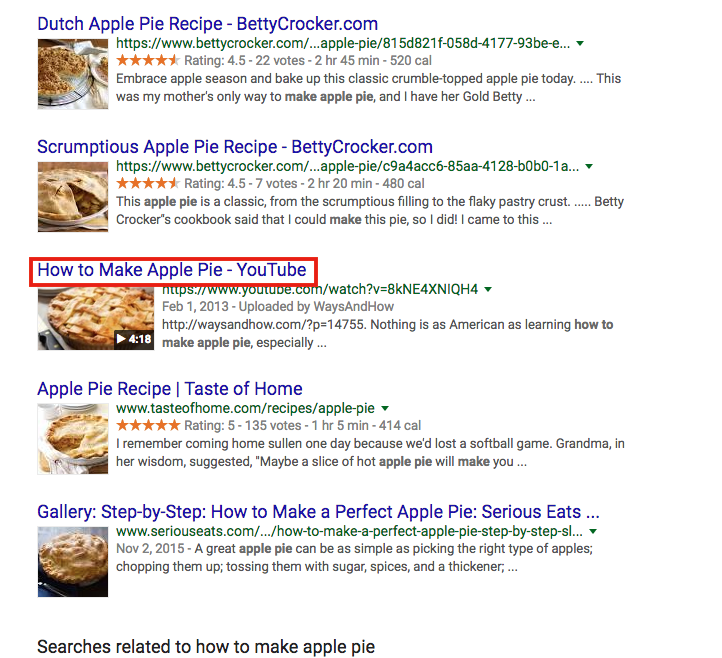 You can use Google Keyword Planner to check how many monthly searches those keywords get.
Ideally, your selected video keywords should get several hundred monthly searches.
Just like you'd do keyword research for normal SEO, you should also do keyword research for YouTube SEO.
2. Optimize your video title
You know how you always optimize your headlines for written content? The same goes for YouTube.
You want to include your focus keyword in your video title, and you should also solve a problem with your title.
When you read Roberto Blake's video title, you immediately know what benefits you'll get: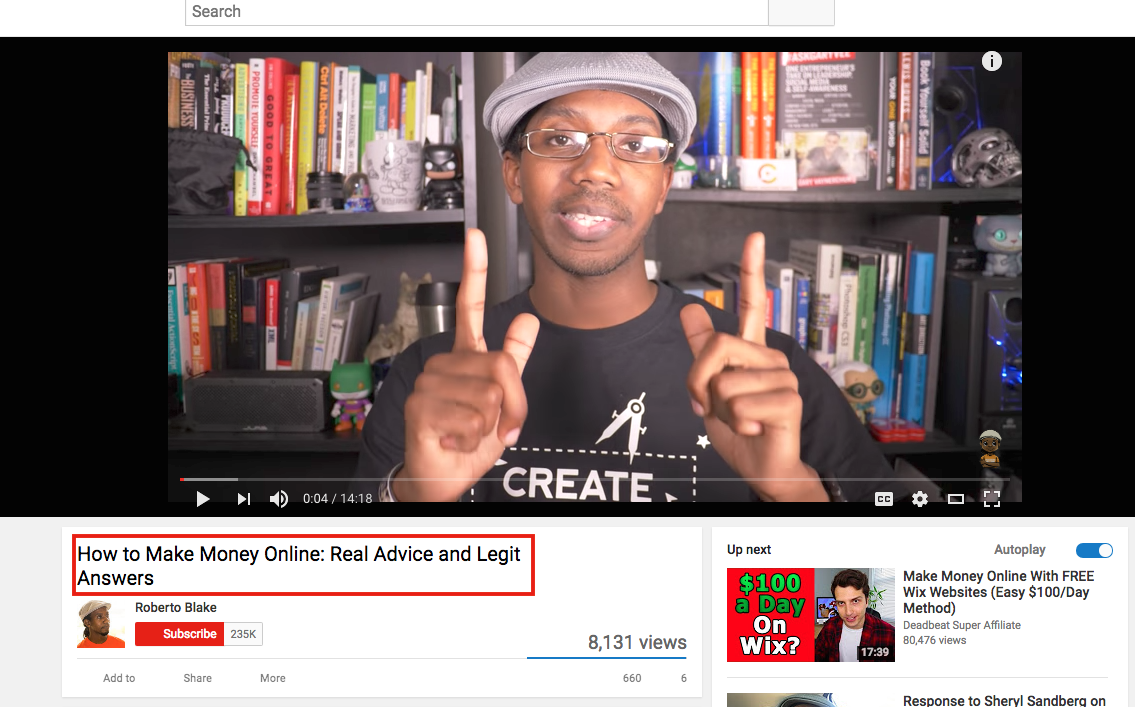 You should be that clear with your own titles.
3. Optimize your tags
Tagging is one of the best SEO features that YouTube provides.
Tagging allows you to enter relevant keywords that help your videos get more views.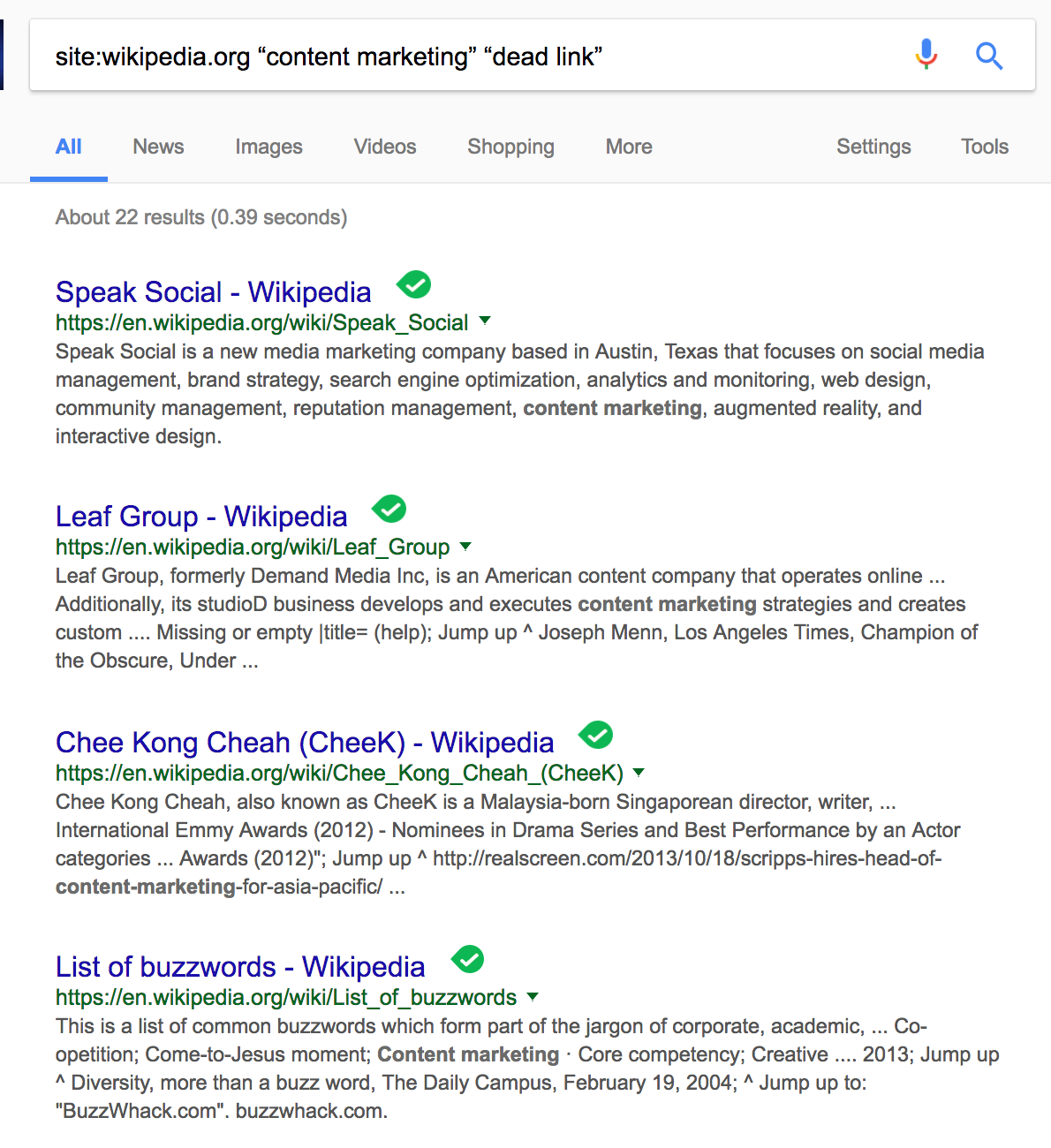 Use tags that are super relevant to your topic.
This is a perfect opportunity to use LSI keywords that are related to your focus keyword.
Don't use too many tags. Around 10 to 12 are enough.
4. Tell people to comment
If your videos get a lot of comments, that tells YouTube your videos are popular.
Just like Google, YouTube prioritizes content that's popular. Comments are one of the metrics YouTube uses to decide what people like the most.
It's a good idea to end your video with a question to get a discussion started.
5. Encourage people to subscribe
Subscribing is a big deal on YouTube.
It's one of the factors YouTube's algorithms use to rank videos.
Liking or commenting on a video is a one-time action, but subscribing means that people will see your content on a regular basis.
For YouTube, that's a giant factor that reflects the amount of value you provide.
Pro tip: Many YouTubers ask people to like, comment, and subscribe all at once. However, if you prioritize one of those metrics, focus on encouraging subscriptions.
6. Step up the production value
This article is about YouTube SEO. But like any SEO method, there's a huge quality component to it.
I've said before that SEO is essentially user optimization. So, I want to give you a few pointers on increasing video quality which will in turn increase search performance.
I get that not everyone can afford a pro-level studio setup.
But that doesn't mean your video quality has to take a hit.
Most of us have smartphones that are capable of recording video, and that's good enough to get started.
Seriously, your iPhone and Android devices are pretty much all you need.
There are a few small investments and changes you can make if you want to increase the quality of your videos:
First, get a tripod for your phone.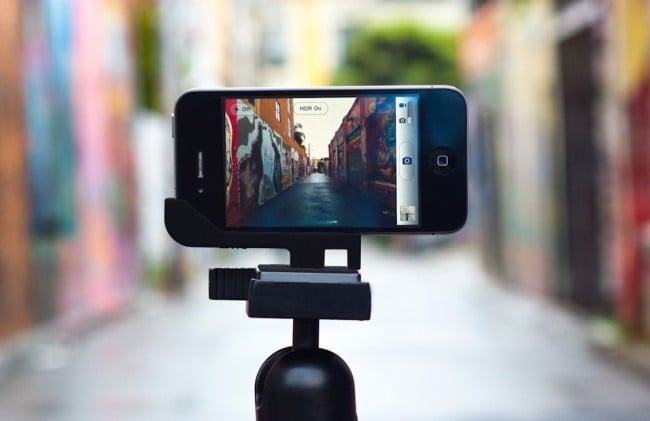 A little stability goes a long way.
Second, add a backdrop.
If draping your bedsheets on a bookshelf is the best you can do, no problem.
Or, you can buy one of these off Amazon for less than $50.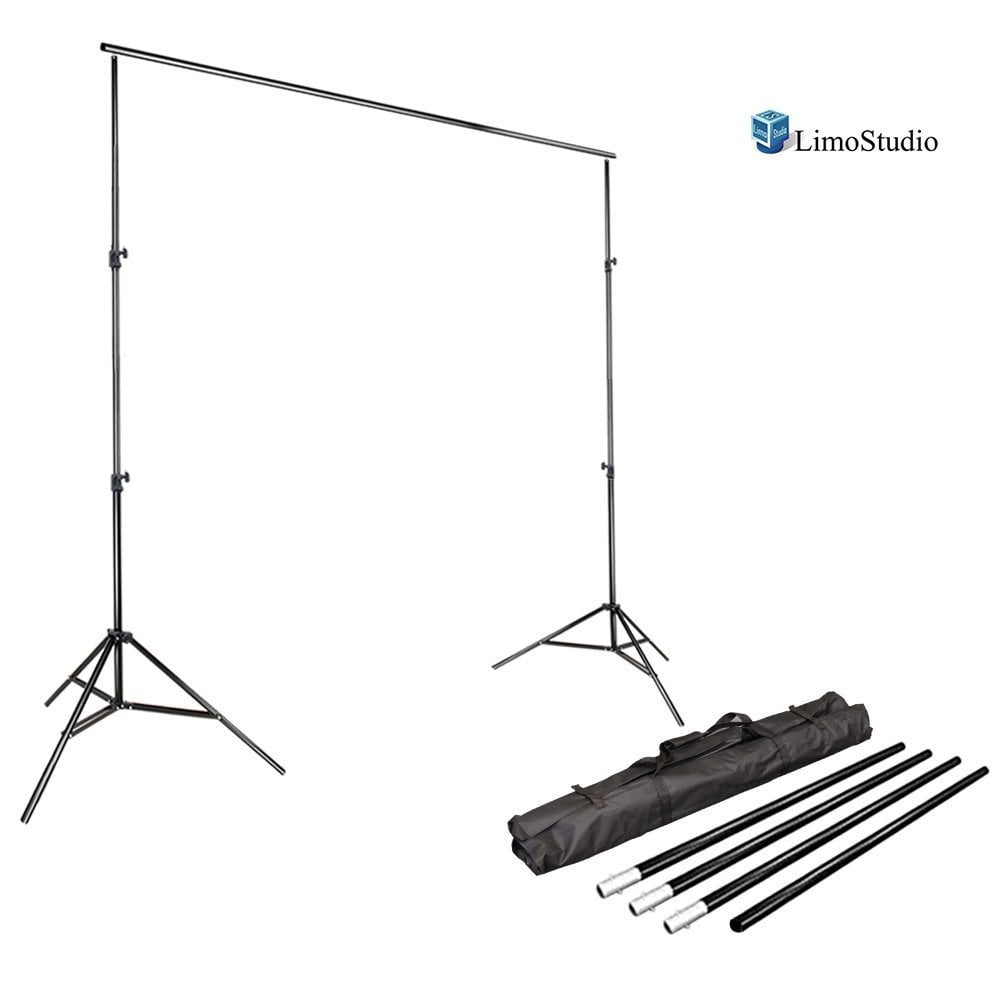 Third, throw some light on it.
You don't need fancy spots or anything. All you need is a few lamps or lights trained directly on the subject of the video.
If you do have a small budget, $50-$75, you can purchase some nice lights.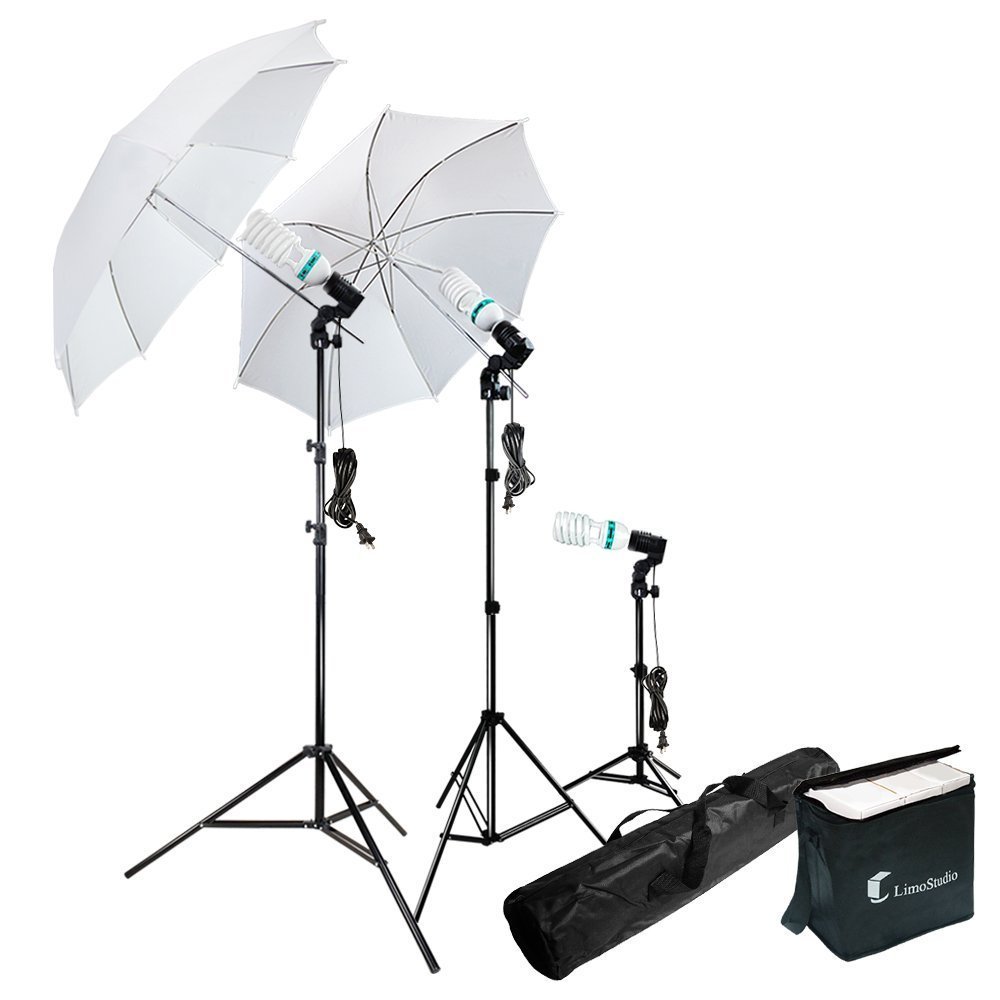 But like I said, if you have some ordinary house lamps laying around, you can use those, too.
Finally, get a microphone.
Again, you don't have to get a huge budget.
Not everyone needs to purchase this $900 microphone.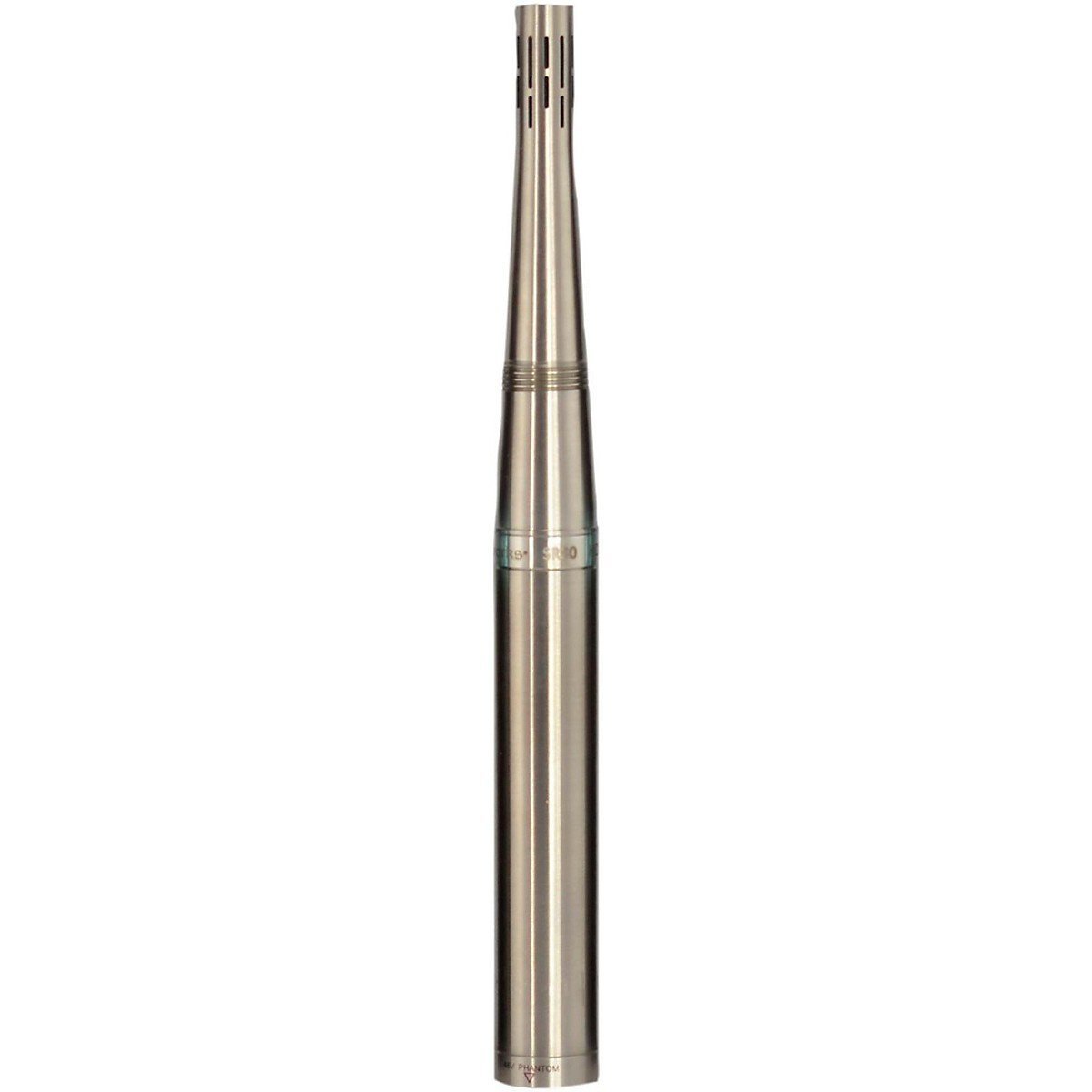 But you might be able to afford a $5 microphone.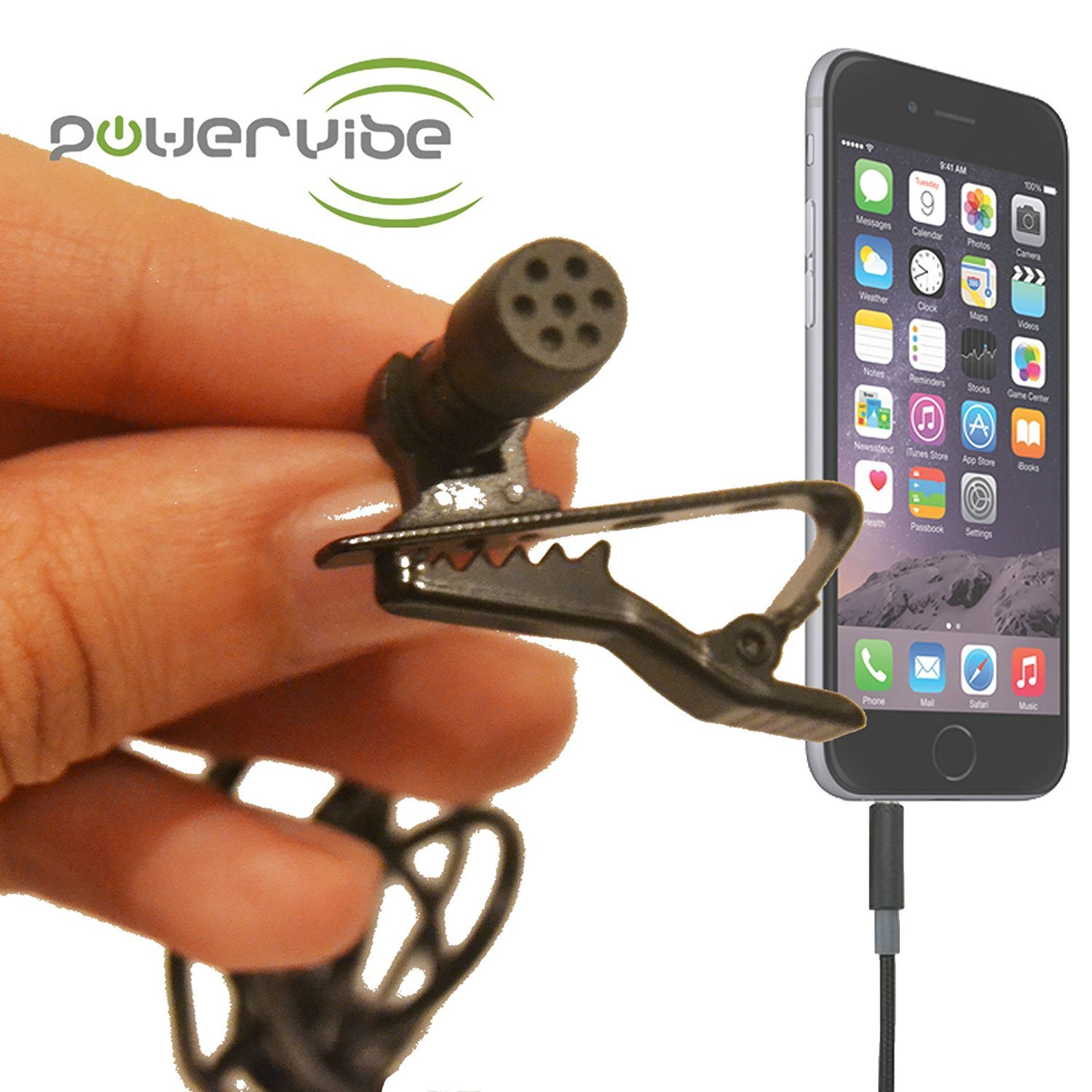 Even an inexpensive microphone will give you far better audio quality than your phone's built-in microphone.
With an investment of $100-$150, you can be rolling with great quality videos that rival some of the biggest YouTube channels.
Your search traffic will show the improvement.
7. Make an eye-catching thumbnail
Your video thumbnail isn't a ranking factor that YouTube uses directly, but it still has a huge impact on your SEO.
A good thumbnail means more clicks, and that means better SEO.
Make sure your thumbnail stands out and tells viewers what your video is all about.
Many people will view videos just from looking at the thumbnails, so don't skip this step.
8. Add closed captions
Here's a cool YouTube SEO hack that will give you a big edge.
You might know that YouTube videos support closed captions.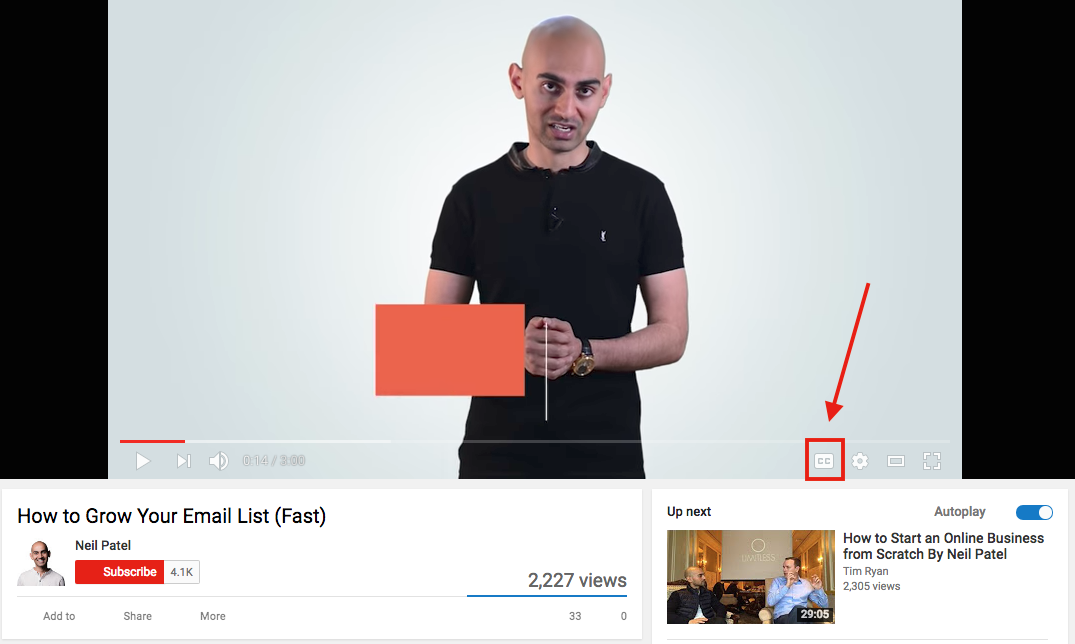 When you toggle this option, the captions appear: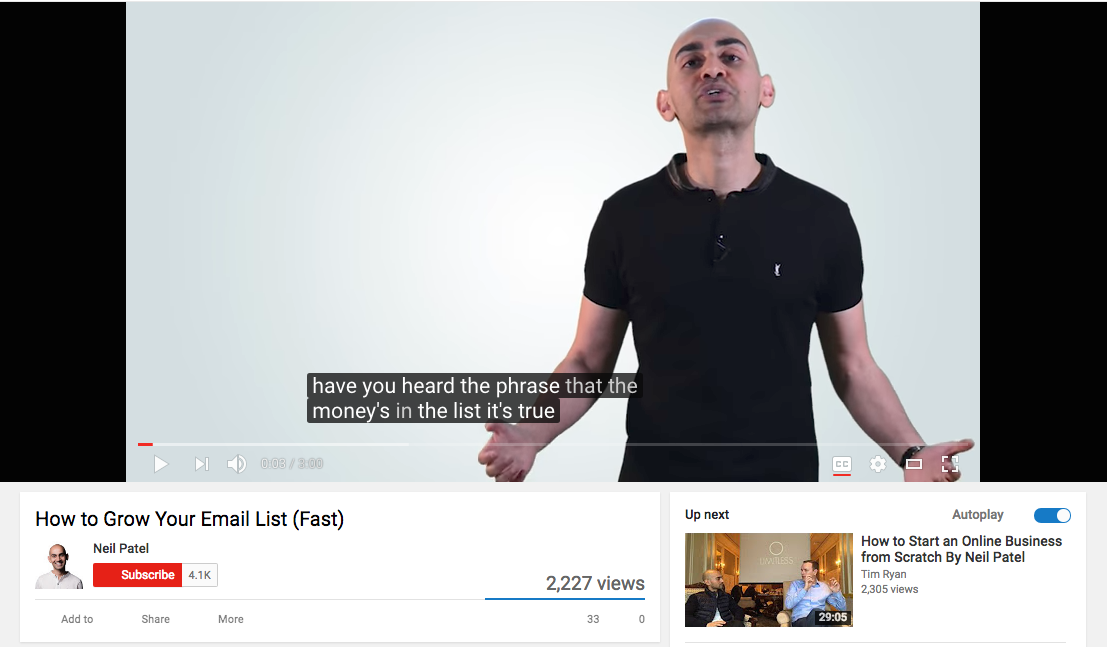 These are meant for people who are deaf or hard of hearing, but they have an unexpected SEO benefit.
Closed captions are crawlable by search engines!
That means you'll get a nice SEO boost if you enable closed captions.
YouTube does support automatic captioning, but it's not perfect.
You can edit those captions, or you can add your own. Whatever you do, make sure the captions are accurate.
9. Edit your filename
This is one of those tricks that may or may not dramatically impact your SEO, but it's nevertheless important to do.
The idea is to rename your raw file so that it reflects your title or your focus keyword.
So for example, your file may default to a name like "20170613.mp4."
But if you rename it and use your focus keyword (e.g., "how_to_use_hello_bar.mp4"), you'll tell YouTube what your video is about.
10. Build links to your channel, not just your videos
For the best YouTube SEO, you want to get links to both your channel and your individual videos.
These inbound channel links basically tell YouTube that you're an authority in your niche.
Keep this point in mind as I show you how to get links in the next few steps.
11. Share on social media
Here, the concept is simple, and probably a bit obvious.
But it's an important point.
Today's web is social. YouTube is a social channel. And to maximize YouTube visibility and SEO, you need to share your videos on every social channel available.
Share on Facebook
This one's obvious, but I have to include it.
One of the first things you should do is to share your video on Facebook.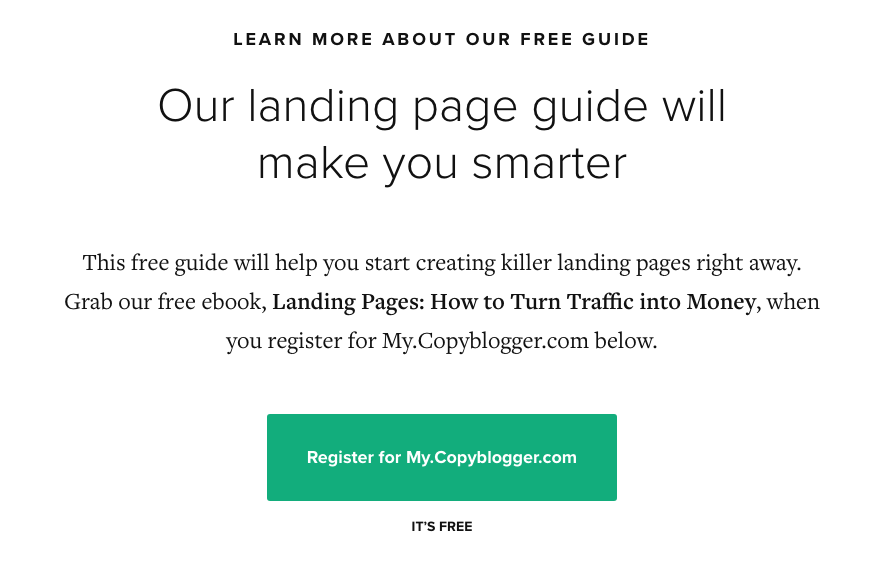 Facebook can drive tons of traffic, especially if you include an engaging description.
Here's the important thing to know about YouTube videos on Facebook.
According to research from Moz, "Facebook may be your best video advertising option."
Why is this? It's a simple numbers game.
Facebook native videos have more impressions than YouTube videos shared on Facebook.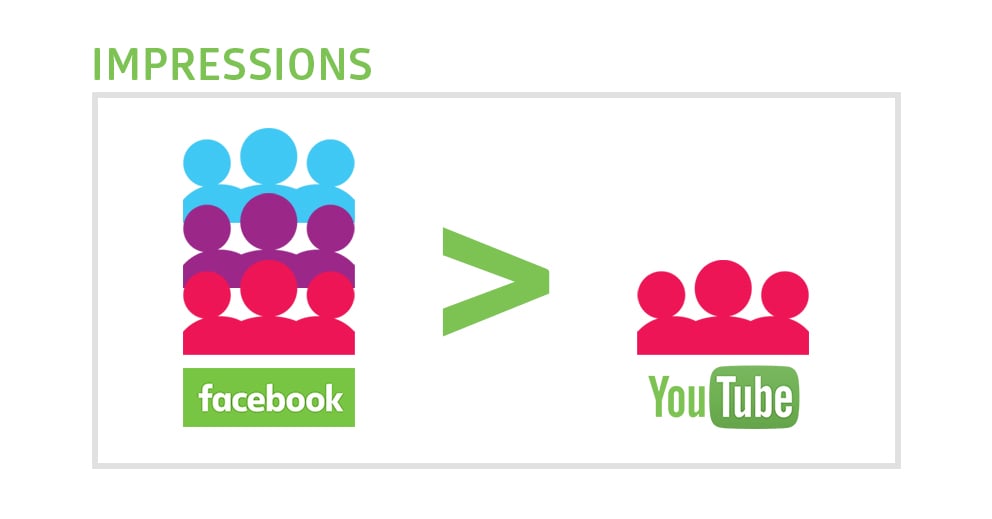 And they have higher watched times.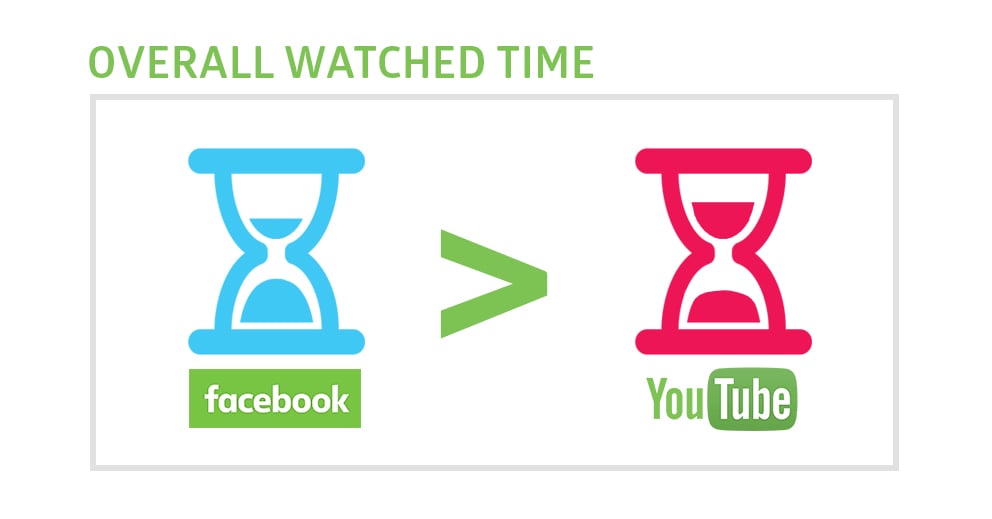 But does this mean you shouldn't share YouTube videos to Facebook?
Obviously not.
YouTube still remains the biggest video platform on the planet.
Cross-posting your YouTube videos wherever possible remains the strongest and most viable strategy for maximum visibility.
Share on Twitter
Same idea here––spread the word and get more eyeballs on your videos.
Twitter research asserts, "video on Twitter drives engagement."
Twitter native videos are strong, yes. But YouTube shares on Twitter are far higher than the number of uploaded native Twitter videos.
Videos shared on Twitter willget high engagement rates and views.

So tweet those videos!
Share on LinkedIn
I've found that people tend to be more engaged on LinkedIn than on other social media sites.
And if your video content revolves around business, that's even better.
Using video on LinkedIn is a strong way to make your company page or personal page more built-out and robust.
Shama Hyder, for example, has a video on her Linkedin profile.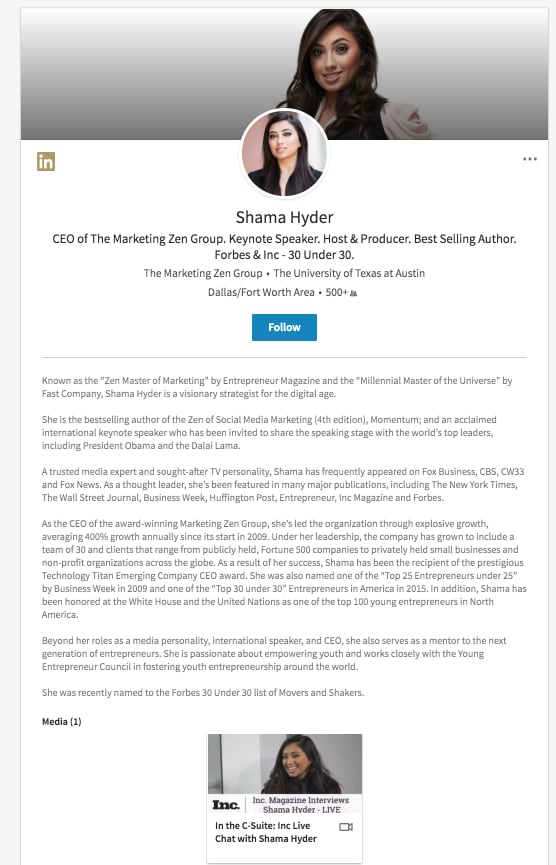 The video, obviously a YouTube one, increases LinkedIn engagement and YouTube view improvement.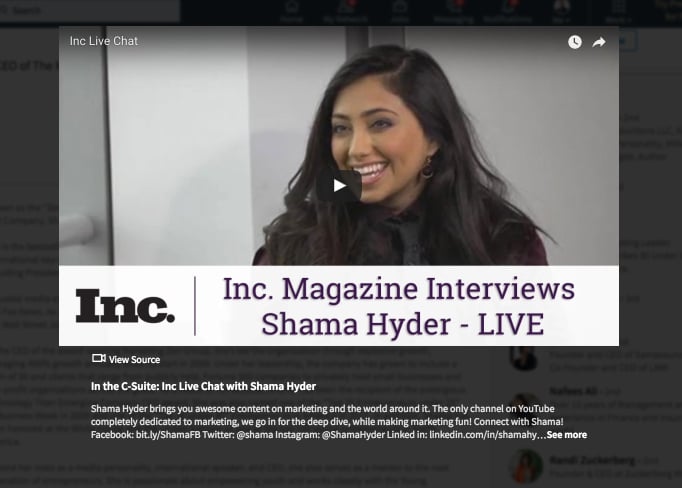 LinkedIn is the only major social platform that hasn't introduced a native video feature (not counting SlideShare).
For this reason, you're left with one good option for video sharing on LinkedIn: YouTube.
Share on Quora
Quora is one of the best places to share your videos.
Why? People on Quora are looking specifically for in-depth information that solves their problems.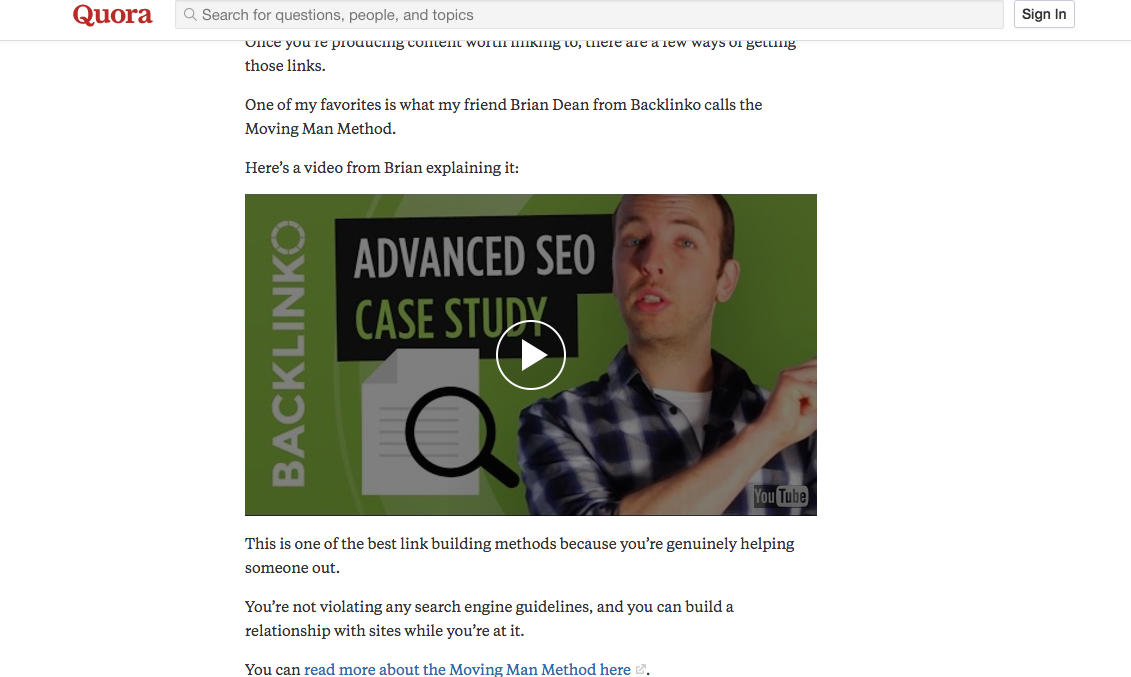 While you shouldn't get spammy with your linking, don't be afraid to plug your videos and/or your channel.
The overall value of sharing on social is greater than just the views you will get on those platforms.
When you share on social, you'll also be working to build links to your channel and grow your social presence. It's a win-win.
12. Send an email to your list
The email list is one of the most effective forms of marketing.
You can send out an email to thousands of people in the blink of an eye, and in a few hours, you can get countless eyes on your content.
This will increase the number of views you get, which is crucial for good YouTube SEO.
13. Embed your video
Embedding your videos has two purposes.
First, it gets your video in front of more people. You can embed your video anywhere, but I recommend blog posts.
Second, it will increase your user engagement. This is a direct result of getting more people to watch your video.
14. Steal keyword ideas
You're not going to be an expert at SEO for YouTube right from the start.
That's why it's wise to see what your competitors are doing.
You might find that other businesses in your niche are using certain keywords.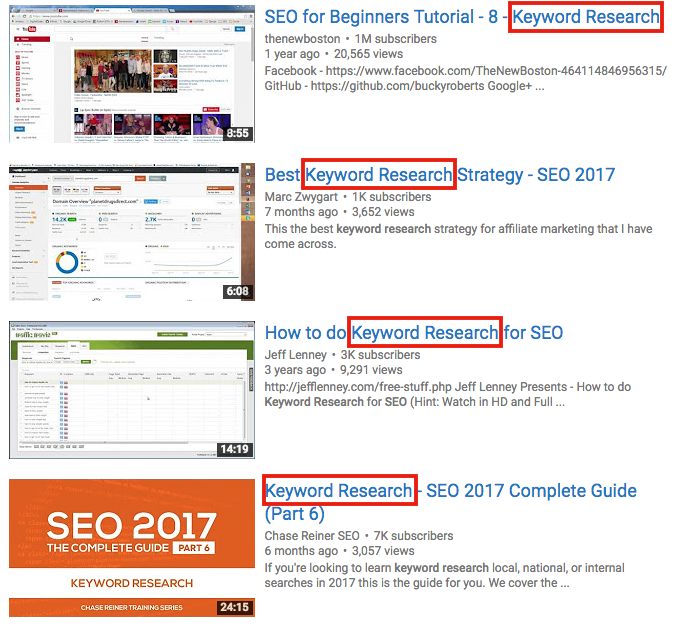 Try using those keywords in your own videos and track the changes in performance. Your videos might get a lot more shares using this one simple technique.
15. Start your description with your focus keyword
Here's a tip straight from YouTube.
When you write your video descriptions, use your focus keyword as early on as you can without sounding forced.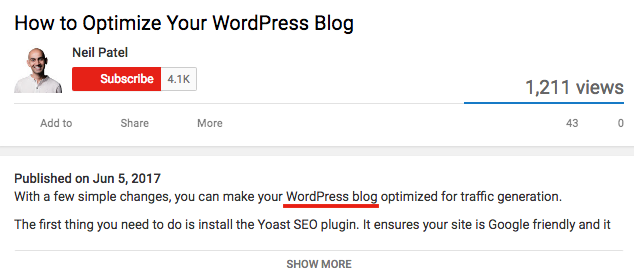 YouTube's bot will see your keyword almost immediately and crawl it. That could result in a higher ranking for your keyword.
16. Use YouTube for keyword research
Let's talk a little more about video keywords for a second.
Earlier, I mentioned using Google to find video keywords.
That's a good method, but using YouTube itself is another way to find great keywords.
In particular, I like to use YouTube's search bar to autogenerate popular keywords.
I can start typing in a phrase like "content marketing" and the search box will make several suggestions:

How's that for video keyword research?
These are actual phrases that people are searching, so it makes complete sense to use them for your own videos.
17. Increase your watch time
What's "watch time?"
It's the amount of time people spend actually watching your videos.
This is an important YouTube ranking metric. If people spend a lot of time watching your videos, they obviously like what you're doing.
There are several ways to increase your watch time, and I'll touch on a few of these in the points below.
18. Review your watch time report
YouTube provides a bunch of handy reports that you can use to analyze how your videos are performing.
There's the watch time report, which helps you see how many minutes people are spending on your videos.
To see the report, go to your channel icon and click on Creator Studio.
In the menu on the left side, navigate to Analytics > Watch time.

This report is useful for tracking changes in your user engagement. If your watch time spikes or drops, you should investigate why that might have happened.
19. Look at your audience retention report
You should also know how much of your audience actually loves your content enough to stick around for a while.
The audience retention report shows you a handful of helpful metrics, including average view duration and your top performing videos.
You can find the report by going to Analytics > Audience retention within your Creator Studio.

You can also see audience retention data for specific videos by clicking the name of the video:
You can also play the video and track your performance by the second.
20. Use engagement reports
Need more reports? I've got just the thing for you: engagement reports.
YouTube offers nine engagement reports to help you measure your overall performance.
Each report is valuable in its own way, and I recommend you take a look at each of them on a regular basis.
For example, the Subscribers report shows you how many subscribers you've gained or lost.
And the Share report tracks how much your videos have been shared using the Share button on YouTube.
These metrics are perfect for improving your YouTube SEO and observing even the finest details of your performance.
21. Add some suspense
If you're still having trouble increasing your watch time and maintaining user engagement, you may need to rethink how you're making your videos.
One successful technique is to start off your video with a bit of suspense.
You don't have to create dramatic cliffhangers, but something has to be at stake.
I often do this by stating a statistic that grabs your attention.
Another option is to ask a question. The popular channel Vsauce does this regularly.
Check out the beginning of this video:
You can't help but continue watching the video to learn more.
It doesn't matter too much how you do it, but you want your viewers to keep watching. Creating a bit of suspense is one of the best ways to accomplish that.
22. Create playlists
Your viewers aren't the only ones who can use the power of playlists.
Building keyword-rich playlists can strengthen your SEO, and you can also get more search traffic.
Take a look at this playlist. Handy, right?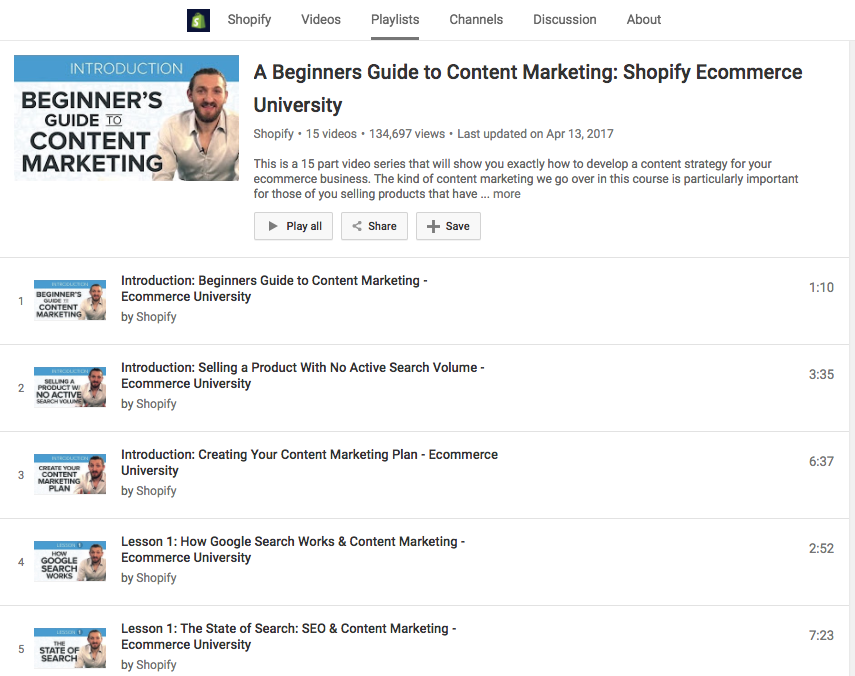 Using playlists is one of those small but mighty tactics that can increase view time and retention.
23. Get featured on another channel
This is a tricky tactic, but if you do it right, it can give you some big results.
It's tricky because you ideally want to team up with YouTube channels that complement but don't necessarily compete with your channel.
If you pick a channel in the exact same niche as yours, you could find yourself losing viewers to the other channel.
So if you have a YouTube channel about food, find a channel that's all about beverages. If you have a marketing channel, find a sales channel.
You get the idea.
Send out some requests and see if other channels are willing to feature you. As long as you give away something valuable, you should have no problem getting featured.
Oh, and make sure you get a link to your channel! You can even ask for an annotation.
24. Get interviewed
Landing an interview on a YouTube channel is another excellent method of getting featured.
Some YouTube channels specialize in interviews, while others conduct them regularly.
The channel Growth Everywhere (where I host Marketing School with Eric Siu) often features influencers: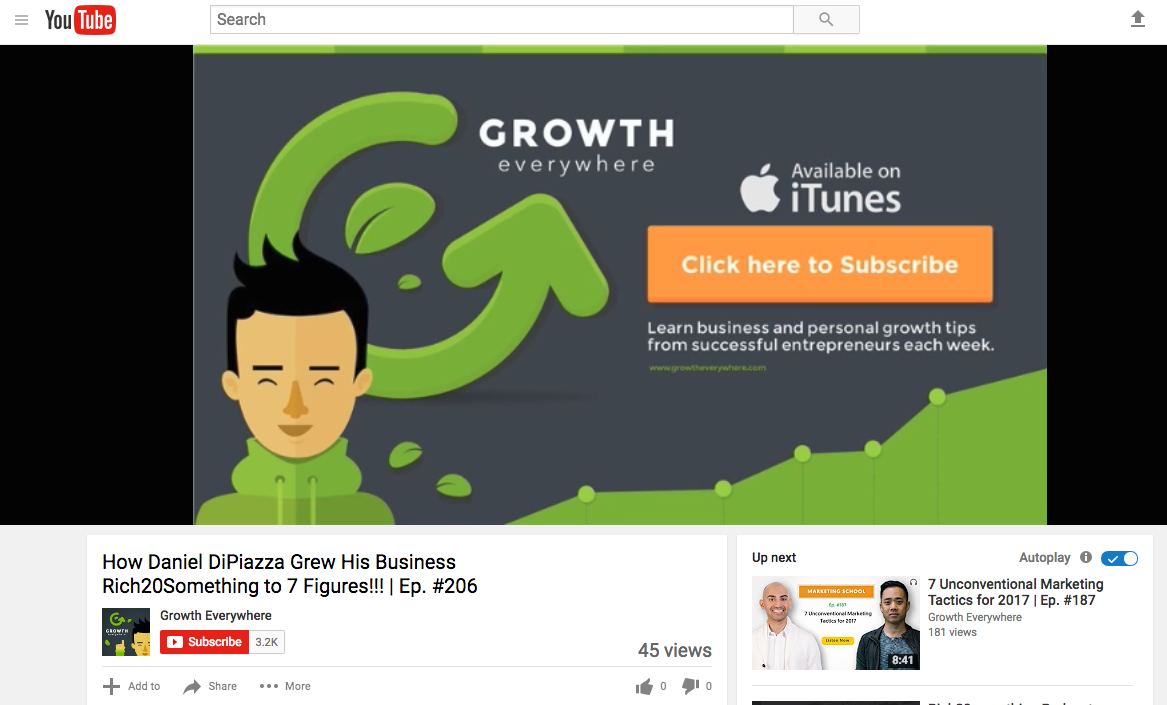 One of the things that have helped fuel my personal brand growth is doing interviews, like this one on Evan Carmichael's channel.
Since Evan has 726k subscribers to his channel, it gives me visibility in front of an audience that I may not have.
25. Find your optimal video length
You've probably asked yourself this at some point: "What's the perfect length for a YouTube video?"
There's no single right answer here.
Minimatters found that the average length of the top ten most popular YouTube videos is 4 minutes and 20 seconds.
However, that might not be best for the type of videos you're making.
If TED talks were that short, viewers would feel ripped off.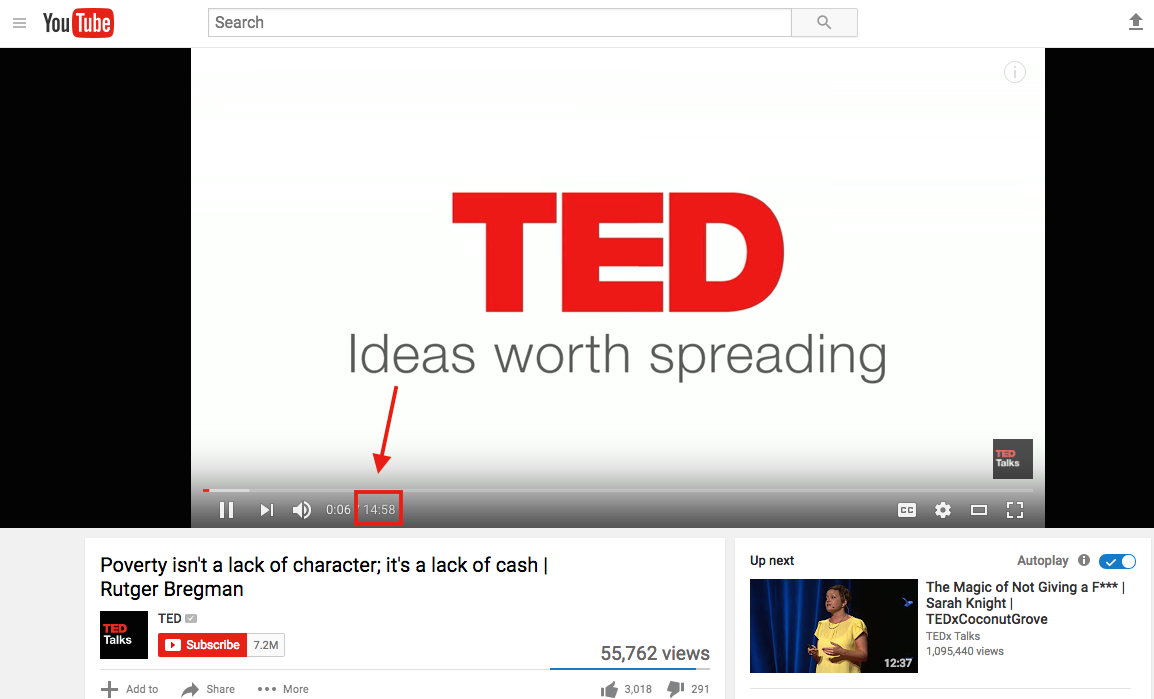 So it depends on the kind of content you're making. If it deserves depth, go with a longer video.
At the same time, don't make super long (or super short) videos just because.
26. Improve your content
I have to finish the list with this piece of advice.
No amount of SEO hacks will keep people coming back for more. That responsibility rests solely on your content.
At the end of the day, your content is the foundation of all your SEO, so make sure it's better than everyone else's.
Conclusion
YouTube isn't just for uber-famous superstars and PewDiePie.
You can get in on the action too.
And it's not that difficult. If you work hard to make videos that really help people, you'll watch the views roll in.
Then you can send that traffic to your website, or you can ask people to subscribe to your list for more content.
Most small businesses aren't on YouTube, which means it's the ideal platform for small businesses.
Every other business in the world is running Facebook and AdWords ads, and as a result, it's hard to stand out on those platforms.
YouTube is a different story. It's surprisingly easy to generate lots of views, especially if you use some of these tips I've shared with you.
You don't need a huge budget to start making great videos. You can produce a viral video using just the phone in your pocket and a free video editor.
The best channels stand out because they have something unique to offer.
If you have a unique value proposition of your own, and if you go the extra mile to create videos people love, you can become very successful on YouTube.
What's your best tip for standing out on YouTube?