Format A Write-Protected USB Flash – Cannot format your USB pen drive because it is write-protected? Get "The disk is write protected" error message while trying to format the flash drive, pen drive or SD card? Some removable storage devices like USB flash drives or pen drive have write protection which is designed to help users prevent unexpected data loss by refusing to delete or format. If you're stuck with a write-protected USB drive that can't be formatted with "The disk is write protected" error, please don't worry! Here is a simple way you can try to remove the write protection and format the USB flash drive and pen drive with no hassle. 
1. Remove write protection on USB flash drive/pen drive using Regedit.exe
1. Click "Start", type: Regedit in the search box, click "Regedit.exe" to open the Registry editor when you see it is displayed at the top of the list.
2. Then navigate to the following key: Computer\HKEY_LOCAL_MACHINE\SYSTEM\CurrentControlSet\Control\StorageDevicePolicies
3. Double-click on the "WriteProtect" value in the right-hand pane of Regedit.exe.
4. Change the "Value" data from "1" to "0" and click "OK" to save the change.
5. Close Regedit and restart your computer. Connect your USB flash drive or pen drive again, and you should find the write protection is removed and the device is no longer write protected.
If you are not professional in computing management and not familiar with command lines, don't worry. EaseUS R&D team has promoted a fresh kit for helping you resolve the write-protection issue on your hard drive, external hard drive, USB or SD card, etc., devices.
EaseUS Tools M is a practical computer fixing tool that is safe and light-weighted. It's a perfect alternative to the command line.
Use this one-click tool to solve the write-protection issues on your own: Format A Write-Protected USB Flash
Step 1:  DOWDLOAD and install EaseUS Tools M for free.
Step 2: Run EaseUS Tools M on your PC, choose "Write Protection" mode.
Step 3: Select the device which is now "Write-Protected" and click "Disable" to remove the protection.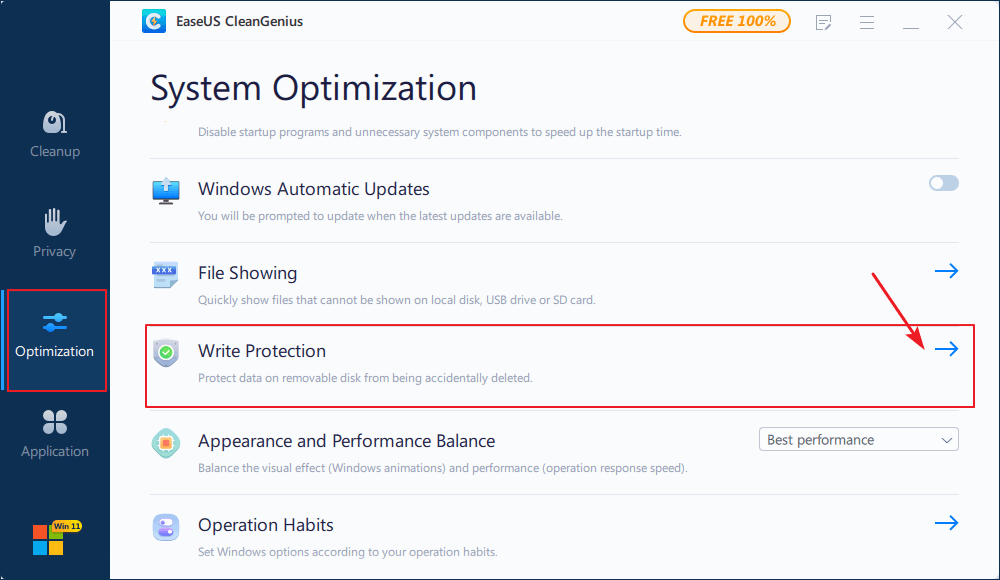 After that, you can recover data from SD card with powerful data recovery software and format the drive as normal by following Method 2.
2. Format a USB flash drive or pen drive after removing write protection with EaseUS partition software – Format A Write-Protected USB Flash
EaseUS partition software, a powerful third-party disk partition management tool which works well to format USB flash drive or pen drive after removing write protection. Besides USB flash drive, the program also allows you to format a write-protected SD card when the write protection is removed. Here is the detailed guide.Download Now
Windows 10 is supported
Step 1: Launch EaseUS Partition Master, right-click the partition on your external hard drive/USB/SD card which you want to format and choose the "Format" option.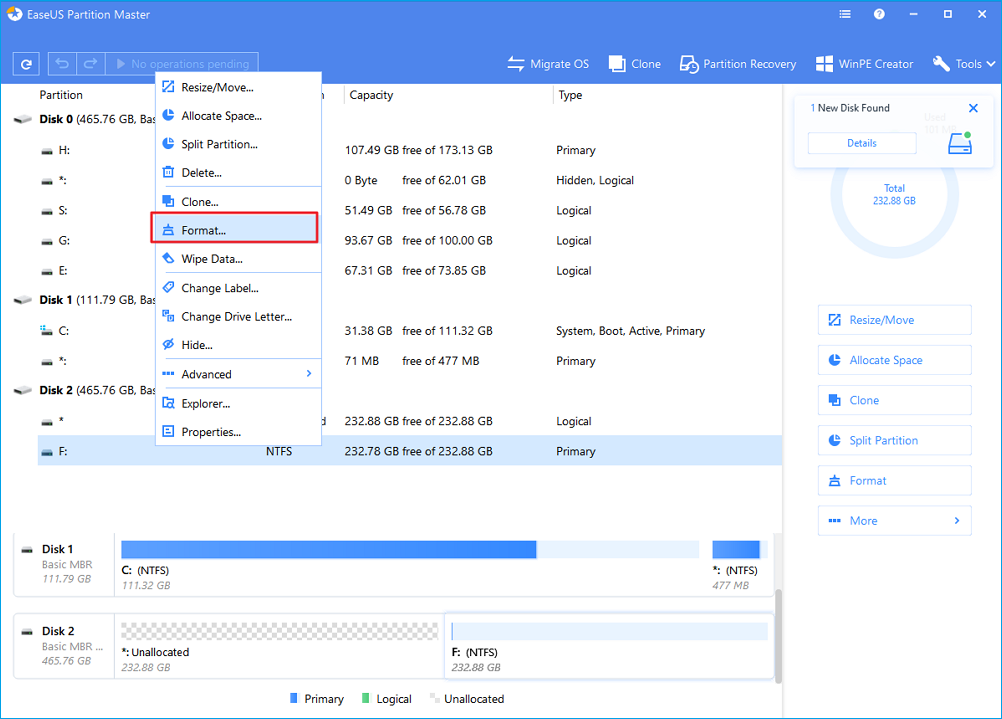 Step 2: Assign a new partition label, file system (NTFS/FAT32/EXT2/EXT3), and cluster size to the selected partition, then click "OK".
Step 3: In the Warning window, click "OK" to continue.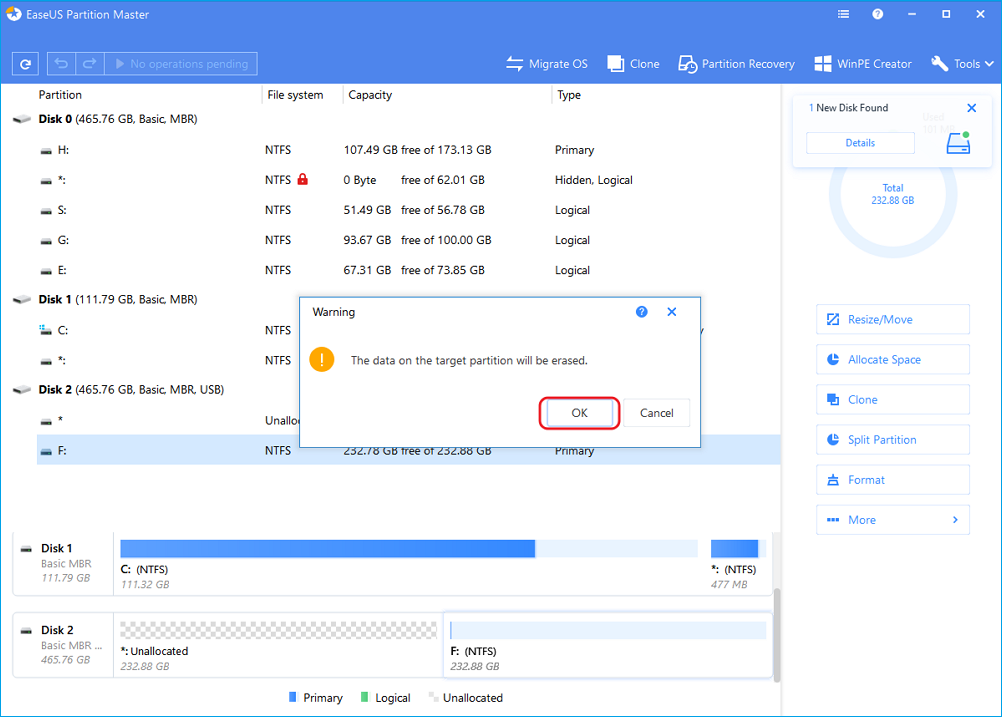 Step 4: Click the "Execute Operation" button in the top-left corner to review the changes, then click "Apply" to start formatting your external hard drive/USB/SD card.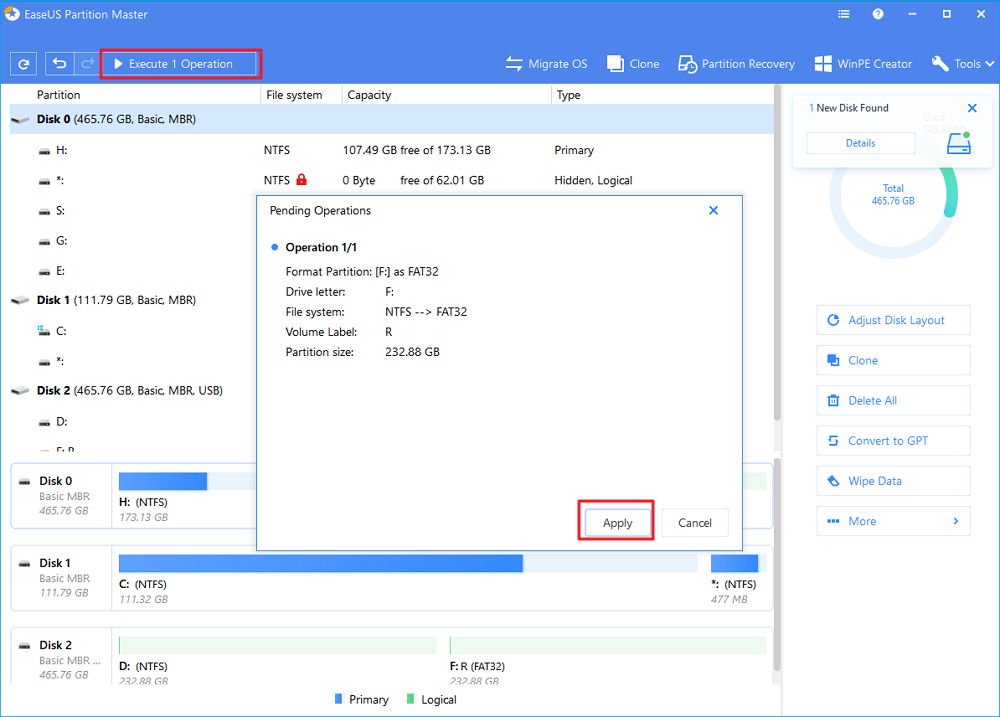 35%of people found this article helpful.
Frequently Asked QuestionsWhy Choose EaseUS Partition Master?
"I've used Partition Master Professional many times to create, delete, format, move, rename, and resize partitions." —PCWorld
"Partitioning tools have come a very long since the days of complicated command line utilities and EASEUS Partition Master is one of the most advanced programs available." —TECH ADVISOR
"I love that the changes you make with EaseUS Partition Master Free aren't immediately applied to the disks. It makes it way easier to play out what will happen after you've made all the changes." —Lifewire
Why Choose EaseUS Partition Master?Will the "Migrate OS" feature transfer the Windows system files only or the whole C drive? Format A Write-Protected USB Flash
To ensure that the migrated system will boot normally, the Migrate OS feature will transfer all the files in the system and the boot partitions. Generally, the boot partition is the C drive so the transfer will include all the files in C.
Does EaseUS Partition Master license apply to multiple computers?
The license of Partition Master Professional and Server editions can be used on 1 computer only, while that for for the Technician and Unlimited editions can be used on multiple machines.
What is the difference between EaseUS Partition Master Trial version and the Free version? – Format A Write-Protected USB Flash
Free is for home users only, with most basic functions available such as partition resize and clone. While trial can help you understand how this product works and test what a full license can do on a business or server OS machine.
Will it cause any data loss after resizing the partition in EaseUS Partition Master?
Generally, it will not cause any data loss or boot issue by resizing a partition. However, in order to protect your data, we suggest that you backup the partition before resizing, in case of any unexpected situations such as power outages, computer hardware failures, etc. You can use EaseUS Todo Backup to backup the partition and its trial version is fully functioned for 30 days.
What should I prepare before resizing the partition?
On the partition that is going to be operated, there might be some files being occupied by other programs. To ensure a successful operation, we suggest that you close all the unnecessary software before resizing that partition. Otherwise, EaseUS Partition Master will detect the partition being locked by the other software and require a reboot to resize the partition under boot mode.
What is usb flash write protection
There are several cases that your usb flash drive may have format problem and it may say 'usb is write protected and cannot be format'.
usb flash drive is write protected
usb flash drive cannot format
According to Wikipedia write protection is a physical parts that was built in digital devices to protect inside data from being changed or altered.
When usb flash drive or usb disk suffered potentional damages, or when it contains bad blocks, or when the switch of the write protection is damaged, it may say the usb drive is write protected.
Write protected usb pendrive cannot format
When you try to format a usb flash drive which has write protection, it may warns the following format error like Windows was unable to complete format usb write protected.
Remove write protection for usb flash drive
How to fix 'The disk is write protected' when formatting usb drive? The next step, we would share several ways to remove the write protection error.
5 ways to remove write protection from usb flash drive or usb disk
Method#1 : Turn off Write Protection Button
There is a write protection button lock that you may turn on/off. If the write protection button is turned on, it would warn an write protection error when you are trying to
copying files on the usb flash to somewhere else
pasting files on the media
deleting or making changes to any file on the media
formatting usb flash/sd
To remove the error, do swith off this Write Protection Button in order to remove its write protection on your usb or sd.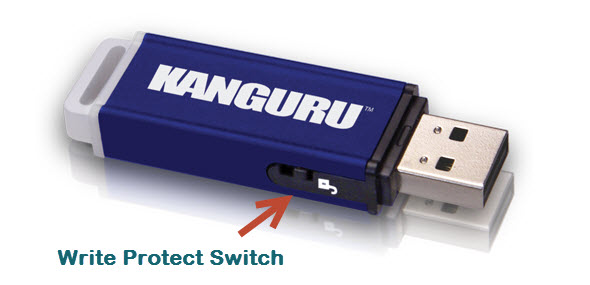 Checking Write Protection Button
Method#2 : Check whether usb drive is full
There is possibilities that when USB flash drive shows Write protect error it could be caused due to insufficient storage. When the usb disk is full, it would stop you save new files onto the media.
To check out if your drive is full or not, open Windows Explorer and right-click on your USB drive and select "Properties".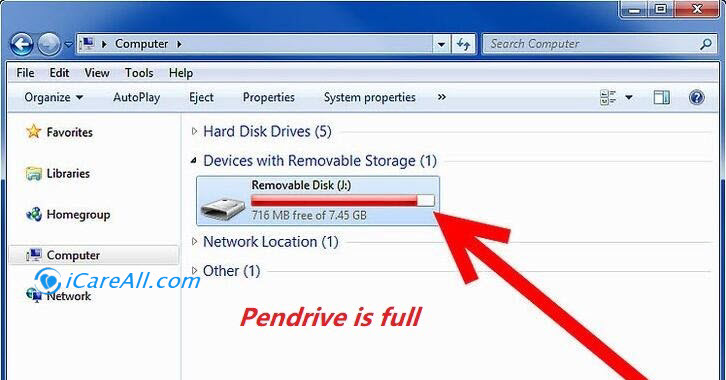 disk or usb is full
If your disk space is full, you need to remove some files or folders to somewhere esle or just delete them to reclaim some free space. And the error would be gone.
If it was not the disk full problem, it would pop up the following error message telling you that you cannot delete files due to write protection error. Then the error was brought by some other issues, that you may follow this article to look for other solutions.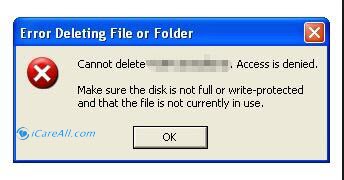 cannot delete file folder full write protected
Method#3 : Disable Files Read-Only Attributes – a single file/folder
When a single file or folder has been labled or setted with read-only previously or if it was a file/folder setted as read-only under the administrator privileges, then you cannot delete them or make changes to them. And this could forbid you from formatting your usb flash/memory card.
To solve the problem, you may just change the property of the file/folder from read-only to be off with read-only mode. Just right click the file, and then you will see the option of unselect 'Read-only' under its attributes options. See a photo as followes.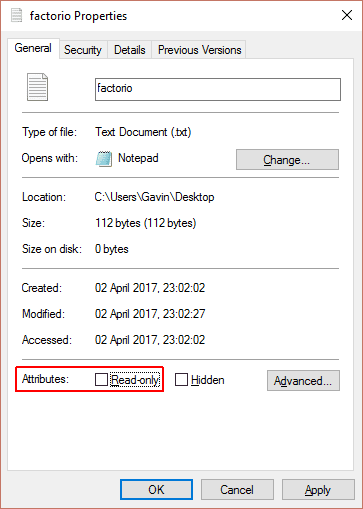 check usb read only or not – delete file failure/format usb failure
If there is a single file that was set with Read-only attributes, you won't be able to format the disk/pendrive. What you need to do is to check every file on your flash drive or disk and make sure not even a file is marked as read-only.
Remove media read-only attritues with CMD – the whole drive/card
There is possibilities that the property of your usb or sd may be set with read-only, how to remove the readonly attributes? Here comes with the steps to remove readonly with CMD.
In this method, we will remove write protection from Pendrive/sd using commands in Cmd. This will fully clean the write protection of the Pendrive.
Step 1. Click on Start->Cmd. Type Diskpart and press enter.
Step 2. Type list disk.
Step 3. Type select disk 1
Step 4. Now type "attributes disk clear readonly" and press enter.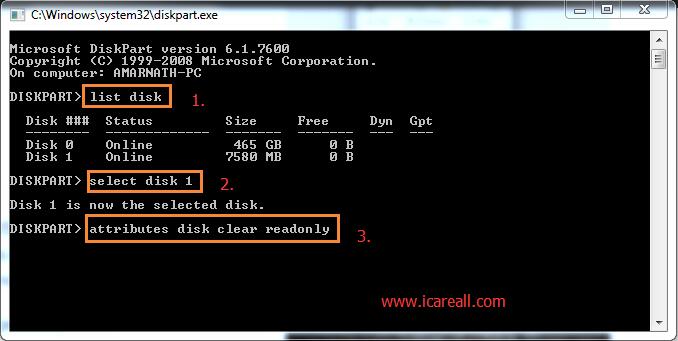 remove readonly
Now exit from cmd and format your SD/Pendrive. Then the write protection will be removed.
If this one still does not work, try the method#4.
Method#4 : Set registery value of WriteProtec to be 0
The readonly value is also controled by registry of computer. If this stops you from writing, coping, pasting or formatting, just follow the steps below.
Step 1. Open Run -> type Regedit -> click on Registry Editor.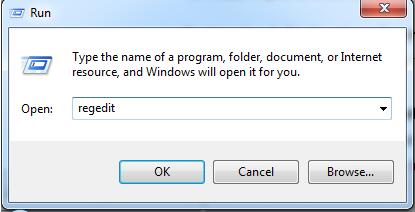 open regedit
Step 2. Now follow up this path in Registry Editor
HKEY_LOCAL_MACHINE/SYSTEM/CurrentConrolSet/Control/StorageDevicePolicy
Step 3. There is write protection, just click on it and set its value to 0.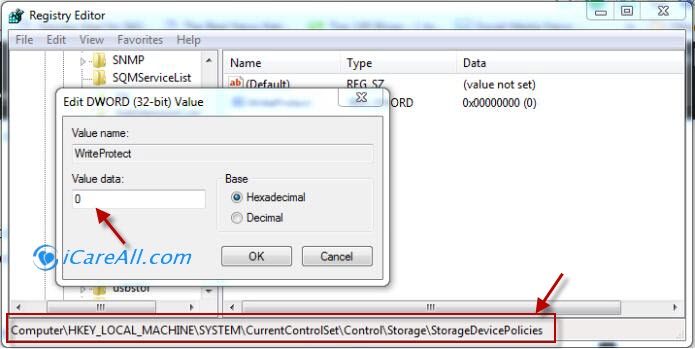 set write protect value 0
What If You didn't Find StorageDevicePolicies?
If there is no StorageDevicePolicies in Registry Editor, then you may create one by the following guide. Find the following folder and then create one.
Right click the empty place under Control,
New>DWORD and name it WriteProtect and set its value to 0. Click OK
HKEY_LOCAL_MACHINE>System>CurrentControlSet>Control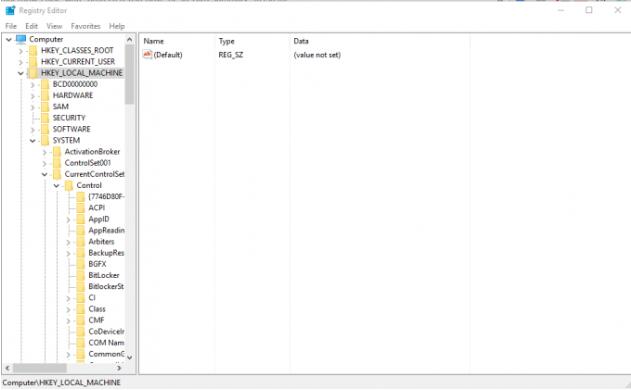 open storage device policy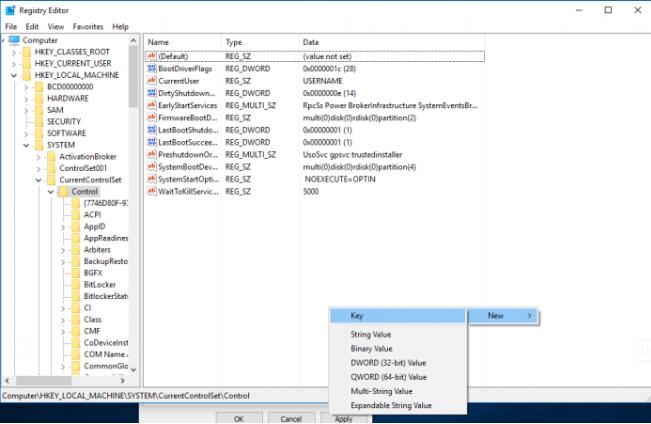 open storage device policy
Here you need to right click on the white space in the control folder and choose New>Key and carefully enter the name "StorageDevicePolicies"
If the file have been created and value set to 0, then exit Regedit and reboot your computer.
If you did not know how to create a key, watch the following video which would tell you more.
Video
Method#5 : Scan virus for your usb flash
When a virus infected your usb flash, or your sd, the usb could be locked by virus with write protection. Then you need to remove that writes protection error by removing the virus at first.
Scan your media with antirus program, and your write protection will get easily removed.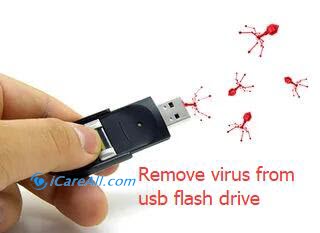 Remove virus from usb flash
Here is a list of recommended anti-virus programs that you may consider
Microsoft Smart Defender- if you are using Windows 10, it is automaticlaly built in the OS, you may just right click your media and then start scanning virus by Smart Defender
Bitdefender Antivirus Plus 2019
Norton Antivirus Plus
Kaspersky Anti-virus
Eset Nod32 Antivirus
Please note: usually the antivirus software are not compatible with each other since they are all requiring a unique control on the OS, so we would recommend you just have one antivirus program installed on your PC to avoid potential risks.
5 Free USB Format Tool Download to Format Wirte Proteted USB
Format Tool #1: IM-Magic Partition Resizer Free
Download the freeware Partition Resizer
IM-Magic Partition Resizer Free edition is a 100% free program that asks for no pay, no limited functions provided inside of the disk tool. It has a 'Format Partition' option for you to format the media for free. Here are the steps that you may follow.
Step 1: Install the freeware on your Windows PC and then connect your usb/disk to Windows.
Step 2: Open freeware from its desktop icon and then after it loads your media, right click it, and then go to the option 'Format Partition'
Format usb drive
Step 2: And then select what kind of file system you want to format your usb, or just leave it as default.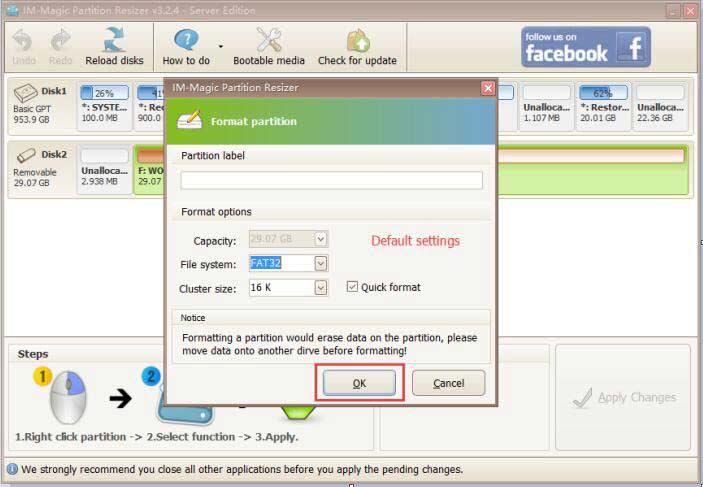 Format usb
Step 3: confirm the formatting by clicking 'Apply Changes'
Format Tool #2: HDD Low Level Format
HDD Low Level Format is provided by HDDGURU.COM on their page
And its download link https://hddguru.com/software/HDD-LLF-Low-Level-Format-Tool/HDDLLF.4.40.exe
You may copy and paste the download link in your browser to start downloading the free tool.
Warning: any low level formatting of flash drive or disk is shorten its life and can bring the lifetime of your media shorter.
Format Tool #3: USB Disk Storage Format Tool
USB Disk Storage Format Tool is provided by Authorsoft and it is also a 100% free tool.
You may download it here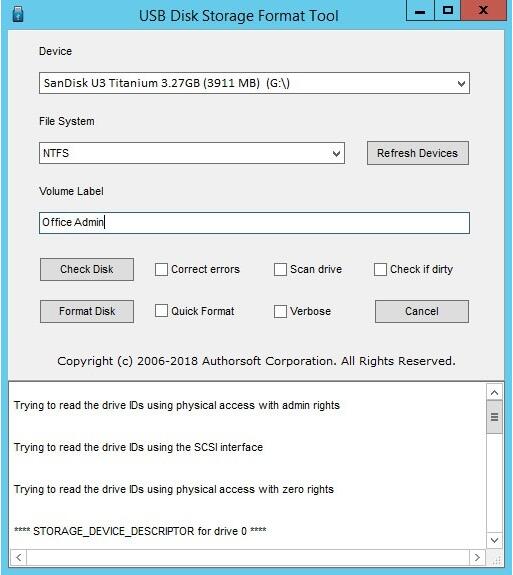 Format usb drive
Format Tool #4: Easeus Partition Master
Easeus Partiton Master is simple and fast for formatting a hard drive or usb flash with multiple useful functions for managing a hard drive. You may download it here:
Format Tool #5: Kingston Format Utility
Kingston Format Utility is dedicated for usb flash formatting that you can find more information on its homepage
You may download it here:
ftp://supportdownload:supportdownload@ftp.kingston.com/kingston_format_utility.exe
Useful Video Guide for Removing Write Protected USB
Here are some useful video guide that you may watch to know better of how to remove usb protection and format the usb drive.
Related Articles