Are you planning for a perfect vacation getaway or that important business trip? Lucky you. Planning for travel couldn't be easier.
Unlike traditional booking where you had to walk into booking stations and queue for long hours, you can now easily book at the comfort of your home using a phone or a computer.
What's more, Jambo Jet and Fly540 flights are quite affordable, meaning anyone can fly!
This article will take you through step-by-step procedures of booking Jambo Jet and Fly540 flights online.
Who is Jambo Jet?
Jambojet is a low-cost airline brand of the national carrier Kenya Airways.
Operating from Jomo Kenyatta International Airport (JKIA) in Nairobi, Jambojet has set to revolutionize the way you travel by opening up the skies for all to fly for less.
Being a subsidiary of Kenya Airways, you can be assured of top quality service and adherence to the highest international safety standards.
Jambo Jet Online booking
Here is the procedure:
The best and easiest way to book your Jambojet flights is through its website.
To book your flights, follow these simple steps:
Step One: Check Availability
a) Visit www.jambojet.com
The booking widget is available on the top menu bar of every page of the Jambojet website so you can book your ticket as you browse.

b) Enter the location you would like to travel from (port of departure)
c) Enter your port of destination
d) Select your travel dates
For one way travel, skip entering return travel dates. For a return trip, select your preferred date for the return trip.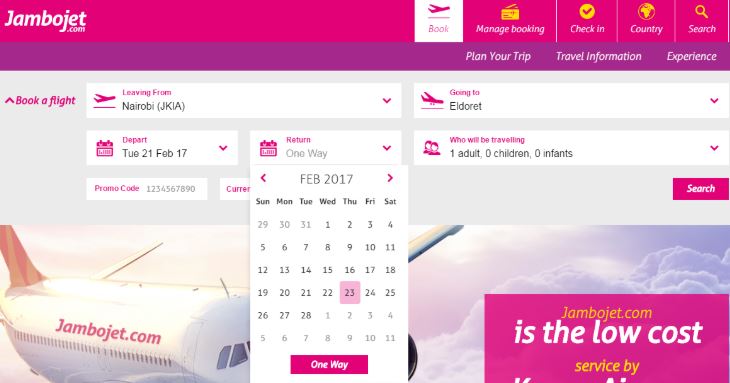 e) Select the number of passengers. Click confirm.

f) Select your preferred currency i.e. Kenyan Shillings or US Dollars. Click 'Search' to check availability.

Step Two: Select Flights
a) Select your preferred flights
All the available fares on your chosen travel dates will appear on the screen. To view flights on other dates please use the arrow buttons on the left and right of the dates and prices in bold for both outbound (departure) and inbound (arrival) flights. Select your preferred flight by clicking the button beside the price.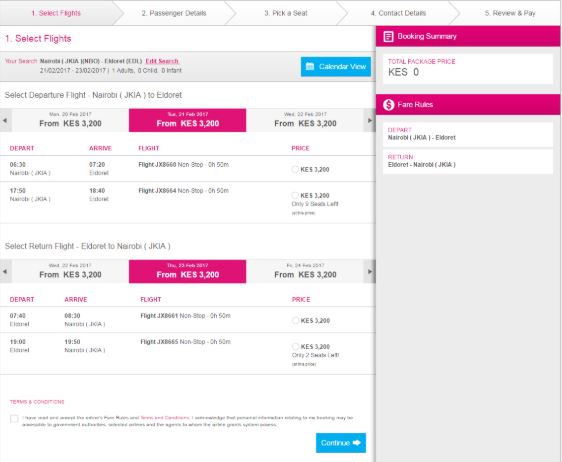 If you would like to conduct a new search, simply scroll up to the top of the page and click 'Edit Search". You can also refine the search by re-selecting your origin, destination, travel dates and number of passengers.
b) Select your return flight (where applicable)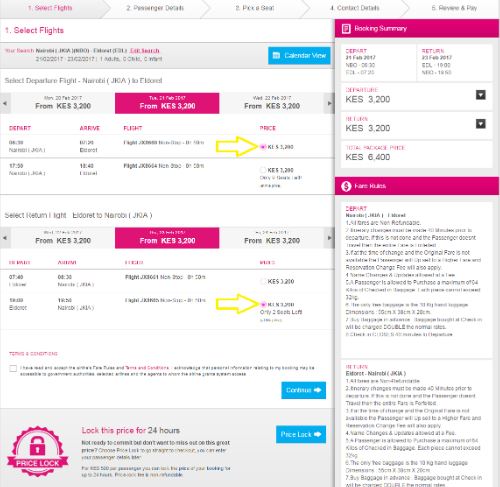 The booking summary (fare breakdown) and fare rules can both be reviewed on this page (Desktop/Laptop users can view both on the right side of your screen while mobile users can view this at the top of the page)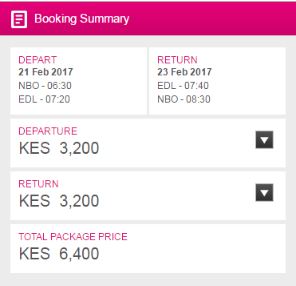 c) Review and accept the terms & conditions
d) If you are not ready to proceed with your booking but don't want to lose the current fare offer to the fluctuations of demand and supply, please take advantage of our Price Lock feature. This will secure your fare for 24 hours. Price Lock is a premium service that attracts a nominal fee separate from the fare.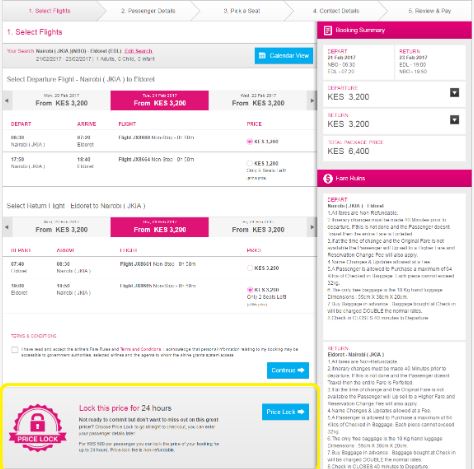 e) Click 'Continue' to proceed to the next step of your booking.
Step Three: Passenger Details
a) Enter all required details for the passengers traveling on your booking.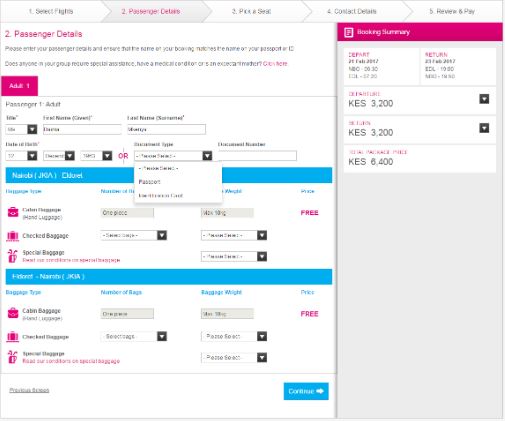 Enter your contact details. Names must be a precise match with the passengers' ID or passport.
b) Enter the passenger(s) birthday or ID/Passport number
c) Select your baggage allocation.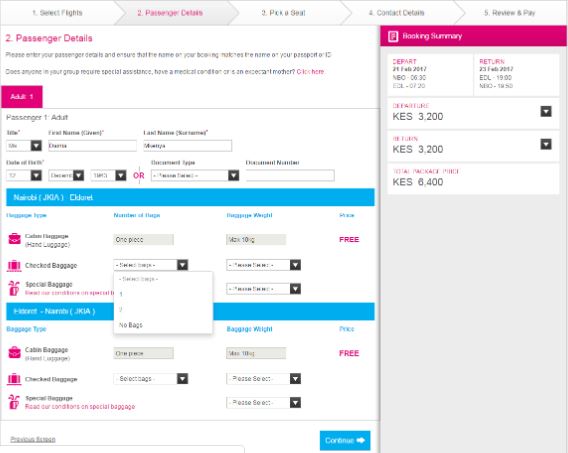 Please remember that every passenger is allowed to carry 1 piece of carry-on/hand luggage (max dimensions: 55x35x25cms) at no cost but additional hold baggage will attract an extra cost. If no checked baggage shall be carried, please indicate so.
d) Click 'Continue' to proceed to the next step of your booking.
Step Four: Pick A Seat
a) You can select your preferred seats for you and/or every passenger in your booking for a fee. Simply click on your preferred seat(s) to make the selection. To deselect, click on the selected seat again. Once you have made your choice, click 'Continue' to proceed. You may, however, skip this step if you wish by simply clicking Skip Seat Selection at the bottom of the page.
b) Click 'Continue' to proceed to the next step of your booking.
Step Five: Contact Details
a) Enter your contact details as well as those of any passengers traveling on your booking. Names must be a precise match with the passengers' ID or documentation. Ensure that the contact details entered at this stage are up to date as Jambojet uses them for all communication with regard to your booking upon confirmation.
Step Six: Review & Pay
a) Select your preferred mode of payment. You can pay for your Jambojet flights by any of the following methods:
Visa Credit Card
Master Card
M-Pesa (paybill: 737700), Airtel Money (jambojet), Equitel (paybill: 737700)
Pay cash-over-the-counter or with one of the above payment options at any Jambojet office or visit / call the Jambojet Call Centre 0711024545, 0734104545, 0206424545, 0203274545.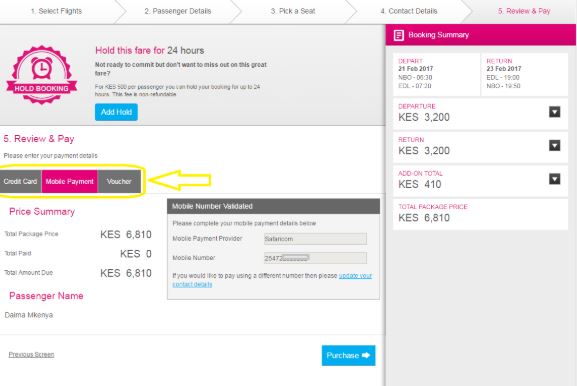 b) Click on 'Purchase' to finalize your transaction.
You shall then receive an itinerary with all of your selected travel details. Payment must be made within one hour or else the booking shall be canceled.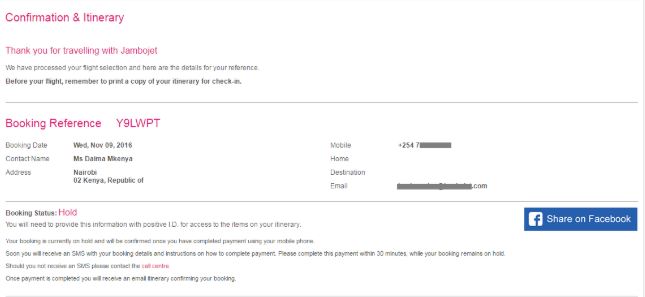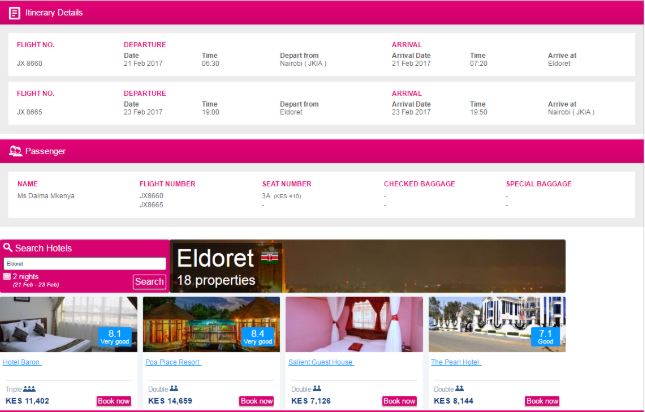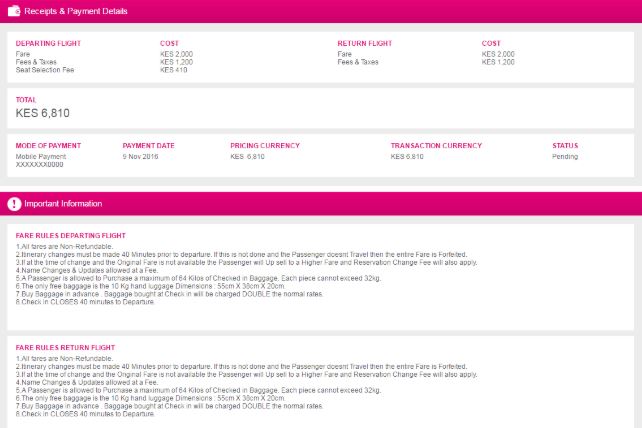 Who is Fly540?
Fly540 is East Africa's premier low-cost airline offering low fares on scheduled flights all year round to destinations within Kenya, South Sudan and Zanzibar
Headquartered in Nairobi and operating from Jomo Kenyatta International and Wilson Airports, Fly540 locally flies to Eldoret, Kisumu, Lamu, Lodwar, Malindi, and Mombasa.
Note: Apart from online booking, you can also book by just calling their office, (+254 737 540 540) as well as via email (bookings@Fly540.com).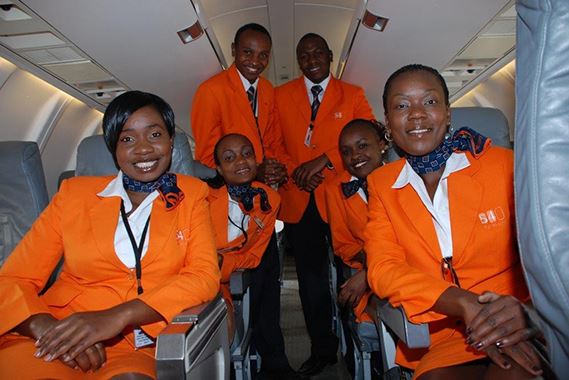 Fly540 Online booking
To book your flights online, follow these simple steps:
1. The first step is to visit their website https://www.fly540.com.
Once you are there, you'll see a box on the left side of the home page indicated 'Book A Flight'.
2. Fill in the details of your travel data, then select the 'Continue' button in order to move to the next step.
3. Next, pass the security check.
4. You now have to select your desired flight by clicking the buttons with prices then select next.
5. If you have luggage, then you will select the number that you have after which you move on to the next stage which is the payment part.
6. Key in your personal details in the field provided by ascertaining that the details are right and correspond with those of your official identification documents i.e. National Identity card.
7. Do not forget to agree to the 'terms and conditions' radio button which is right at the bottom of the page. To confirm your bookings, click next.
8. A new page will pop where you will be required to choose the mode of payment you prefer. At this stage, you will make the payment and complete your online booking for Fly540.
Managing Fly540 online booking Kenya
In everyday life, there are unforeseen events that occur, at times catching us unawares. We tend to plan, but plans do not go as earlier planned.
At Fly540 flexibility is key, in case of any changes, therefore, one is able to view his/her flight details and make any changes by using the details they used in the application process and log on to the system.
You can always go over your email to confirm your login details for this matter; you will use your surname and the booking reference.
Changing or canceling a flight booking
There are rules and regulations regarding the cancellation of flight.
I) Fly540 Kenya does not return money to clients who cancel their flights on the same day of booking.
II) However, there is an exception to this rule, that is, if the booking is made on the day of departure, then the money is refunded.
III) Taxes and charges are included in the refund while cancellation fee and credit card fee are excluded.
Fly540 Check-In Online
Prior to the departure time, online check-in starts 48 hours earlier and it ends two hours before the designated departure time.
One has to be keen to ensure he/she is always within the time frame.
The following is the procedure on how to use the Fly540 check-in online:
1. On their website, there is a section indicated 'manage my booking' on the homepage. Log in by using the surname and booking reference.
2. Select the "Allocate" button in order to select your desired seat. There is a window that will pop up with a map showing the seat. Tap 'close' to shut the pop-up window.
3. A button will then appear on the right, click it to check in.
4. Once you have clicked the check-in button, a button indicating 'get boarding pass' will appear which you will click to generate a boarding pass.
5. Print it as you will take the hard copy to the airport with you.
Note: If you are not keen on the timings on the boarding pass you have printed, you might end up missing a flight.
Fly540 flight cancellations
Due to uncontrollable circumstances, flights cancellations may occur without any notice.
These circumstances include; bad weather, strike actions, unexpected flight safety checks, terrorist alerts, and security alerts.
What happens in such cases is that the flight attendants try as much as possible to reschedule the flights or rather the route may be changed for the safety of the passengers.
How Fly540 handles Missed flights
In case of changes made personally by the passengers, Fly540 is not held liable as they are not consulted on the outcomes such as; missing flight.
It can only be considered if the circumstance was not personal.