HomePod is a breakthrough speaker that adapts to its location and delivers … Together with Apple Music and Siri, it creates an entirely new way for you to discover … Available in white and space gray, it's gorgeous from every angle — yet … it automatically analyzes the acoustics and adjusts the sound based on its location
AT A GLANCE
HomePod is Apple's answer to the Amazon Echo, but with more of a focus on music and sound quality. HomePod includes impressive sound and also supports Siri commands. Launched February 9, 2018.
FEATURES
Superior sound and microphone technology
Siri integration
Apple designed woofer
Seven tweeters
7-inch mesh body
Spatial recognition
Stereo sound, AirPlay 2
What's Next for the HomePod
Rumors and estimated sales data suggest the HomePod isn't selling well due to its high price tag, ecosystem limitations, and Siri performance issues. Apple may combat some of these issues with a low-cost version of the HomePod that would be more affordable.
According to Bloomberg, Apple will introduce a second version of the Home-Pod with a lower price point in 2020. Bloomberg believes the lower-cost speaker could feature two tweeters instead of the seven in the current HomePod, which would result in lower audio quality but a more affordable price tag.
The new Home-Pod is expected to be smaller and cheaper than the existing Home-Pod, but it will feature the same general form factor. Apple is said to be targeting a release in the second half of the year.
Amid rumors that there's a new, smaller Home-Pod in the works, Best Buy is offering steep discounts on the HomePod and Apple employees are now permitted to buy larger quantities directly from Apple at a 50 percent discount. Both of these could be signs that the new Home-Pod could be coming soon.
Home-Pod- Apple's Siri Speaker
HomePod, which Apple worked on for years prior to its 2017 debut, is designed to reinvent the way music is enjoyed in the home, and, according to Apple, it does something that no other company has managed to do — combines a smart speaker with incredible sound.
To differentiate the Home Pod from competing products like the Google Home and the Amazon Echo, Apple focused heavily on audio quality. Home Pod is just under seven inches tall, but Apple has packed a lot of technology into the device's body. It features a 7 tweeter array, with each tweeter outfitted with its own driver, and an Apple-designed 4-inch upward-facing woofer for crisp, clear, distortion free sound even at loud volumes.
We think we can do a lot to make this experience much better. Just like we did with portable music, we want to reinvent home music. — Apple marketing chief Phil Schiller
The internal components in Home Pod are controlled by an A8 chip, making it much more powerful than competing smart speakers. Home Pod is equipped with spatial awareness, allowing it to intelligently analyze a room and adjust accordingly for the best possible sound. Included touch controls at the top of the device allow for simple navigation, and there's 1GB of RAM.
Home Pod is round, compact, and covered in a 3D mesh fabric selected for its acoustic properties. According to Apple, it has been designed to offer incredibly spacious, room-filling sound despite its small size.
Home Pod integrates with Apple Music and features built-in Siri support. With a 6 microphone array, the speaker can detect Siri commands from anywhere in a room, even when loud music is playing. Siri has an improved understanding of music-related queries and can help users discover new content, serving as an in-home musicologist, as Apple says.
Siri is activated via a "Hey Siri" command, and a visible LED waveform at the top of the speaker is designed to let users know when the personal assistant is listening. Apple always has privacy in mind, so Siri does not actively monitoring what's being said in the room until the magic words are spoken, and all communication between Siri and Apple's servers is anonymous and encrypted.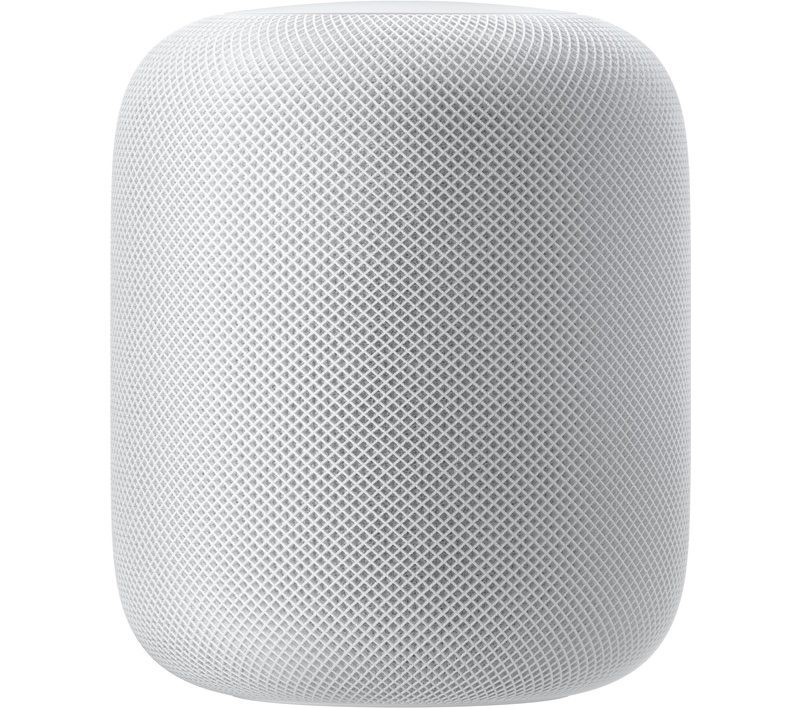 Siri can do a lot more than just play music, such as provide news updates, play podcasts, offer weather reports, share traffic information, give sports updates, set reminders, set multiple timers, send text messages, find your iPhone or other Apple devices, search for songs using lyrics, make phone calls, and more. Essentially, Siri on Home Pod can do much of what Siri on iPhone can do.
Home Pod supports AirPlay 2, allowing it to be paired with other AirPlay 2 speakers, and it includes support for stereo sound so two HomePods can be paired together for more robust sound. With AirPlay 2, Home Pod can be used as part of a multi-room audio setup.
As of iOS 13.2, Siri is able to recognize the voices of multiple different Home Pod users, queuing up the favorite music of each person in the home. The update also brings support for Handoff, which means music, podcasts, and more can be handed off from the iPhone or the iPad to the Home Pod. Siri is also able to play live radio stations, set sleep timers, and play ambient sounds like rainfall for background noise.
Though Home Pod is designed to work with an Apple Music subscription, it is able to play content from third-party services from an iOS device or a Mac using peer-to-peer AirPlay. At the current time, it does not natively support other music services, but Apple will add support for third-party music services this fall. Home Pod also does not work as a standard Bluetooth speaker with non-Apple devices using a Bluetooth connection.
Like an Apple TV or iPad, HomePod serves as a HomeKit hub, so with a Home Pod connected, HomeKit devices can be accessed remotely. Siri commands can be used to control all HomeKit-connected smart devices, positioning the HomePod as a centralized home control product.
HomePod comes in White or Space Gray and while it was originally priced at $349 in the United States, Apple in April 2019 dropped the base price of the HomePod to $299.
HomePod is available to order from the online Apple Store and can be purchased from retail locations in the United States, United Kingdom, Australia, Canada, France, Germany, Spain, Mexico, China, Hong Kong, Japan, Taiwan, and India.
Design
HomePod resembles a small mesh-covered Mac Pro. It has a cylindrical body with a flat top that is outfitted with a 272 x 340 display that shows a Siri waveform when activated. Built-in touch controls are included to play/pause music and adjust the volume.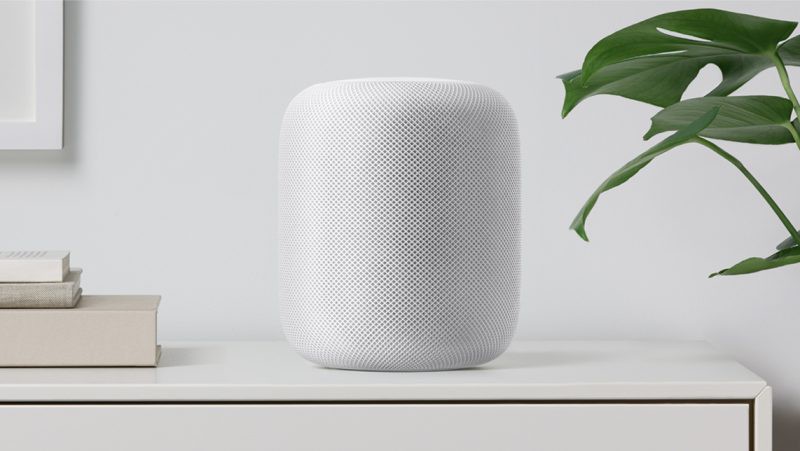 Measuring in at 6.8 inches tall and 5.6 inches wide, the HomePod comes in Space Gray or White, and aside from the mesh fabric and the waveform LED at the top, there are no other external markings on the speaker, so it has a clean, simple design that matches with a range of interior decors.
HomePod includes a removable power cable, which is covered in a fabric much like the fabric of the speaker itself. While it can be disconnected by pulling on it with significant force, Apple does not recommend removing the cable.
Supported Touch Gestures
The HomePod supports several gestures using the aforementioned touch controls at the top of the device. A tap pauses/plays music, while a double tap swaps to the next track. You can go back to the previous track with a triple tap, and a touch and hold brings up Siri (with a visible waveform to indicate when Siri is listening).
A tap or a tap and hold on the "+" button raises the volume, and a tap or a tap and hold on the "-" button lowers the volume.
Sound Quality and Hardware
HomePod is filled with sophisticated hardware dedicated to providing the best possible sound. At the bottom, there's a custom seven beamforming tweeter array, each with its own individual driver. Precision horns drive audio from the inside of the speaker out through the bottom with what Apple says is "tremendous directional control."
Above the tweeters, there's a six-microphone array that allows the HomePod to hear spoken Siri commands even when loud music is playing, and above the microphones, there's a 4-inch upward-facing Apple-designed woofer that has a powerful motor to move a lot of air, resulting in deep bass. The speaker uses automatic bass correction powered by a low-frequency microphone and dynamic software modeling to keep sound distortion free even at loud volumes.
At the top of the HomePod, there's an Apple-designed A8 chip, which is the same chip that was first introduced with the iPhone 6. It's a lot of processing power for a speaker, and Apple says it's perhaps the "biggest brain ever" built into a speaker. The A8 chip powers capabilities like real-time acoustic modeling, buffering, upmixing of direct and ambient audio, and multi-channel echo cancellation, and inside, there's 1GB RAM and 16GB of flash storage, even though there's no way to store music on the device itself.
HomePod uses spatial awareness to intelligently detect the room around itself, automatically adjusting and balancing audio to take full advantage of its environment to fill a room with sound regardless of where it's placed, and this was independently tested and confirmed to be true. According to Apple, HomePod also uses an advanced algorithm to continually analyze what's playing, dynamically tuning low frequencies for smooth sound.
We're hitting on something people will be delighted with. It's gonna blow them away. It's gonna rock the house. — Apple CEO Tim Cook on the HomePod
Setting up a HomePod is as simple as holding it next to the iPhone, similar to the setup process for AirPods.
Two HomePods are able to work together as a stereo pair for an even richer sound as of the 11.4 software update, and with multiple HomePods in different rooms in a home, the AirPlay 2 protocol can be used to control audio in every area of the house. AirPlay 2 is also available in third-party speakers, allowing for whole house audio using a range of different speakers.
While Apple calls two HomePods paired together stereo sound, it is not possible to set one HomePod as the right channel and one HomePod as the left channel as with traditional stereo sound. Instead, the two HomePods work together to detect and balance one another to provide stereo-like sound. Support for two HomePods is expected to be introduced before multi-room audio.
HomePod supports the following audio formats: HE-AAC (V1), AAC (16 to 320 Kbps), protected AAC (from iTunes Store), MP3 (16 to 320 Kbps), MP3 VBR, Apple Lossless, AIFF, WAV, and FLAC.
Music Playback
HomePod integrates with Apple Music, Apple's streaming music service. It connects directly to Apple Music in the Cloud over WiFi, so it is able to access a user's music library, complete with playlists, customized music mixes, and preferences.
HomePod also supports a shared Up Next music list, so all of the people in a home can contribute to the music playlist, and HomePod can accept commands from anyone in the home once linked to an Apple Music account.
If you don't have an Apple Music account, HomePod works with iTunes Match and iTunes Music purchases, and you can use AirPlay from your other Apple products to play music from streaming services like Spotify.
As outlined by Apple, HomePod (and Siri) work with the following music sources:
Apple Music
iTunes Music Purchases
iCloud Music Library with an Apple Music or iTunes Match Subscription
Beats 1 Live Radio
Podcasts
AirPlay from iPhone, iPad, iPod Touch, Apple TV, and Mac
When streaming music from Apple Music, HomePod did not originally count towards your device limit, allowing you to stream music to HomePod and your iPhone or Mac at the same time. Apple changed this feature in January 2019, however, and it is no longer possible to play music on HomePod and another device at the same time with a single-person Apple Music subscription.
Songs streamed on HomePod do, by default, affect the music recommendations of the "For You" tab on Apple Music, but if you want to play music that's out of your traditional wheelhouse on HomePod, like if you're having a party, you can open up the HomePod and toggle off the recommendation setting to prevent it from impacting your "For You" suggestions.
Disabling this setting also prevents HomePod from adding content to the "Listening To" section of your Apple Music profile that catalogs content you've played on Apple Music.
HomePod does support Bluetooth 5.0, but it is not able to play music from non-iOS devices using a Bluetooth connection.
Third-Party Music Service Support
Later this year, the HomePod will support third-party music services, which will allow the device to work with services like Spotify and Pandora by default instead of Apple Music.
Apple quietly announced the feature at WWDC, but did not provide details on how it will work or when it will roll out. Third-party music services will presumably begin working on the HomePod after a fall software update planned alongside of the release of iOS 14.
Siri Integration
According to Apple, a key ingredient for an in-home smart speaker is a musicologist, which is Siri's role in HomePod. Siri has been updated with a greater understanding of music-related data, allowing the personal assistant to answer a much wider range of music-related questions.
Through the aforementioned integration with Apple Music, Siri can make music recommendations based on personal tastes, aiding in music discovery, and the assistant can make note of what a user likes. Questions and commands that work with Siri on HomePod include "Play more songs like this," "Play something new," "Who's singing?" and "Play more like that." A sample of music-related Siri commands is available in the image above, shown on stage at the WWDC keynote. Siri is able to play content from your iCloud Music Library, Apple Music, or iTunes purchases.
Siri is also built to be a home assistant. Siri isn't limited to music and can answer queries around a wide range of topics, doing things like sending messages, making phone calls, setting multiple timers, offering weather updates, making calendar appointments, and more. Siri can answer queries from any person in the house, with Siri functionality not limited to a single user.
When the primary user is not home, however, Siri access is restricted to Apple Music — features like sending texts and creating reminders are not available. The HomePod is tied to the primary user's iCloud account and the expanded access to all features shuts off if the user's iOS device is not on the same network.
HomePod supports speakerphone functionality and is able to serve as a speaker and a microphone for a voice-based call. Anyone in the home can start a call on their iPhone and then switch it over to the HomePod using Handoff.
Apple built HomePod with privacy in mind. Siri is activated through a "Hey Siri" command, and until those words are spoken, HomePod is not listening to conversations in a room. Once the "Hey Siri" command is said aloud, data is sent to Apple's servers using an encrypted and anonymous Siri ID. All communication between HomePod and Apple's servers is encrypted and anonymized to protect user privacy. More detail on how "Hey Siri" works on HomePod is available via Apple's machine learning blog.
At launch, Siri is available in English (UK, Australian, US, and Canadian) French, and German.
HomeKit
HomePod, like the Apple TV and the iPad, serves as a HomeKit hub. As a HomeKit hub, HomePod enables remote access for HomeKit devices, allowing them to be controlled when a user is away from home.
Through Siri integration, HomePod is also able to control all of a user's HomeKit devices, similar to what's possible on an iPhone or iPad.
Doorbell Announcements
With an upcoming fall update that will accompany the release of iOS 14, when a HomeKit-compatible doorbell is rung, there will be an option to have Siri announce that someone is at the door.
Operating System
Apple provides regular updates for the HomePod, much like it does for iOS devices, Macs, the Apple TV, and the Apple Watch. Software updates are released alongside iOS software updates and can be installed using the Home app on the iPhone or iPad.
As of the release of the 13.4 software, HomePod's OS is based on tvOS, instead of iOS. This hasn't resulted in any fundamental changes to how the HomePod software works, but it may be an update introduced in preparation for a smaller version of the HomePod. It could also be a change made ahead of the release of iOS 14, which may drop support for devices running an A8 chip like the HomePod, or to make the HomePod and the Apple TV easier to pair in the future.
The current version of the HomePod's software is 13.4.6, with the update adding unspecified performance improvements and bug fixes.
HomePod Reviews
Ahead of the launch of the HomePod, multiple review sites and YouTubers were able to go hands-on with the speaker to test it out in-depth. Reviews of the HomePod were largely positive, with reviewers praising the device's incredible high-quality sound that beats out many other speakers at its price point, but there were some downsides.
Many of the reviewers were not impressed by Siri, the personal assistant on the HomePod, because comparative to other services like Amazon Alexa, Siri is underpowered. There were also complaints about HomePod's compatibility with services and devices outside of the Apple ecosystem.
The Verge's Nilay Patel, for example, said that the HomePod offered rich, full sound, but that it's best suited to those who live in Apple's walled garden and "prioritize sound quality over everything else." He also said that Siri has "none of the capability or vibrancy" that Amazon's Alexa has.
Image via The Verge
TechCrunch's Matthew Panzarino said that while there are Siri limitations, on the plus side, the HomePod can recognize commands at a distance.
He also said that the HomePod offers "precise" sound that's not as loud or as bright as some others, but it "destroys the muddy sound of less sophisticated options like the Amazon Echo. You'll need more than one to "genuinely fill a large room," says Panzarino, but a small house or an apartment will get "great sound from one."
Image via TechCrunch
The Loop's Jim Dalrymple said there was "no comparison in sound quality" when it came to the HomePod, and even the Sonos One couldn't compete. With HomePod, says Dalrymple, it sounds like "sound is enveloping you," even with just a single speaker.
The New York Times' Brian Chen said that HomePod had "deep bass and rich treble" that could fill a room, but he called Siri "embarrassingly inadequate." Siri is sorely lacking in capabilities compared to Amazon Alexa and Google Assistant, and according to Chen, Siri "doesn't even work as well on HomePod as it does on the iPhone."
Other reviews: USA Today, iMore, Telegraph, Pocket Lint, The Independent, Daring Fireball,CNET*, and iJustine.
HomePod How Tos
If you're new to the HomePod, or just looking to get the most out of your HomePod, make sure to check out all of the HomePod how tos we've shared.
Troubleshoooting
Incompatible Wi-Fi
If you run into an issue where the Wi-Fi says it's incompatible and must be on WPA/WPA2 even when it is, there's an easy fix recommended by MacRumors forum members.
Unplugging the HomePod and changing your Wi-Fi settings to disable both auto-join and auto login successfully fixes the problem.
Issues With Setup – Blank Screen
Make sure you have both the Home app and the Apple Music app installed, or you're going to run into trouble when setting up the HomePod.
If you've deleted one of these apps, you might see a blank loading screen when attempting to set up the HomePod. The fix is to make sure you download the apps from the App Store.
HomeKit Problems
HomePod requires a functional HomeKit setup, and if HomeKit is malfunctioning, HomePod setup isn't going to work. If there's a HomeKit problem, you're going to see an error screen pop up after a waiting period with "error 6722," or you may see a blank white screen.
It's not entirely clear what causes this problem, but signing out of iCloud and back in again fixes it for some users, and another fix is to make sure iCloud Keychain and Two-Factor Authentication are both enabled.
An Apple support document says that after 30 minutes of loading, an option to reset your HomeKit configuration pops up. If the HomePod isn't connecting, this is how you reset your HomeKit setup.
Compatible Devices
HomePod works with all devices able to run the latest version of iOS. Devices compatible with HomePod include the iPhone 5s or newer, the iPad mini 2 or newer, the iPad Air or newer, the sixth-generation iPod Touch and newer, and all iPad Pro models.
Using peer-to-peer AirPlay to play music on the HomePod from an iOS device or Mac requires a Mac from 2012 or later with OS X Yosemite or later installed, or an iOS device from 2012 or later with iOS 8 or later installed.
How to Buy
Apple is selling the HomePod for $299 in the United States, a $50 discount off of the original $349 price tag when it launched. The HomePod is available in the U.S., UK, Australia, Canada, France, Germany, Japan, and Taiwan.
Supplies of the HomePod are abundant and the device is readily available for purchase from Apple Stores and at select resellers in each country, such as Best Buy in the United States, John Lewis and EE in the UK, and Harvey Norman and Telstra in Australia.
There is an AppleCare+ plan for the HomePod, which is priced at $39 in the United States and covers two incidents of accidental damage. If the HomePod needs to be repaired without an AppleCare+ plan in place, it costs $279 in the U.S.BEST PRICES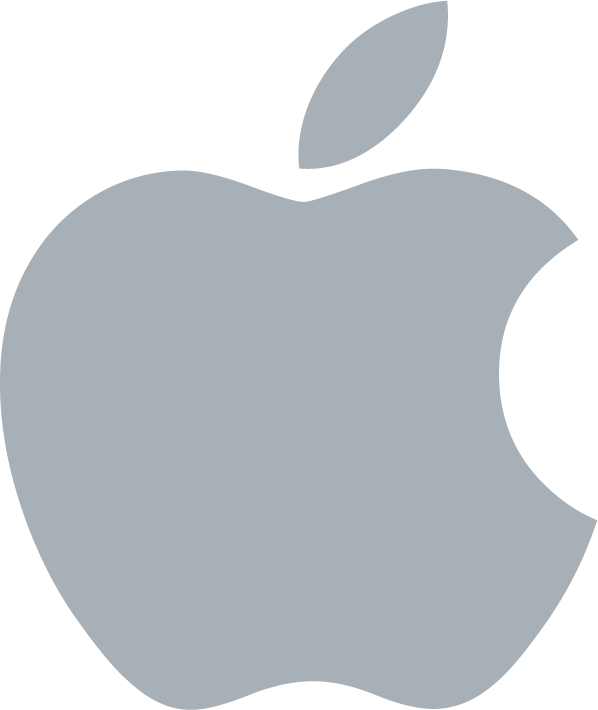 HomePod – Space GrayN/A$284.99$289.00$299.00$199.99$299.00HomePod – WhiteN/A$279.95N/A$299.00$199.99$299.00
HomePod Timeline

JUNE2020Jun 22Apple Inviting Some Users to Beta Test New HomePod SoftwareJun 22HomePod Gaining Support for Third-Party Music ServicesJun 1Apple Releases New 13.4.6 Software for HomePodMAY2020May 20Apple Releases New 13.4.5 Software for HomePodMay 18Smaller, Lower-Priced HomePod Appears Increasingly Closer to LaunchingMay 14HomePod 'Sold Out' on Apple's Online Store [Updated]May 11HomePod Now Available for Sale in IndiaAPRIL2020Apr 13HomePod Operating System Now Based on tvOS Instead of iOS Amid Rumors of Smaller HomePodApr 3Apple Offers Employees Deep Discounts on HomePod, Beats Headphones and MoreMARCH2020Mar 30Apple's Work on New Upcoming Products Progressing Normally as Employees Adjust to TelecommutingMar 24Apple Releases New 13.4 Software for HomePodMar 17Best HomePod Deals for July 2020Mar 2Deals: HomePod Returns to Lowest-Ever Price of $199.99 at Best Buy ($100 Off)FEBRUARY2020Feb 20Spotify May Be Allowed to Stream Directly on HomePod and Set as Default Music App in iOS 14Feb 20Bloomberg: Apple May Let iOS Users Set Third-Party Web Browser and Mail Apps as Defaults Over Stock AppsFeb 13Apple's HomePod Places Sixth in Global Smart Speaker Market in Q4 2019Feb 10Amazon Continues to Dominate U.S. Smart Speaker MarketFeb 9HomePod Turns Two, Lower-Priced Model Might Launch Later This YearJANUARY2020Jan 29HomePod Coming Soon to IndiaJan 28Apple Releases New 13.3.1 Software for HomePod
Source https://www.macrumors.com/roundup/homepod/