GOOGLE MY BUSINESS IS REALLY, REALLY IMPORTANT
Google My Business (GMB) is an essential marketing tool for any business with brick and mortar locations. Through GMB, you can update your business information on Google, appear on Google Maps, allow customers to make reservations at your location (and get directions and call your locations), and engage with existing and potential customers through your Google Reviews. How important is Google My Business? Consider this:
Approximately 53 percent of consumers visit a business within 48 hours of performing a local search on Google.
That's crazy. Over half of the people who are searching for local businesses are ready to become customers. That's why we wrote this guide to help you master GMB, make full use of its features, and get the most customers. Scroll through each section, or use the table of contents below to navigate:
Set Up Your Google My Business
Adding your business locations to Google My Business is more complicated than just entering your name, address, and phone number. You'll often need to claim a pre-existing listing, verify your information, and choose the correct attributes for your listing. To do so, follow these steps.
Google My Business Login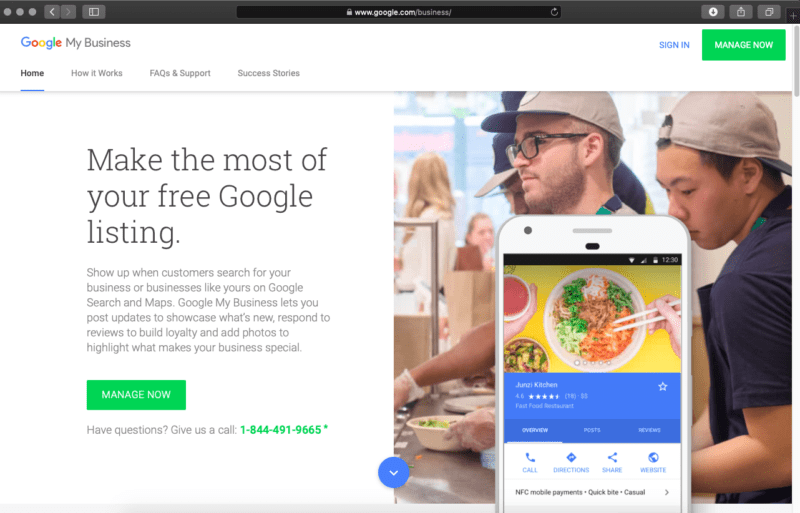 Once logged in, Google will ask, "What's the name of your business?" You can search for a listing by typing the business name and address in the search box. Results will appear in a list as well as on the map. (Below, we'll talk more about claim and verifying your business location in bulk.)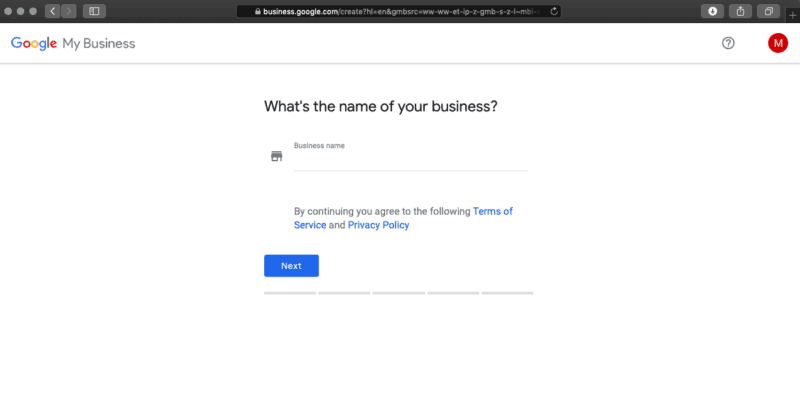 Claim Your Business on Google
Step 2. Google will ask you for the name of your business.
Step 3. Click on the name of our business.
Step 4. If none of the results match your business, click the top of the list where it says "Create a business with this name."
Step 5. You will then choose the business type: storefront (restaurants, hotels, etc.), service area (taxi service, delivery, etc.), or brand (products, brands, causes, etc.).
Google My Business Categories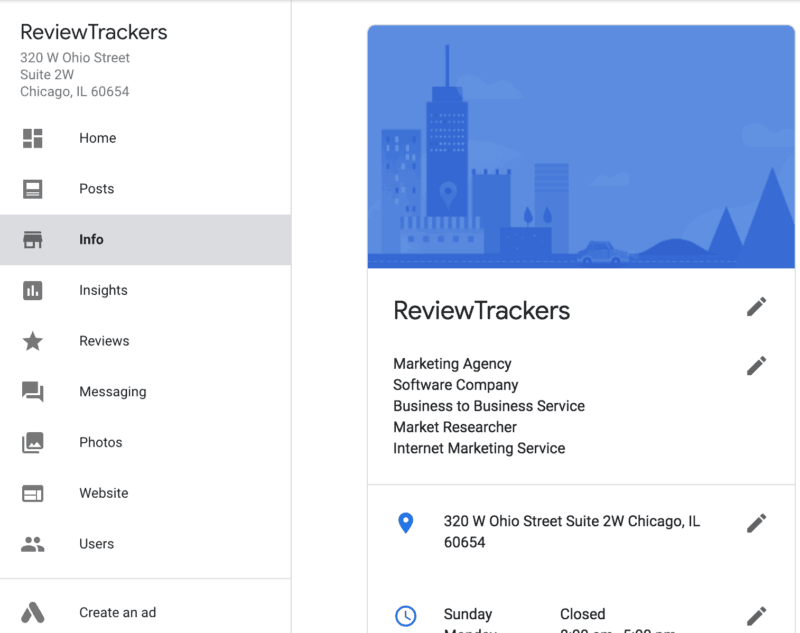 If you're creating or adding your business to Google using Google My Business, you can choose from a list of categories to provide more accurate information about your business. For example, if you run Taco Bell's marketing, you can (perhaps optimistically) put your business in the "Mexican Restaurant" category, which will appear like this:Categories are very specific. You can drill down into sub-genres like Tex-Mex:Or be as broad as possible, and just list "Fast Food Restaurant."If you manage a brand, Google recommends that all your categories be consistent across all your locations. So every Taco Bell is categorized as a "Mexican Restaurant" and every McDonald's is a "Fast Food Restaurant." Once you've created your listings you can always go back and edit your GMB categories. Click into that location (or location group) then click on "info" on the left menu. Once you see the details for that listing click the pencil to edit, delete or add Google My Business categories.
For Business Locations with Multiple Categories and Departments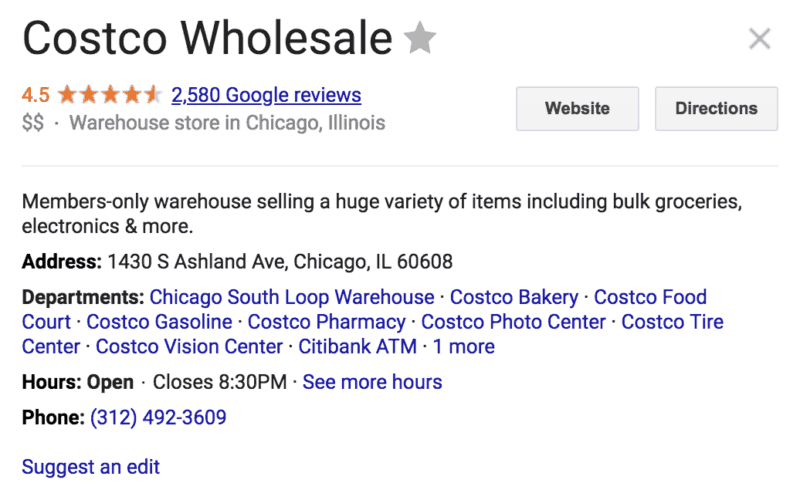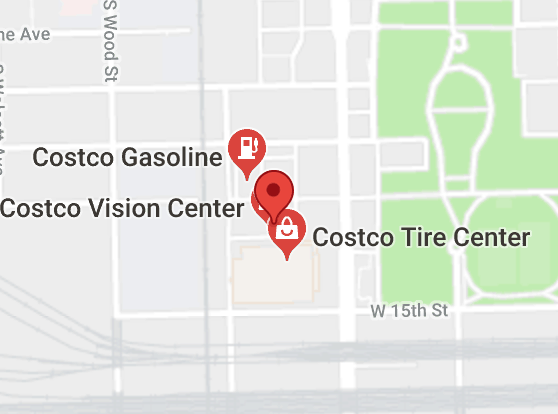 Generally speaking, Google only allows you to have one primary category for each location. However, there are some slight exceptions. For example, if you manage marketing for a chain of grocery stores, you can list your grocery stores and the pharmacy inside them as two separate listings, each with their own primary categories. Check out this example from Costco:Costco takes this approach to the extreme — listing its gas station, bakery, food court, tire center, and a number of other departments all separately. For businesses like this that have one main location, but two distinct operations that are different enough to warrant multiple categories you may be able to add them as separate locations. What qualifies for a multi-department listing? Think about banks inside grocery stories. Or restaurants inside gas stations. Google's guidelines say that if your departments have separate entrances and / or separate customer care, you may qualify for multiple listings.
If your businesses have two (or more) distinct operations running at one location, look to see if you can list both under separate categories. This will allow you to show up in more relevant search results.
Verify Business on Google
The next step is Google My Business verification. You'll have to verify to Google that you own or represent the business listing. To do this, Google goes old fashion. Typically, the verification code will be mailed to you (yes, snail mail) – this takes one to two weeks. Once you've entered the code into your account, you'll finally be able to start managing your local business information on Google. You can verify a business on GMB in other ways — email, phone, and Google Search Console — but these are usually not available. If you do see a phone icon and an option to verify by phone, Google recommends you choose that over postcard because it is so much faster.
Option 1: Verify My Business By Mail.
The most common way to get a business verified is through the mail. Google will send you a postcard with a verification code attached to it.
Step 1. In the GMB account, click on the "Verify Now" option after clicking on a business listing.
Step 2. At the postcard request screen, check and make sure that the listed address is correct. (You can also request a postcard through the GMB app by tapping the "Send postcard" button).
Step 3. Press the "I don't have a code" option and complete your request for a postcard.
Step 4. Check your email. You should have received a message from Google My Business that says your postcard (with the verification PIN) is on the way.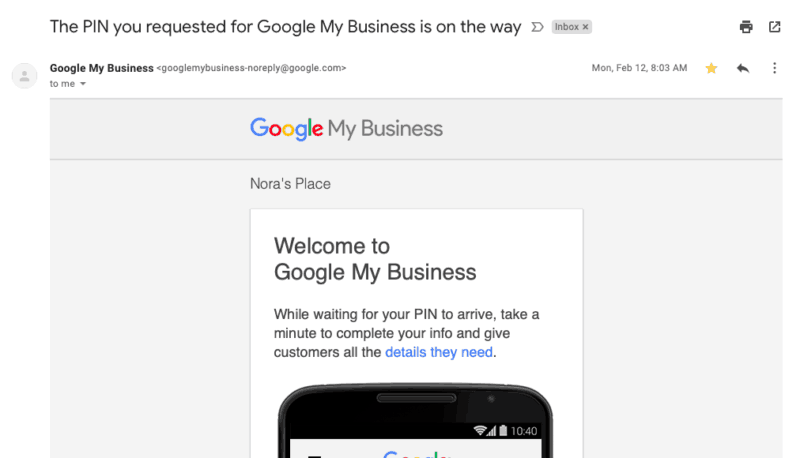 Step 5. Wait patiently. The postcard takes about two weeks to arrive, and it's important not to change any information during this time. Doing so will only delay the verification process.
Step 6. Once you have the code, you can go into the GMB account, click on the business location you want to verify and hit the "Verify location" button in the menu or the "Verify now" option.
Step 7. Enter the five-digit code and hit submit to finish the process.
Note: Google advises that you don't edit your listing once you've requested a postcard. If you tweak your address or change your category, you may have to reverify after your postcard arrives.
Option 2: Verify My Business By Email
After choosing a specific business and clicking on the "Verify now" button you have to choose the email option as a verification method.
You should see a message in your inbox that contains a code. You can enter that code in the GMB dashboard.
Click the "Verify" button in the email message. The same process also works for those using the GMB app.
Option 3: Verify My Business By Phone
You can also get the verification code through your phone if you have the option available after hitting the "Verify now" button.
A call will come through your phone and you will need to listen for the automated voice system. The system will then give you a code, which you will have to enter in the code field. On the app, all you have to is tap the "Call me now" option and enter the code from the automated voice system.
Option 4: Verify My Business Instantly
Those already using Google Search Console for a business may qualify for instant verification. Just make sure that the email used for the GMB account is the same as the one used to verify the listing on Search Console.
Please note that all businesses on Search Console might not be eligible for instant verification. In this case, the best option is to get a code via mail.
Bulk Locations on Google My Business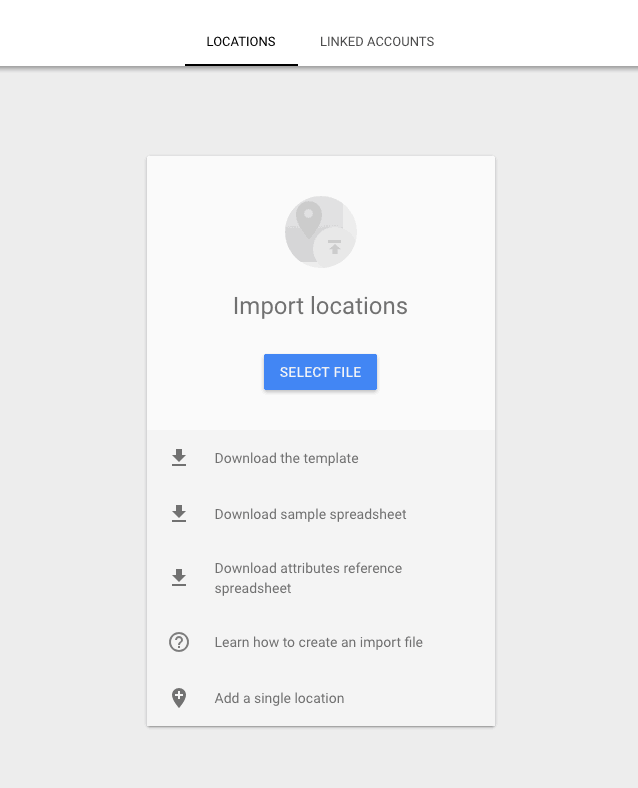 If you are managing a number of business locations (10 or more), you don't have to add them one by one on GMB. Instead, you can use the Google My Business Bulk Location Management tool. Just visit the Google My Business Locations page to upload locations from a spreadsheet (here's a free template of the spreadsheet you'll need to use), and edit the information associated with each location. (Note: Currently, you'll have to use this function from GMB's classic mode because its not yet available in the new version).You need to make sure all locations meet the following quality standards:
The business must make in-person contact with customers during its stated hours.
The business must be open to the public.
You may not enter locations that are under construction or not yet opened.
You must be the owner of the business or an authorized marketing representative.
Your listing name must match your real name, as represented by your offline marketing material, such as signage, etc.
All locations must have the same name unless the business's real-world representation consistently varies from location to location.
All locations must also have the same category if they provide the same service.
While you can use your regular Gmail account to get this process started, we highly recommend that you create a new account using an email that reflects the domain of the businesses to be uploaded. Using the business domain will reduce the time and steps required to complete the Google verification process.
For bulk uploads, use this free template.
Add Descriptions to Google Business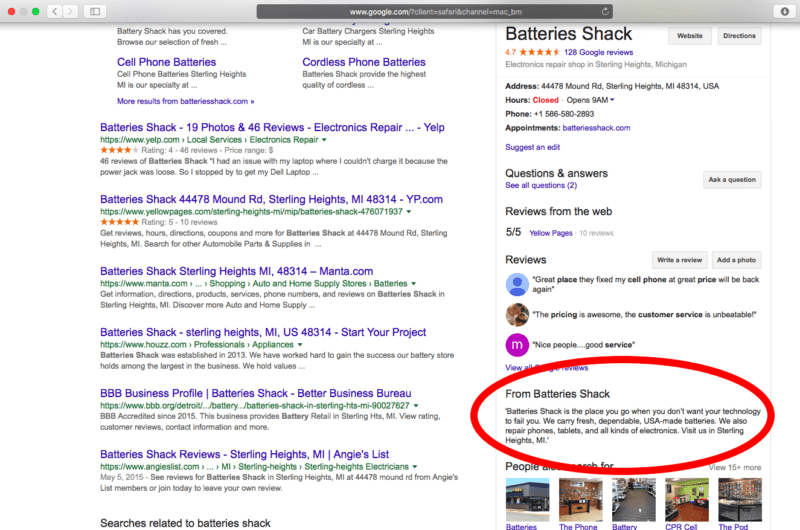 Your Google business description is a summary — up to 750 characters — that appears when a user searches for your local business or checks out your listing on Google, via a desktop computer or mobile device. It's usually displayed alongside or underneath your online reviews and ratings on Google, as well as your business' review snippets. (Review snippets are algorithmically selected quotes from Google users and local guides that provide information on the keywords most mentioned by your reviewers.) Here's how business descriptions might appear on desktop computers and mobile devices:To get started with adding your Google My Business descriptions, sign into your account.
On your Homepage, look for an option to "Add description." Alternatively, you can click on your Info tab on the right and look for the section where you can add your business description.
Add your business description then click Apply.
Here are some more guidelines set by Google for when you're writing out your business description:
Don't spam it. Use it as a way to pitch your business. Focus primarily on details about your business instead of details about promotions, prices, or sales.
You should be upfront and honest about the information provided, focusing on content that is relevant and useful to your customers to understand your business. Do not include URL links or HTML code, or exceed 750 characters in the description field.
Avoid misspellings, gimmicky character use, gibberish, etc.
Google Business Photos and Videos
Your Google My Business photos and videos are deciding factors when it comes to attracting customers. These images are the first impression of your business. They can attract customers or drive them away.
Add Photos and Videos to Google My Business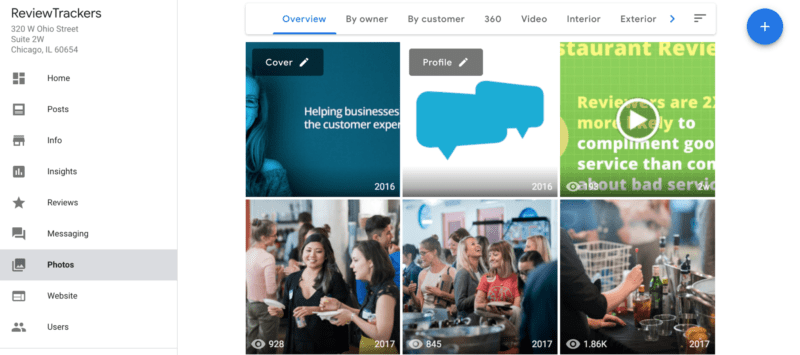 Once a business is verified, you can start adding photos through your account on your desktop or GMB mobile app. In both cases, you'll go to the menu and select the Photos section.From there, you can upload any photo or video you want so long as it meets the following size and format restrictions. Click on the blue "+" button to start adding your media:
Google My Business Photo Size and Format
Images can either be in a JPG or PNG file format and at least have the dimensions of 720 x 720 pixels.
The overall image file size should be between 10 KB and 5 MB.
Images must also be focused and show a well-lit area. You are not allowed to use image filters or perform "significant alterations" on the photo.
In addition to general photos of the business you can also designate two images as the cover and profile photos. Profile photos are a distinctive way for customers to recognize the business on Google while a cover photo shows off "your page's personality."
Add Video to Google My Business

You can add videos so long as they are less than the 100 MB file size limit. They must be no longer than 30 seconds and use a minimum resolution of 720p. To do so, you'll stay in the "Photos" section of your listen. Above your current photos, you'll see an option for "Video"You'll use the same process to add video as you did to add photos. Click the blue "+" button and upload.
Remove or Delete Photos from Google My Business
Owners and managers aren't the only ones who can add photos to their locations. Customers can do it as well. However, there might be some images that don't meet Google's Format Specific Criteria. In this case, you can flag them so that Google can review and possibly delete the images.
Within your GMB account go to the Photos section and select the offending images. To bring them to Google's attention click on the flag icon on the top-right corner of the page.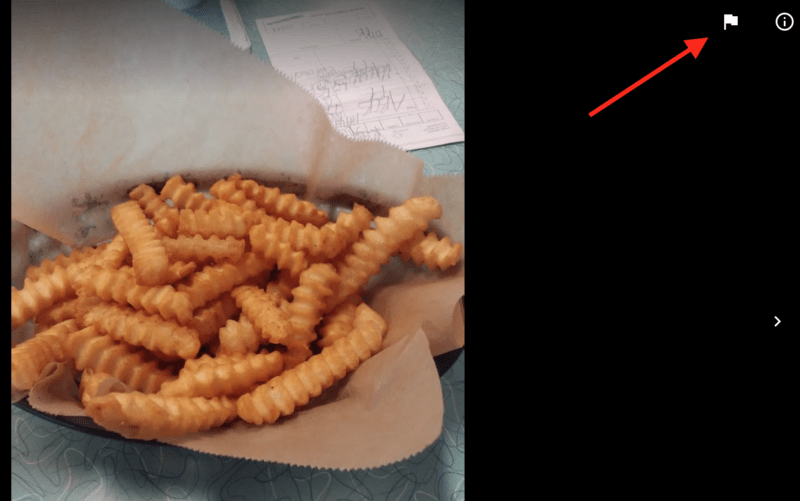 Mobile users can also select images in the GMB app's Photo section, but they will need to go to the menu and click on the "Report photo" button.
You can also flag images via Google Maps. Once you find the business and the photo you want to flag, click on the three-dot menu icon on the top-left corner of your screen and click the "Report a problem" button. You might also see a flag icon on the top-right corner of the screen, which you can use to report the image.
Adding Services and Menus on Google My Business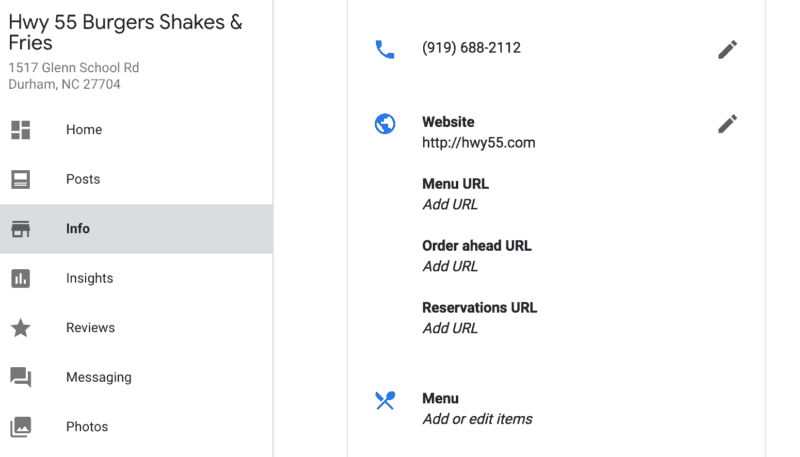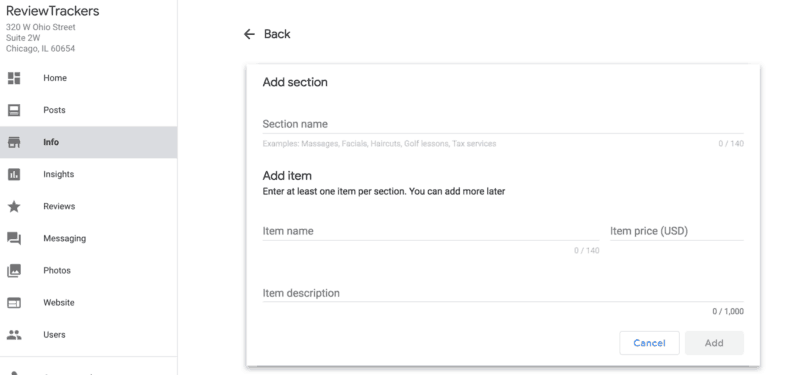 Using Google My Business, restaurants and service-based businesses can submit additional information and links in order to help consumers learn more about their locations. The process is a little different for restaurants and service businesses, so let's start with restaurant menus. There is a Menu editor available on GMB for businesses in the restaurant industry. To access is, click "Info."You'll see two places that mention a "menu." You can either add menu URL (that links back to a menu listing) or you can add menu items to your listing one by one. Restaurants can use the editor to add menu items(dishes), including title, description, and price, as well as to create multiple sections of the menu, i.e. appetizers, entrees, and desserts.This feature is only available if the listing is not currently connected to a third-party provider and for listings in English-speaking locales. If you run a service company, your experience will be similar. Click the "Info" section of the GMB listing for that location, scroll down, and you'll see a place to add Services to your listing (and potentially an appointment URL if you have online booking).If you click to add Services to your listing, you'll be prompted to add a service item, description, and price:
How Come the Menu and Services Information and Links Appear Automatically?
Links to certain booking and ordering services can appear automatically with your business listings in Google Search and Google Maps. These links are updated automatically via third-party providers. There's no way to add, edit, or remove these links in Google My Business. Google works with select third-party providers that provide booking and ordering services for local businesses. Links for third-party providers display as a result of a relationship your business previously established with them. These links lead to the website of the third-party provider. From the third-party website a User can take an action such as 'place an order' or 'make an appointment or reservation'. If you want to remove or fix a link in your own listing, please contact the third-party provider's support team or a technical contact to request they remove your data from the information they are sending Google.
Managing Google My Business
Add or Change Your Hours on Google My Business
Using Google My Business, you can let customers know when your business location is open. To add or change your business hours on Google:
Step 1. Sign into your GMB account and click the Info tab from the Menu.
Step 2. On your Info page, look for the option to add or change business hours, then click the pencil icon.
Step 3. The popup menu that appears will allow you to add or change hours. Once you're done, click Apply.
Please note that edits may be reviewed for quality and can take up to 3 days to be published. (If your listing has incorrect information, jump down to our section on fixing incorrect Google information).
Add Holiday Hours on Google My Business
You can also indicate the hours your business location is open on holidays or special events. Under the "Info" section of your listing, you can click on the "Special Hours" section, which is located directly under your weekly hour: Once you'll click to edit your special hours, Google will show you any upcoming holidays for which you might want to warn your customers about irregular hours or closures:A couple notes about how special hours work:
If you schedule special hours, your regular hours remain in place for all other days.
If you schedule special hours for an official holiday, users will be told that those hours are scheduled specifically for the holiday.
If a location doesn't provide special hours for these days on Google My Business, users on Maps and Search will be warned that the location's hours may differ on designated holidays (like Christmas, Memorial Day, etc.).
It's a good idea to confirm your hours for official holidays even if those hours are the same as your regular hours. This way, you'll make it clear to customers that your holiday hours are accurate. Keep in mind that special hours can only be entered if you've already provided regular hours. To set special or holiday hours:
Step 1. Sign in to Google My Business. If you have multiple locations, open the location you'd like to manage.
Step 2. Click the Special hours section. (You'll only see this section if you've already provided regular hours.)
Step 3. Click Confirm hours next to an upcoming holiday. Or click Add new date to choose a different date.
Step 4. Enter the opening and closing times for that day. Slide the circle to "Closed" to indicate that the location is closed all day. If you're open 24 hours, click Opens at and select 24 hours from the dropdown menu that appears. If you enter closing hours past midnight, make sure to set them properly.
Step 5. When you've finished entering all of your special hours, click Apply. Your special hours will appear to customers on Google only for the designated days.
Google My Business Posts
Your Google business listing also acts as a content feed through which you can create and post up-to-minute content for your audience. The content can be in the form of text, video, or photo, which customers will see when they find your business listing on Google. To create and publish Google My Business posts:
Step 1. Sign in to Google My Business. If you have multiple locations, open the location you'd like to manage. (Currently, posting is only available for individual business locations, which means that you cannot post content in bulk; you'll have to create and post location-level content for each location you're managing on Google My Business.)
Step 2. Click Create post, or click Posts from the menu.
Step 3. The "Create post" screen appears. Choose which type of post you'd like to create from the options given.
Step 4. Add photos, videos, text, events, or offers to your post.
Step 5. Click each field and enter any relevant information.
Step 6. Click Preview to see a preview of your post. If you're happy with your preview, click Publish in the top right corner of the screen. If you'd like to change your post, click Back on the top left of the screen to continue editing your draft until it's ready to publish.
Add the Google My Business Bookings Feature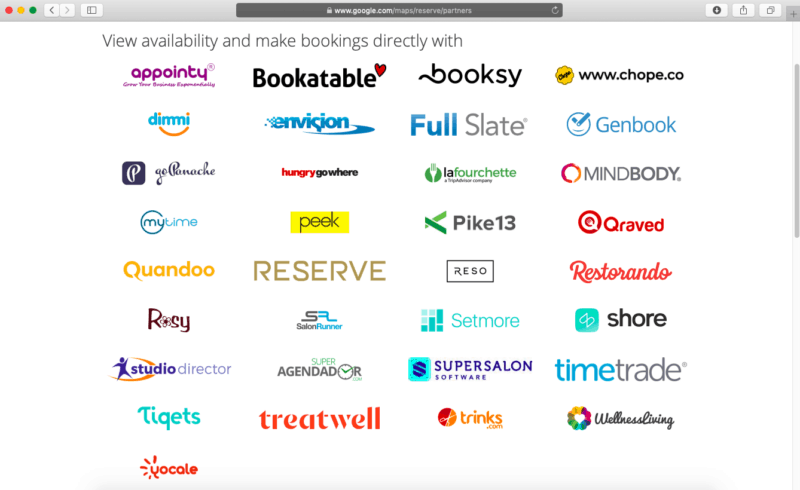 Google My Business also has a Bookings feature called Reserve with Google that allows businesses that use a supported scheduling partner to see insights and other information on the bookings received from Google. The Bookings feature is available in the U.S. for restaurants and businesses in the fitness or beauty vertical that use a supported scheduling partner. If it is available, go to the Home menu for a listing and look for the "Bookings" card:Here is a list of Google's booking or scheduling partners:To add this feature to your Google My Business account:
Step 1. Go to the Home menu for each location.
Step 2. If available, an "Accept bookings on Google" card will appear.
Step 3. Click "Sign up for bookings."
Step 4. Sign up with the provider of your choice.
Step 5. Within one week, your scheduling account is automatically linked to your Google My Business account.
After linking, you can receive bookings through Google. If you already use a scheduling provider, you're automatically eligible to receive bookings. You'll see your booking history with that provider for bookings made in Reserve with Google in your Google My Business account on the bookings tab. Note: Your scheduling provider may apply fees for booking through Google. Check with your provider for more details.
Generate Leads Using Google My Business
There's a lot to say about lead generation and Google My Business. We recommend you read the in-depth guide to generating leads on Google My Business. But for starters, you'll want to make sure you get the most out of your GMB account by taking these steps:
Connect Google my Business with Google Analytics.

If you have multiple locations, make sure each location's "website" link sends users to the location page for that location on your website, not your brand's homepage.
Add a UTM parameter to track traffic that comes to your website through your GMB listing.

Optimize a listing for lead capture by including, if possible, integrations to make a reservation, place an order, or schedule an appointment.
Make sure the "Website" your listing links to is optimized to convert GMB traffic by including calls to action to schedule a reservation, contact, or visit your business.
Track leads through GMB Insights (e.g., number of web visitors getting directions to your business, number of phone calls, etc.).
Turn On Messaging and Chat with Customers
Google My Business allows you to chat directly with customers who find your business listing on Google Search. Responding to customers can help you answer their questions, tell your business's story, and attract more people to your location. Please note that messaging or chatting with customers is a new Google My Business feature that's currently available in select countries.
Turn On Messaging via SMS
To turn on messaging with customers:
Step 1. Sign in to Google My Business and look for the "Messaging" card in the Home menu.
Step 2. Make sure that you provide a phone number that can receive SMS messages and will be readily accessible for responding to customers.
Step 3. Once this is set up, check your company's Google business listing in local or mobile search. Make sure you see a "message" icon.
When using SMS messaging, standard message and data rates may apply.
Turn On Messaging via Google Allo
Alternatively, you can use Allo, Google's smart messaging app, to enable messaging and chatting with customers.
Download Google Allo from the Android Play Store or iOS App Store. Register Allo with the same number you used to sign up for messaging on Google My Business. Messages will start to appear on Google Allo instead of SMS.
Questions and Answers
As the listing's manager, you have the most reliable answers to your customers' questions. So it makes sense that you will want to be the one receive and respond to these questions every time someone sees your business information on Google.With Google My Business Questions and Answers, you can ask or answer questions from search on any device, and from Google Maps on Android devices. Unfortunately, listing managers don't get any notification letting them know when there are new questions being asked about a location. That means you'll have to stay vigilant and check your listings as they appear on Google or look inside your GMB info for each location to see if there are any new Q&As. To check for any new Q&As and to answer any outstanding questions:
In the info card for the place on the right, under "Questions & answers," click See all questions.
Next to the question, click Answer.
To edit or delete your answer, click More and then click Edit or Delete.
The person who asked will get a notification after you've answered.
Fix Incorrect Business Information on Google
Sometimes you'll find that the information in your Google listing is out of date, inaccurate, or incomplete. It could be that your listing was created originally by a Google user but hadn't been verified. Or the business might have moved locations. Or you're taking over an existing listing in order to correct a few errors. Ensuring that your business information on Google is accurate and up-to-date should be part of your online marketing and local search strategy. A simple search can help you quickly identify any inaccuracies or incorrect information about your business online. To fix your business information on Google:
Add your business listing
Verify your business listing
Edit your business information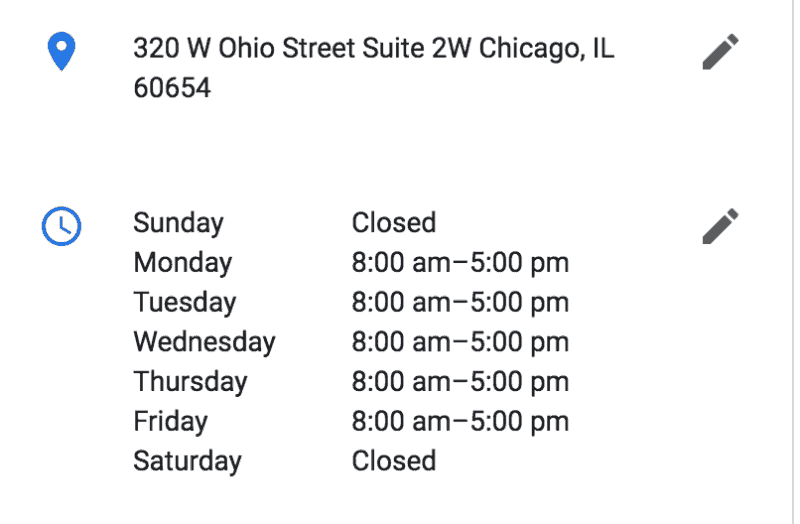 Once you've added and verified a listing, editing your listing should be as simple as clicking the pencil icon in the "Info" section for each listing.If you've begun the verification process and need to fix incorrect business information while waiting for your verification postcard to arrive, you can also report a problem in Google Maps.
View Insights on Google My Business
Your Google My Business dashboard can give you an inside look at how people find your business listing on the web. Because many customers find businesses on Google Search and Maps, the GMB Insights feature focuses on how customers use Search and Maps to find your listing, and what they do once they find it. You can get Insights for individual listings or in bulk. To access Insights for individual listings:
Sign in to Google My Business.
If you have multiple listings, open the listing you'd like to manage.
Click Insights from the menu.
On the Insights page, you'll be able to see:
How customers search for your business
What search queries (keywords) were used to find your business
Where customers view your business on Google (Search or Maps)
The most common actions customers take on your listing
The geographical areas from where customers request directions to your business
When and how many times customers call your business
The number of times your photos have been viewed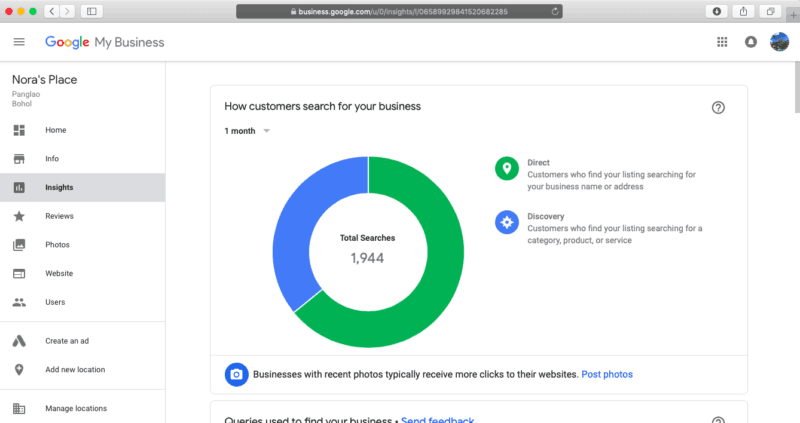 Managing Reviews on Google
Google My Business Reviews: What You Should Know
According to the 2018 Online Reviews Survey, Google is now the number 1 review site, outpacing other review platforms like Yelp, TripAdvisor, and Facebook in terms of growth in online reviews.It's also the most likely to be used by consumers:
64 percent of consumers say they are likely to check reviews on Google before visiting a business — more than any other review site.
21 percent agree that Google reviews are one of the most important factors in their search for a local business, ranking them as more influential than pricing information, proximity, and search engine results pages (SERPs).
Google rise to No. 1 site for online reviews makes sense. Consumers are likely to have user accounts on Google already. That means there's less friction in leaving reviews of businesses. Many users will have just routed directions on their phone to the business, making it super easy for them to leave a review afterward. With the growth of Google reviews, it's crucial that brands have a scalable way to track them. Your online reviews on Google can be monitored and managed using your Google My Business account, though there are some limitations. Just click the Reviews tab on your Google My Business home page.You'll be taken to a Google Reviews Dashboard that allows you to filter by "replied" or "haven't replied"
Tracking Google Reviews
Online reviews on Google are posted by Google users, who have to be signed in when they rate and write about your business. These reviews can be seen and managed using GMB. The reviews appear in multiple places on the Web (via desktop and mobile devices), such as Google search results, Google carousel search results, and Google Maps. When I receive one review, will it immediately show up in search results? The short answer is: you need at least 4 to 5 reviews and ratings for these to appear in Google search results. Even with just 4 reviews, though, your business information can appear on Google search. You won't necessarily get the "star treatment" though: to have your business show up and include your aggregated star rating (Google ratings are based on a five-star system), you'll probably need at least 5 reviews.
You'll need at least 4 to 5 reviews and ratings for your reviews to start to appear in Google search results.
My Google Reviews Have Disappeared!
Has this issue of Google reviews not appearing affected your business? Don't panic. To get your Google reviews back, just follow these steps:
Step 1. Log into Google My Business.
Step 2. Open the Menu tab and click "Info".
Step 3. Look for the field that allows you to update your location or address on Google Maps, then click. It has a map marker as an icon.
Step 4. A popup will appear, allowing you to modify your location or address. Here's what you need to do: wiggle the map marker just a tiny bit and save.
This should refresh your business' Google profile. It should be back to normal within a few minutes. If your reviews still don't appear, try clearing your cache. If this doesn't solve your issue, this article will explain how to restore your Google reviews based on other potential causes of reviews disappearing.
Google Review Alerts
Google My Business notifies you of new reviews via email. The email notification includes useful review information like the reviewer name, star rating, a portion of the review text, and a link to the review on Google. Here's what the email looks like:A forum thread on the Google My Business community discusses a recent issue about Google not sending review notifications to users with more than 100 locations on their Google My Business account. So far, Google has not announced a solution to this. Brand managers with over 100 locations should sign up for review alerts from a third part service to stay on top of their new reviews.
Brands with over 100 locations cannot receive Google Review alerts through GMB.
Respond to Reviews on Google
Why Respond to Google Reviews?
Online reviews on sites like Google give people a way to share their customer experiences not only with businesses but with fellow consumers, too. And consumers rely on these reviews in order to discover businesses and brands that provide the best customer experience. That's why monitoring and responding to your Google My Business reviews is an important part of managing customer feedback and protecting your brand reputation. If you aren't doing this yet, take the time to respond to and communicate with your happy and unhappy customers — on all the review sites and feedback channels where they may be talking.
To help you respond faster, you can use these Review Response templates.
How to Respond to Reviews on Google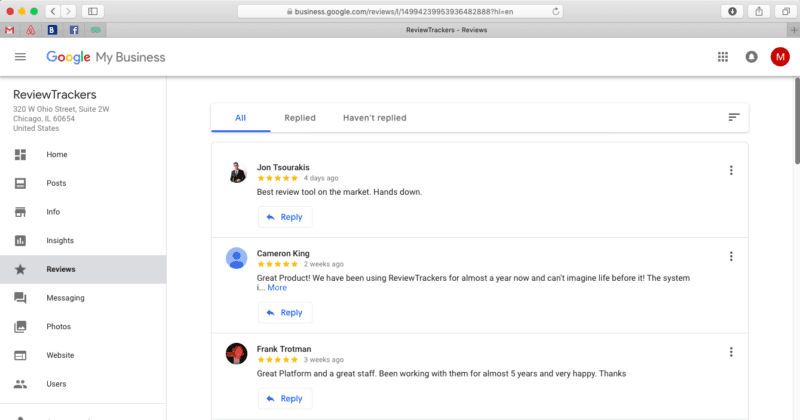 To respond to reviews on Google, log into your Google My Business account, select the location you'd like to manage reviews of, and click the Reviews tab on your Google My Business home page.When you land on the Reviews page, you'll see each individual review that has been posted on your business listing, organized, by default, by date. From there, you can respond to each individual review by clicking Reply.Please note that your reply will be displayed publicly on Google and must comply with Google's local content policies. Once you've responded, you can edit your response to clean-up typos. The review will appear with a new "View and edit" button on your reviews page:
Review Response Notifications
Google recently launched email notifications that inform customers when a business responds to their reviews. The notification contains a link to a page with the business owner's response to the Google review. The business' response is published immediately and the email notification is sent to the customer 5 minutes later. The 5-minute delay allows the business to edit or make any corrections to their response after initial submission.Why do Google review response notifications matter?
Customers care about being responded to. 53 percent of customers expect a review response within 7 days. But as much as 63 percent say that they have never heard back from a business after leaving a review.
Responding to reviews ASAP can protect your online reputation.Review responses on Google can make a real and measurable difference — not just to the review-writing customer, but also to all other users and potential customers who visit your business' review page. Your responses can immediately improve consumer perceptions of your business. On the other hand, not responding can increasingly be seen as actively ignoring customer feedback. According to a ReviewTrackers study, 45 percent of consumers say they're more likely to visit a business if it responds to negative online reviews. Moreover, 80 percent will feel like a business cares more about them if they see management responding to reviews.
Review responses can impact revenue. According to Cornell University, revenue increases and overall ratings improve as the number of responses to reviews increases. Failure to respond, meanwhile, leads to lower review scores and revenue. Your customers will certainly appreciate substantive, meaningful, and timely responses to their reviews.
According to a ReviewTrackers study, 45 percent of consumers say they're more likely to visit a business if it responds to negative online reviews.
Delete Google Reviews
Understandably, a negative review on Google can drive your business' potential customers away. With such a powerful platform and, traffic-wise, the most popular website in the world allowing customers to share their negative experiences to others, the results can be crushing.
So a lot of people ask, "Is there a way to remove or delete a Google review?" The short answer is: No.
When you log into your Google My Business account in order to manage your online reviews, you won't find a "Delete" button under every review that you want to remove. (That said, you can flag offensive reviews. More on that in a minute.) While a GMB manager can't delete their reviews, you can engage with the person who left the review, solve their issues, and ask them if they can edit or delete their review once you've fixed their issue. Here's how your customer can edit or delete a review they have written. Customer opens Google Maps on their computer or device.
Step 1. In the top left, click Menu (3 horizontal lines).
Step 2. Look for "Your contributions," click, and then choose Reviews.
Step 3. Next to their review of your business, click More (3 dots). Choose an option (edit or delete) and follow the instructions.
Google does allow you to flag reviews that might be offensive. If a review violates Google's content policies…
Step 1. Sign into Google My Business.
Step 2. Choose your business location and click Reviews from the menu.
Step 3. Find the review you'd like to flag, click the 3-dot menu, then click Flag as inappropriate.
For more comprehensive information, read the blog post on how to delete a Google review.
Generate Reviews on Google
It's a great marketing strategy to try to get Google reviews for your business. Having more reviews helps your business's locations show up in more search results, which in turn drives more business across your locations.
Why You Need a Strategy to Get Reviews on Google My Business?
It's not enough to just set up shop and wait for Google reviews to start pouring in. The reality is that when left on their own, your GMB profile may accumulate customer complaints, rather than get genuine reviews. According to research…
Businesses that proactively request reviews enjoy higher ratings (average of 4.34 stars) than those that simply wait for unprompted reviews (3.89 stars).
That makes sense. By asking for reviews you'll get a more accurate sample of data from your customers. If you don't ask, your review data sample will be biased towards reviews who are motivated to leave a review (usually people with a customer service issue). For this reason, you need to be proactive in asking your customer for reviews. Of course, not all reviews generated by your "asks" are going to be positive. But that's not necessarily a bad thing. Negative reviews can also create structured opportunities for business improvement, while positive reviews can give you better guidance on what you are doing right. Furthermore, having a steady stream of incoming reviews is not only best for SEO, it's the most helpful for new customers who want to see recent reviews to get an idea of what your business is like now, not six months ago.
Before Generating Reviews on Google…
Avoid review-gating. Google doesn't want businesses to discourage or prohibit negative reviews or selectively solicit positive reviews from customers. A practice commonly referred to as "review gating", it's normally done by sending customers a feedback or survey form — be it through email, SMS, landing pages, or social media. Based on their form responses, customers are then asked to either post a review on Google if they had a positive experience — or share details of their feedback privately if they had a negative experience.
Note: Google prohibits businesses from "review-gating."
This practice has allowed brands to filter out detractors from their review generation campaigns. But it's against Google's updated guidelines. To stay compliant with the policies of today's top review platform, as well as responsive to the ever-increasing demand for transparency and authenticity in reviews, make it clear that customers can leave you a negative review if they feel the need.
How to Get Google Reviews
Here are some effective tips for businesses wondering how to get Google reviews and build up their online presence.
Use email. Do you collect customer email addresses at the point of sale or care? If so, then you'll quickly realize that email is one of the most effective ways to get reviews on Google My Business.
Synchronizing your review requests to your CRM or POS system allows brands to automate review requests. If you manage 100+ Google My Business locations, you'll understand why automation is so important. There's no way to manually reach out to that many customers. You can also integrate your Google review requests into your monthly newsletters. If you're sending a message to your customers, be sure to add a link to your Google business listing so that it will only take them a few clicks to share their experience.
Send SMS campaigns. If you're syncing your point of sale system to send email alerts to customers, why not also send SMS requests. SMS open rates are significantly higher than email and can drive better engagement and more reviews.
Use #SmallThanks with Google. The Small Thanks with Google website lets you create, download, and print personalized marketing materials and turn your reviews and business information into ready-to-use social posts, stickers, posters, and more.
The messaging in Google review stickers and other similar materials centers around promoting your business using customer testimonials, or requesting customers to find your business on Google and share their photos and reviews on the site.
Create a link for customers to write Google reviews. Creating a unique Google reviews link and sharing it to your customers encourages them to review your business on Google.
Make your customers happy. The easiest, most effective, and most fundamental way to get Google reviews with 5-star ratings is to consistently deliver excellent levels of service and create "wow" moments with customers.
If, on the other hand, you have customers who are not satisfied or happy with their experience, and are therefore likely to post negative reviews instead of positive, then make a point to reach out to them and identify and address issues.
Google Reviews Widgets
Google reviews widgets enable you to embed or display online reviews from your Google business listing on your own website. Using widgets to display your reviews can help drive on-site conversions and even boost your site's search engine optimization (SEO) performance. Here are some facts and figures that demonstrate the impact of displaying reviews o your website:
Improved search performance. You can gain greater search visibility and drive more traffic by leveraging reviews, a top 3 ranking factor in local search.
Higher conversion rates. When ratings are displayed in search results, conversion rates can go up by up to 17 percent.
Powerful social proof. When choosing a business, 94 percent of consumers rely on online reviews.
Reduced cost-per-click on ad campaigns. By displaying reviews on your AdWords campaign landing pages, you can increase conversion rates and engagement, lower bounce rates, and improve your own ad quality scores.
In general, online reviews have tremendous potential to influence consumers' purchase decisions. Reviews posted by customers on Google are particularly influential. According to the 2018 Online Reviews Survey, Google is today's top review site, with 63.6 percent of consumers saying they are likely to check online reviews on Google before visiting a business — more than any other review site. (Yelp ranks second at 45.18 percent, followed by TripAdvisor and Facebook.) How to Use a Google Reviews Widget to Display Reviews on Your Website If you only copy and paste your customers' online reviews to your website, it may not seem as compelling or trustworthy as when you embed reviews directly from your Google business listing. The copy-and-paste approach might also take away some of the legitimacy of your reviews, especially if they're not linked to a third-party review source or platform. Fortunately, there are a number of review widget options for integrating those valuable reviews into your website. ReviewTrackers: Our software platform for managing online reviews includes a review widget suite that can display all or a curated set of customer reviews on your website. The Google reviews widget can be set up in minutes — and requires no dev time to maintain. You can hand-pick your own featured testimonials or display a live feed of fresh review content from Google, with "set it and forget it" ease. Google Review Widget Plugins for WordPress:WordPress, which continues to be a popular choice for custom websites, also has its own catalog of review widget plugins. There are 33 pages of search results alone for "Google reviews widget." Some of these widgets allow you to save reviews in your WordPress database, so that you don't have to depend on third-party data sources like Google to show reviews in the widget. Alternatively, there are Google reviews widget plugins that let you syndicate directly from your Google business listing, so that the review widgets on your website are updated whenever new reviews come in. Whatever your preferences are, make sure you do your due diligence before choosing the right Google review widget or plugin for your website. Check to see that it's compatible with your site's code and that it offers everything that you need.
Can You Link Facebook Reviews to Google?
For many businesses, Google will automatically link the reviews on their Facebook Business Pages to their Google account, so that their Facebook recommendations, reviews, and ratings also appear on their business listings on Google. Ideally, Google will have found a way to do this for all businesses. But it doesn't always work. To give your locations the best chance of having their Facebook reviews pulled into their GMB listing, the only thing you can do is make sure your business information on your Facebook Page and your Google My Business account are exactly the same. If Google sees that they're the same, it may pull in your Facebook reviews. But there are no guarantees. And there's no "official" way to do this through the Google My Business dashboard.
For Agencies: Setting Up Google My Business
If you work as an agency for multiple businesses and locations, you may register as such on Google My Business. As an agency, you enjoy more robust GMB account management options and tailored support from Google.
Signing Up as an Agency on GMB
To start the agency registration process, follow these steps:
Step 1. Navigate to https://business.google.com/agencysignup.
Step 2. You will be prompted to enter your agency website URL. You'll also need to use a Google account that's associated with your company's email (and doesn't currently own or manage locations).
Step 3. Follow the rest of the instructions and complete the form to register.
Signing up as an agency for Google My Business gives you access to a GMB account structure that's designed for third parties to manage all their listings under one account. A Google My Business agency account also gives you the ability to create user groups for managing teams within your agency. After you successfully complete your registration as an agency, you can structure your team and listings from your Google My Business agency dashboard. Here are some of the "buckets" that Google allows you to use to manage users:
Organization: This is the highest-level profile associated with your agency.
User group: This is a group to manage users within your agency. User groups can only be created by organization users and can be given access and permission to manage location groups.
Location group: This is a set of business locations managed by a user group or organization. Location groups can only be created by organization users.
Managing Users

User groups let you create teams of people within your agency to manage specific locations or location groups in your Google My Business agency dashboard. By creating a user group, you're grouping together people you want to have the same level of access to certain locations. Anyone in your organization can create a user group. You can add people to a user group as owners or members. Here's a summary of the different capabilities of each role:To create a new user group:
Step 1. Sign in to your GMB agency account and click Manage users.
Step 2. Click Create user group.
Step 3. Enter the name of your group, then click Create group.
Step 4. Once the user group is created, you can start adding owners and members.
To add owners or members to a user group:
Add the email address of the user you want to invite. You can invite them to be an owner or member of the user group.
To remove owners or members from a user group:
Click Manage users.
Click the menu for the user group and choose Manage.
Click the X for the person you want to remove, then click Remove.
Managing Location Groups
Sorting your locations into groups makes it easier for your agency to manage multiple locations on Google My Business and keep them organized. You can apply changes and share access to multiple listings at once. To create a new location group:
Click Manage locations.
Click Create location group.
Enter the name of your group.
Click Create.
Start adding locations.
To add a new location to an existing location group:
Click Manage locations.
Use the drop-down menu to choose a location group.
Click Add location.
Enter the business name, location, and other details. Follow the prompts to create the new listing.
To allow additional location groups to manage an existing location:
Step 1. Click Manage locations.
Step 2. Use the drop-down menu to choose a location group.
Step 3. Click the location you want to manage.
Step 4. Click Users from the menu.
Step 5. In the top right corner, click the icon, then choose Add one of your groups. (If you don't see the icon, this means the location owner hasn't granted you the appropriate level of access.)
Step 6. Choose the location group and role, then click Add.
To transfer existing locations to a location group:
Step 1. Click Manage locations.
Step 2. Use the drop-down menu to choose a location group.
Step 3. Check the box next to each location you want to transfer.
Step 4. From the Actions drop-down menu, select Transfer Location.
Step 5. Select a location group to transfer the location to, and click Transfer.
Switching from Personal GMB Account to a GMB Agency Account
If you are already registered on Google My Business, but you wish to switch or migrate from a personal account to a GMB agency account, here's what to do: To migrate a single business location to an agency account:
In your organization account, request access to the location you own in your personal account.
You'll need to specify a location group for the location to be added to.
Sign into your personal account, then accept the invitation you had just sent from your organization account. This will allow your organization to manage the location in the specified location group.
To migrate multiple business locations to an agency account:
In your personal account, transfer the locations to a single location group.
In your personal account, add your organization as an owner of the location group. You'll need to specify the right organization by entering its 10-digit organization ID.
In your organization account, accept the invitation. This will allow your organization to manage all locations in the location group.
Once a location is migrated, you may want to remove the location from your personal account. (If you'd like your personal account to be added to an organization, you must first remove or transfer all locations directly owned by your personal account.)
Do More with Google My Business
Google Local Guides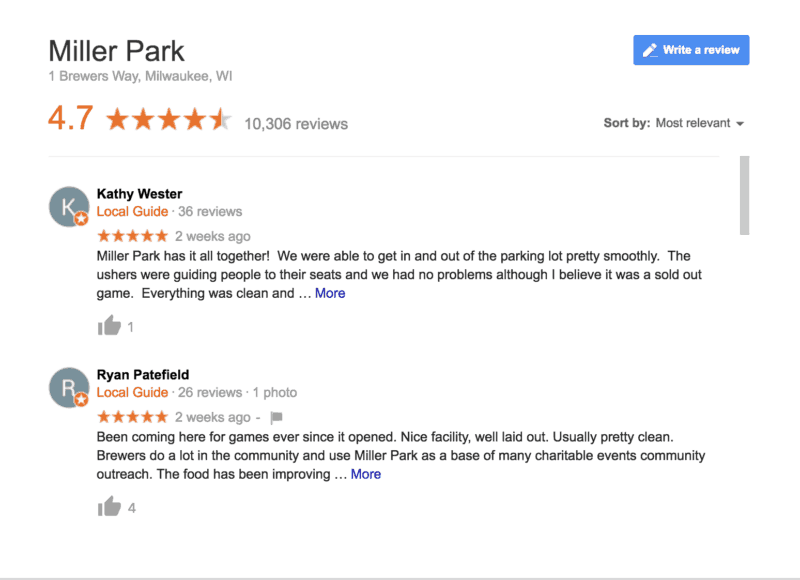 Google Local Guides is a global community of the top reviewers on Google. Think of it as Google's version of Yelp Elite. The more reviews a user writes and posts on Google, the more benefits he or she enjoys. If you get a review from a Google Local Guide, it's more likely to show up at the top of your reviews when a user clicks on your GMB listing. That may be because Google gives special preference to Google Local Guide reviews, or simply because these reviews tend to be longer and include photos.Benefits of the Local Guides program include: special badges and levels, access to a monthly newsletter, invites to members-only contests, the ability to join Hangouts with worldwide tastemakers, connoisseurs, and Googlers, eligibility to test new Google products and services before public release, invites to exclusive events, parties, and meetups, and annual thank-you gifts for high-quality contributions to Google Maps. High-level Google Local Guides also get the chance to be featured on Google, Facebook, and Twitter. If you're a business owner, you can still become a Local Guide, provided that you do not solicit reviews for a particular business, and that you don't take advantage of the program for self-promotion.
What is Google Local, Google Places, and Google+?
These are the old names or brands Google used to refer to its services for businesses looking to manage their business information on Google. If you previously used Google Local, Google Places for Business, Google+ Local, or Google+ Pages Dashboard to manage your business information, your account has been automatically upgraded to Google My Business.
Google My Business App for Mobile
You can also access and manage your GMB account using the Google My Business app for iOS and Android. With the Google My Business app, you can:
Update your listing information in the "Profile" tab
Use the "Post" button to create events as well as publish content and photos
Respond to customer reviews or give special offers in the "Customers" tab
Check out customer insights on where and how many people are searching for you
Set up to receive notifications when customers are talking about your business
For more information, check out our business owner's guide to the Google My Business app.
Add Your Business on Google Maps
If a business you own or manage isn't appearing in Google Maps, you can add and claim your business listing using Google My Business. Once you've verified your business, you can edit business information like address, map location, contact information, category, and photos. As a Google user, you can also fix someone else's local business. You can suggest an edit, report the error, or add a missing place in Google Maps. If someone else's business is missing from Google Maps, you can add a missing place.
The Local 3 Pack
One of the most prominent and sought-after positions in Google's local search results is the Google Maps Pack. Also commonly known as the "local pack" or the "3 pack," Google Maps Pack is a set of three highlighted Google-Maps-based results (it used to be seven) featuring the most highly ranked businesses based on the factors that determine local ranking (reviews, local citations, etc.). Up to three businesses are featured in Google Maps Pack results, but sometimes, you'll see a sponsored result displayed alongside or above the three organic ones.As you can see, Google provides crucial information about each of the businesses organically featured in the Google Maps Pack: overall ratings, a short business summary, location address, business hours, price range, etc. — plus a featured photo on the right side. The "local pack" or "3 pack" is also displayed above traditional text-only or links-based search results — making it one of the most valuable pieces of online real estate across any platform. In fact…
The Google Pack grabs as much as 44 percent of the total clicks on search engine results pages.
How to Get Your Locations in the Local 3 Pack
The first step to make your business to appear as part of the local pack is to claim your business listing on Google and manage your information using Google My Business. But once you've done that, you make be wondering what's next? The next step is to optimize your reviews. Generally speaking, locations that don't have at least 4 stars won't show up in the Local 3 Pack. But it's not enough to have high aggregate ratings. You'll also want to:
Have an steady influx of reviews (recency is a significant factor).
Have positive sentiment in the text of the review itself.
Have a large number of total reviews (in addition to the trust factor, this allows your business to rank for longtail keywords based on what your reviews are talking about in the text of the review).
If you're still struggling to appear in the Local 3 Pack, here's a quick checklist to help you determine if your GMB listing is on point:
Use your actual business name, but don't stuff it with keywords or your city name.
Correct inaccuracies or errors in your data, and get rid of any duplicate listings.
Be as detailed as possible when entering your business information. Include your business name, category, map location and service area, phone number, website URL, hours of operation, etc.
Write original and compelling copy for your Google My Business description.
Avoid address variations. Meaning: if your location is at "72 Southwest Road," then stick to that way of spelling it, instead of using, say, "72 SW Rd." or "72 Southwest St."
Use a local number instead of a toll-free number.
Manage and respond to all your online reviews on Google.
Upload high-quality photos to enhance the visual appeal of your listing. (These may appear in search results, too.)
At all times, make sure your information on GMB is correct, complete, and up-to-date.
Remember: business listings that have been claimed and are regularly updated on Google My Business — and which also boast of strong reviews and ratings — are the ones most likely to rank at the top of local search and be featured in the Google Maps Pack.
Try ReviewTrackers for two weeks, no credit card required.
See all your reviews in one dashboard. Respond to customer faster. Generate 3 times more reviews with email and SMS campaigns.Start my free trial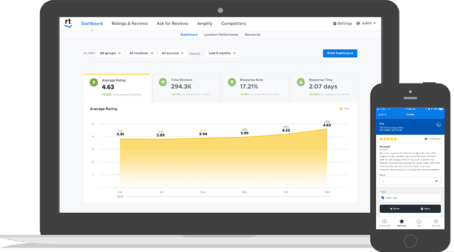 Download mobile app