Fear in Kamukunji area in Nairobi, following a suspected gas explosion at a fast food restaurant identified as Classio Hotel on Monday, November 4.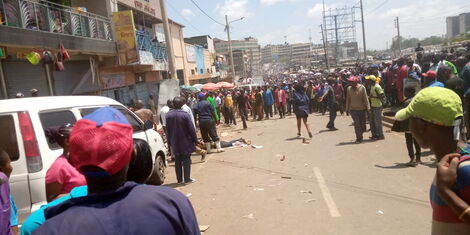 Speaking to SandeKennedy, an eyewitness who works in the area said that several people were seriously injured.
He went on to reveal that the hotel was a very popular fast food joint in the highly-population section of the city known for wholesale merchandise.
St John Ambulance has since confirmed that at least 14  people were injured, including an infant.
The casualties were taken to Kenyatta National Hospital, the emergency response team added.
Police and well-wishers have been ferrying the injured to hospital, as local residents flocked the scene.
The team of rescuers from St John Ambulance were among the first responders to the scene of the tragic accident.
In a similar incident back on June 2, 2019, a fire that broke out in a lodging near Afya centre within the Nairobi Central Business District left three dead after they were burnt beyond recognition. 
Investigations revealed that the fire had been caused by a gas explosion in the cafeteria area.