Popular comedian and entrepreneur Daniel Ndambuki alias Churchill, broke the hearts of many fans he announced the end of his show. 
Taking to social media on Thursday, October 31, he declared that weekday's episode of Churchill Raw as the season finale.
The longer version of the program, Churchill Show, will continue airing onSundays.
Endeared comedian Jasper Muthomi alias MC Jessy was the host of Churchill Raw whose final episode was televised on Thursday, October 31.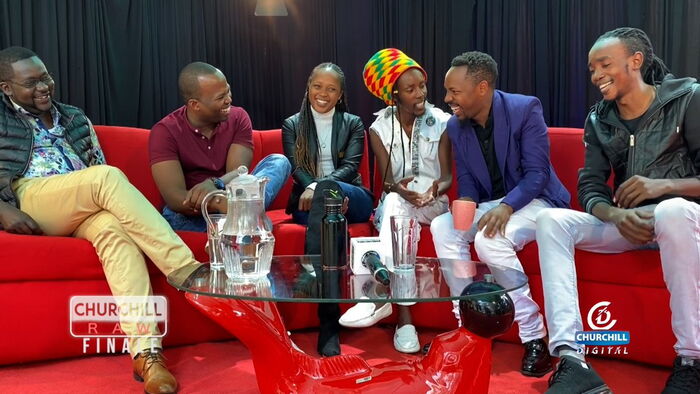 "Do you know these faces? Today we celebrate a journey of nothing but growth and transformation. The 'mid-week' dose of fun and laughter comes to an end on NTV today (Thursday, October 31)," Churchill tweeted while leading his fans in lauding comedians he had nurtured through the show.
Notable comedians including Steven Oduor (DJ Shiti) Carolyne Wanjiku (Teacher Wanjiku) Sleepy David, Edwin Butita graced the show. Radio personalities including Radio Jambo's Daniel Mwangi alias Mbusi and Hot 96 FM's Shiks Kapienga also featured on the show.
"Dj Shiti started off on Raw as Magazine doing standup comedy. We are proud of you. Let's face it, Sleepy David hajaongeza height ata kidogo…many years later (Sleepy David has not grown tall)," Churchill joked.
MC Jessy also took to Instagram to appreciate the opportunity which the comedy godfather had given him.
"It's been an amazing journey hosting Churchill Raw. The Churchill Raw family reunites as we air the season finale. As we restructure the show to bring you even better content, we want to thank you for the amazing support that you've given us over the years.
"Some of the raw talents that have passed through the show have gone to become the movers and shakers of our entertainment industry. Keep it here, don't move as we plan to serve you more," MC Jessy posted.
According to Jessy, it was a formality and normality for a show to take a break so as to find new ways of keeping their fans entertained.
"There is a time Churchill Show also took a break. That's the same strategy we are emulating. We want to create better content and we will come back with the same show. Our fans should be calm as we adopt new criteria," MC Jesse informed Kenyans.co.ke through a phone call interview. 
The fans responded to the season finale, expressing gratitude to Churchill for the many years he had uplifted their spirits with the show.
Many of them listed their favourite comedians and their most memorable moments watching the show.
"Churchill Raw has been a hub for comedians and it has played a pivotal role in producing most celebrated brands," Marvin WordSmith lauded.
"Thank you also for Churchill for giving my friends Akuku Danger and Bulla James an opportunity to shine," Kibet Benard appreciated.
"Every successful talent is a product of a process. Churchill Raw's final episode attests to that," a Twitter user praised.