IEBC Chairman Wafula Chebukati was on Thursday, November 28, named the incoming president of the General Assembly of Association of African Election Authorities (AAEA).
His appointment was announced during the 6th Annual Continental Forum of Election Management Bodies that was held in Nairobi.
The conference brought together African leaders tasked with conducting elections around the continent.
"As IEBC, we are honoured to host this meeting that brings together chairpersons of various election management bodies (EMB) across the continent, representatives of the African Union, stakeholders and partners in the electoral process," Chebukati stated.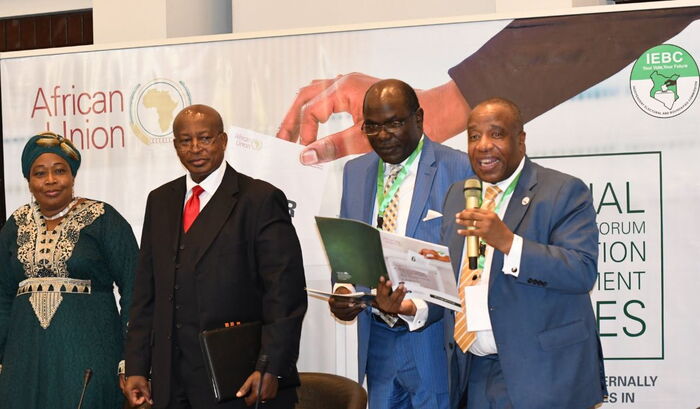 He addressed the issue of participation of refugees and IDPs in electoral processes, adding that their exclusion led to their disenfranchisement.
Chebukati observed that Kenya's legal framework provides a basis for the protection and advancement of the political rights of refugees and IDPs as part of internationally recognised rights and practice.
"In a bid to protect the political rights of IDPs, Regulation 90 of the Elections (General) Regulations of 2012 affords the commission latitude to set up mobile registration centres and polling stations for the registration of voters and voting respectively.
"Our electoral laws provide for registration, as voters, of all Kenyan citizens living outside the country. Towards this end, the commission made an effort to register Kenyans residing in the East African region and South Africa," he stated.
He noted that Kenyans displaced outside the country but living within the neighbouring countries were given an opportunity to register as voters.
"It's my hope that we'll share experiences; have a study of EMBs that have strived to achieve inclusivity of displaced populations in elections and adopt recommendations aimed at enhancing the participation of refugees and IDPs in the electoral process," he added.
The AAEA is an organization comprising EMBs from 40 countries across Africa, with the primary objective of promoting democratic, credible and peaceful elections in the continent.