Francis Waweru, an artist from Mombasa, was on October 20, was beaten up by President Uhuru Kenyatta's bodyguards, Citizen TV reported.
The artist was part of a group of isukuti dancers that had been invited to entertain the president during the Mashujaa day celebrations.
He finally got his chance to meet the President after his group was invited to State House Mombasa where he handed both Uhuru and First Lady Margaret Kenyatta personalized portraits.
"I handed the paintings to President Uhuru as well as the First Lady, he looked at me and clapped, thanking me for a good job, promising to seek me out later on," Waweru narrated.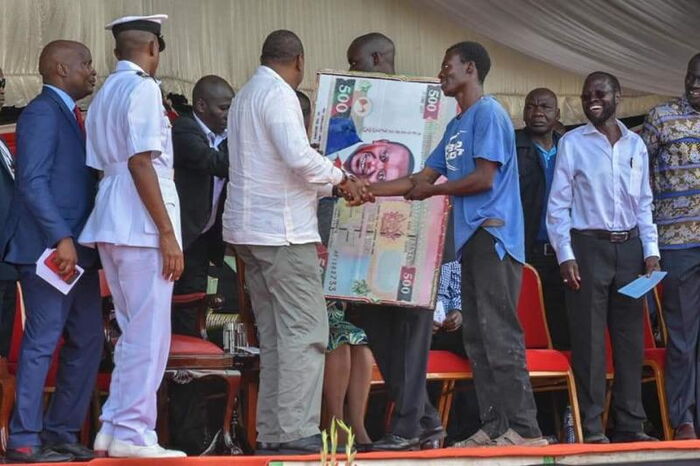 However, his joy was shortlived as he was swooped up by the presidential guards when he lined up alongside his dancers for a meal.
"Hapo ndipo niliskia nimebebwa juu juu, nilivamiwa na wanaume, wakaniangusha mbele ya mtu, wakanipeleka nje wakaninyeshea na mateke na miti,loosely translating to, it was at this point that the presidential guards started manhandling me, they dragged me outside where they beat me to a pulp," a visibly injured Waweru narrated.
The battered artist was then dumped at Central Police station where he was booked for causing disturbance and forced to spend the night.
He furnished Citizen TV journalists with medical documents to prove his case, going on to lament over his torturous ordeal.
"Kile kichapo walinipiga hakina maana, hasa kwa mtu ambaye alikuwa amepewa mwaliko rasmi kutoka kwa rasmi, loosely translating to, the beating I received from the president's men was unemerited, especially since i had my official invite card signed by the president himself," Waweru lamented while holding out the card he had used to access State House Mombasa.