Last October, Adobe unveiled the new CC 2019 Release, which the company says is the biggest product launch since they first introduced Creative Cloud over six years ago. Pam Clark, Senior Director for Photoshop, exclaimed, "Today is by far the largest product announcement and launch experience of my career on the Photoshop team, and at Adobe. We have never delivered so much amazing new innovation to customers on the same day. I can't wait to see what you create!"Adobe CC 2019 Direct Download Links
And from what we've seen, it looks to be true. There are major updates across the entire suite of tools and services, including entirely new Creative Cloud tools as well as significant new features and improvements to existing applications, and even some surprises. As always, all upgrades to your CC apps are included at no additional cost. The CC 2019 software is available for worldwide download via the Creative Cloud Desktop App… This means everyone gets either a free upgrade or a free trial – but some folks want or need to access the new tools directly without using Adobe's download/app manager. Adobe CC 2019 Direct Download Links
And we have some great news: Adobe has just published a complete set (dozens!) of direct download links for the new CC 2019 release, and you'll find them in the table below. These links go to the authentic and secure files residing on Adobe's servers, are guaranteed genuine, safe, legal, and will not change. They give you instant access plus the ability to use your own download manager (DLM) if you have difficulty with what Adobe normally employs and want to get the tools or trials without it… They can also come in handy if you want offline CC 2019 installers to use, store, or back up with (i.e., copy to USB flash drive, burn to DVD media, install on other systems or unconnected machines, etc).
Special: Legally download dozens of free Adobe books for a limited time!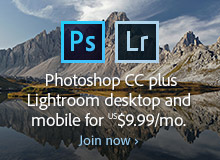 Most people download the trials by signing up for the free level of CC membership and using the Creative Cloud Desktop app to select and download any or all of these products, although with the direct links below, no member­ship is required to access the free trials.
Whether you're considering just a single-app subscrip­tion like Photoshop CC 2019 or getting the complete Creative Cloud, you can always use these free trials to install, run, and activate the new software on your system, without needing to reinstall. All the CC 2019 tools will install and run together on the same computer(s) alongside any older Adobe versions such as CC 2018, CC 2017, CC 2015, CS6, CS5, CS4, and CS3.  These CC trials are fully functional for 7 free days.
Importantly, all available product languages (except for Hebrew and Arabic) are included in a single multilingual download, and the software will install to the disk location and program language that are set in the Preferences of your CC Desktop app (with reasonable defaults)… So it is possible to install elsewhere on your computer besides C:, as well as with a different language – but you have to indicate that by using the Desktop app. If you need to install additional languages, just run the same installer again after choosing another language in the Preferences.
So without further ado, here are the CC 2019 links!
Creative Cloud 2019 – Adobe CC 2019 Download Links – ALL Languages
[UPDATE (Nov. 2019) – These still work to download the original CC 2019 installers. If you're looking for direct links to the newest 2020 versions, then see this post.]
Adobe CC 2019
Direct Downloads
Windows
macOS
Size
Installer
Size
Installer
Photoshop CC 2019 (64-bit)
1.7 GB
Download
1.6 GB
Download
Lightroom CC 2019
909 MB
Download
885 MB
Download
Lightroom Classic CC 2019
1.3 GB
Download
1.3 GB
Download
Illustrator CC 2019 (32-bit)
1.9 GB
Download
Illustrator CC 2019 (64-bit)
1.9 GB
Download
2.0 GB
Download
InDesign CC 2019 (32-bit)
931 MB
Download
InDesign CC 2019 (64-bit)
987 MB
Download
916 MB
Download
InCopy CC 2019 (32-bit)
916 MB
Download
InCopy CC 2019 (64-bit)
970 MB
Download
903 MB
Download
Dreamweaver CC 2019 (32bit)
983 MB
Download
Dreamweaver CC 2019 (64bit)
1.0 GB
Download
776 MB
Download
Adobe Muse CC 2018
771 MB
Download
707 MB
Download
Animate CC 2019 (Flash Pro)
1.5 GB
Download
1.7 GB
Download
Dimension CC 2019
1.4 GB
Download
1.4 GB
Download
Adobe XD CC 2019
—
**
**
**
Character Animator CC 2019
1.1 GB
Download
1.2 GB
Download
Premiere Rush CC 2019
1.7 GB
Download
1.7 GB
Download
Premiere Pro CC 2019
1.7 GB
Download
1.8 GB
Download
After Effects CC 2019
2.0 GB
Download
2.0 GB
Download
Audition CC 2019
624 MB
Download
635 MB
Download
Prelude CC 2019
751 MB
Download
799 MB
Download
Media Encoder CC 2019
1.3 GB
Download
1.4 GB
Download
Bridge CC 2019 (32-bit)
921 MB
Download
Bridge CC 2019 (64-bit)
1.0 GB
Download
925 MB
Download
SpeedGrade CC 2015
339 MB
Download
360 MB
Download
Fuse CC 2017
3.7 GB
Download
3.7 GB
Download
Edge Animate CC 2015
149 MB
Download*
137 MB
Download*
CC Desktop App (v. 5.3.0.468)
268 MB
Download*
201 MB
Download*
CC Desktop App (v. 5.2.1.441)
252 MB
Download*
194 MB
Download*
CC Desktop App (v. 4.9.0.504)
326 MB
Download*
263 MB
Download*
Other Tools Included in Creative Cloud 2019
Acrobat Pro DC 2019 (32bit)
883 MB
Download
743 MB
Download
Adobe Camera Raw 12.2.1
460 MB
Download
465 MB
Download
Flash Builder 4.7 Prem. (32bit)
1.0 GB
Download
Flash Builder 4.7 Prem. (64bit)
1.0 GB
Download
1.1 GB
Download
Fireworks CS6
438 MB
Download*
627 MB
Download*
Encore CS6 (readme)
1.1 GB
Download*
1.6 GB
Download*
ExtendScript Toolkit CC
94 MB
Download
96 MB
Download
Adobe Gaming SDK 1.4
296 MB
Download
315 MB
Download
Touch App Plugins
4 MB
Download
8 MB
Download
Creative Cloud Packager
356 MB
Download*
162 MB
Download*
* = To access these installers, please first follow the download instructions here.CC subscribers can also download & use CC 2020, CC 2018, CC 2017, CC 2015.5, CC 2015, CC 2014, CC 2013 and/or CS6.See the CC System Requirements for complete platform information.** = Currently, the Adobe XD CC (Experience Design) app cannot be installed standalone from a direct download. To request an industry-standard, offline XD installer from Adobe, please vote and comment here.
[ What do these different applications do? Check out the Creative Cloud Contents Guide. ]
These are links to brand new builds of the programs, not in-place updates – so they require nothing else to fully install on either Windows or Mac. All of these downloads will install alongside any previous releases on your machine, so you do not have to uninstall prior versions of Creative Cloud (CC) or Creative Suite (CS) – although you can if you want to. Some users prefer to keep prior revision(s) around as they come up to speed with the new features, and there are customers who have multiple versions of CC (and older) installed on a single computer.
Finally, it's important to know that the system requirements have changed, in order to take advantage of the latest operating system features and technologies… On Mac, the CC 2019 release now requires macOS X 10.12 Sierra or higher. If you're not running the latest macOS yet, then you can get a free upgrade from Apple to the latest version of macOS 10.14 Mojave. On PC, either Windows 10 (version 1703 or higher) or Windows 7 will work for most Creative Cloud applications. But note that Windows 7 is no longer supported for the CC video and audio tools, and Windows 8.1 is not supported at all. For more details, consult the complete CC 2019 System Requirements. If those don't fit for you, then you can instead continue to use the older CC 2018 applications.
What's New in Adobe CC 2019? [Video]